First off, I want to thank the Barking Carnival intelligentsia for scheduling my SOTU just after Scipio's masterpiece. Thanks fellas now I feel like one of the rappers in the movie 8 Mile. Floating through my synapses I've got penicillin resistant STD's, easy coeds, Mike Leach's sword collection, Adam James crossing swords in a Plano YMCA utility closet, Byron Hanspard's GPA, Bam Morris' trunk-load stash, and John Saldi, among other low hanging fruit—but I've got no rhymes, only Funyons. So let's get right to the foosball.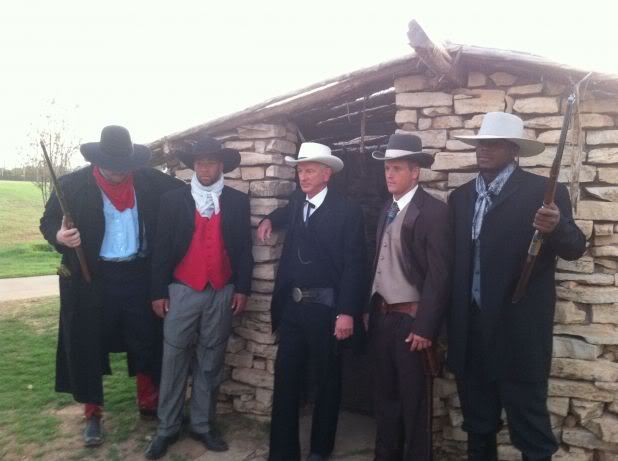 In Lubbock some things change and some things remain the same. The Texas Tech Raiders will still feature a wide open passing attack and struggle against the run. Yet now they're led by an SEC coach instead of a mad genius and they're running TCU's defense on the other side of the ball.
Offense - When PlayStation just won't do...
The offensive line returns six guys that have started at one point in their careers if you count Terry McDaniel, the swing man off the bench. The other five guys are undoubtedly face-painted technicians with fat little girlfriends. Waddell is the best player in the unit. He plays left tackle, he'll play on Sundays, and he'll give the Red Raider quarterbacks plenty of blind side protection.
Redshirt junior Seth Doege will be the starter at QB but hasn't played any meaningful snaps outside of a half vs. Kansas in 2009. He was promptly pulled for wookie doppelganger Taylor Potts after a disappointing performance. So the live bullets experience thing, not so much.
During the spring game Doege impressed the normally discriminating Tech fan with his ability to spin it against a bunch of walk-ons from Marfa. The scouting report on Doege is he doesn't have as strong an arm as Potts but he can pinpoint a bit better. In other words he's a Massengil box away from being a poor man's Graham Harrell. No one knows what to expect out of Doege and there's a real question among die hard Tech fans about how he is going to perform when the lights go on. The good news is that his offensive line should give him time and a running game.
The receiving corps should be solid led by senior Alex Torres. Hailing from El Paso, Torres is the possession guy, he just hasn't been caught yet. The big play receiver is Darren Moore who goes 6-4 215. Moore played a year at UTEP before transferring to Texas Tech where he shaved a full second off his 40 time by removing his flack jacket. Moore wowed Tech fans in fall camp with his physicality and ability to make a catch in traffic. Swindall is the other starter but he may be pushed by better playmakers. None of these guys are burners but they'll all catch the ball and run precise routes. Watch for converted running back Bradley Marquez to make some noise in the slot if August practices are any indication. Marquez was a highly touted high school tailback who still needs some time in the weight room, but he can make you miss in a Harlingen phone booth and has good hands out of the backfield. Finding him once he has the ball won't be easy.
At running back the biggest surprise on offense is the freshman Ronnie Daniels. The 6-1 200 pound specimen is pushing current starter Eric Stephens at RB in the single back formation. Tubbs likes to use two backs, however, and Daniels is versatile enough to move to the slot in a four wide look. He's a monster and will shock defenses more than once this season with his ability to make plays after the catch and overall physicality. Daniels is the most exciting player on the scoring side of the ball and needs to be accounted for on every play.
Defense: Hi! We're new around here...
On defense, it all starts with former VA Tech signee Jeremy Mackey who took a circuitous route to Lubbock-- prep school, juco, academy, diploma factory, Sylvan center in China Town. It's also important to note that he chose Tech over Bama, South Carolina, Ole Miss, and Miss. State which tells you all you need to know about his (must…resist…temptation) manifest destiny to make hay in Lubbock. Mackey's talent is off the charts any way you slice it. NFL scouts have already come out to practice regularly to evaluate this 6-5 265 lb blur off the edge. Tech insiders told us he was running stride for stride with receivers on wheel route drills. I don't know if that says anything about Tech's receivers, but the kid has sick ability. Mackey will vie for all-Conference honors and a classical education.
Dartwan Bush is the other defensive end and he can really get after the passer as well. The pair gives the Red Raiders the second best set of defensive ends in the conference behind Texas. Jackson Richards is a white dude from Southlake who gives Texas Tech depth at DE and a boost to the APR.
At defensive tackle, Colby Whitlock will be missed, but not by me. Three hundred pound fire hydrants with methamphetamine motors cause a lot of desmadre. Ask David Snow. Former prep star Delvon Simmons was a highly touted four star DT that would be just what the doctor ordered for the position, but he's having clearing house issues so the Red Raiders lack depth on the interior. Tubbs hopes they can be filled by JUCO transfer Donald Langley Air Force Base. He'll be flanked by Kerry Hyder. They go 265 and 260 respectively. Hyder is playing out of position out of necessity. Texas Tech fans are as excited about this pair as my writing indicates.
(Editor's note: Delvon Simmons was actually cleared to play yesterday so the Red Raiders are instantly better up the middle with the added depth.)
The unit itself should be stout if offenses are behind the chains or if they employ a pass happy style with no credible running threat. Baylor will struggle with this group while the Aggies should have their way. Pass rushing shouldn't be a problem but DT is a glaring weakness until Simmons finds a way in or Langley and Hyder take some vitamin TCU.
At linebacker, Cqulin Hubert (no typo no homo) played last year as a true freshman at MLB and he's among the fastest LB's Tech has ever had. But you knew that when you read his first name. Blake Dees Nutz came in the spring and he's the starting SLB. He had offers from defensive juggernauts like Troy, Southern Miss, and South Alabama outside of Tech. These guys go 235 and 225 pounds, respectively (or disrespectfully), so they may not be much help as run stuffers. Playing a 4-2-5 Gary Patterson style defense won't help either. I'm not sure how Tubby will be able to keep his smallish LB's clean enough to make plays given their weakness up front, but I'm assuming outnumbering the point of attack with nickel and dime packages and other bargain forms of currency may be the gin & hemlock tonic to that problem up front. Robbing Peter so you can tackle Paul will come back to bite you, though.
In their base 4-2-5 the Red Raiders start Derrick Mays and Trey Porter at corner back. Mays is a converted receiver who can run, but can he tackle? He's only started two or three games so there isn't much of a book on his ability to hold up in the runnning game. I'm wondering how easy it will be for opposing OC's to scheme this 180 lb offensive minded soph into the force man on a running play given the unit's other deficiencies. That said, Mays is potentially the Red Raiders' best cover guy and certainly its most athletic DB. Trey Porter is a bigger guy who is probably better suited for safety but he has to play cornerback out of necessity. His backup is a walk-on Finance major who, in his spare time, debates currency arbitrage with Tech punter Ryan Erxleban.
The Red Raider Free Safety is DJ Johnson and he's benefited the most from the defensive scheme change. He's actually a terrific fit in the new system and he may be Tech's most productive secondary player for the season. At least that's what the Tech grad dancer at Treasures told me last week. SS Terrance Bullit, brother of NFL player and former Aggie Melvin Bullit has a great frame and explosive blood lines--much like Mark Mangino. My guess is that Bullit will need to get nosey in the run game to help offset the Red Raiders' weakness up front. This will put some pressure on Brett Dewhurst who Texas Tech lists as the starting WS or white safety weak safety in the 4-2-5. I've never seen him play but he's the QB of the secondary. Every team needs a Blake Gideon apparently.
Overall, I think this team should be able to mitigate its obvious run deficiencies simply because it plays in a pass happy conference. Offensively, Seth Doege is surrounded by a really good group of linemen and skill players alike. The Red Raiders will score points in bunches if Doege can live up to his high school billing. If he implodes, don't be surprised if the fan base calls for redshirt freshman phenom Scotty Young.
Looking at the schedule I don't see a loss in the first four ballgames mainly because Texas State, New Mexico, Nevada, nor Kansas can mount a credible rushing attack. The next three games include two sure losses at home to Texas A&M and at Oklahoma. Kansas State will be a difficult game at Jones Stadium because Snyder should be able to scheme a running game. Plus the game is sandwiched between TAMU and OU. Iowa State should be a win, but the final four games in November will be difficult. Catching Texas that late in the season in Austin is a loss, followed by losses at home to a top 10 Oklahoma State squad and a roadie at Missouri. Based on matchups, I think Baylor is beatable at Jerry's World but this is at best a 50/50 game for Tech. If you consider the finale to be a loss in your calculus, that means that Kansas State is the lynch pin game for bowl eligibility, but for some reason 7 and 5 sounds about right.
Go ahead and swing your sword Tech fans. I'm ready.