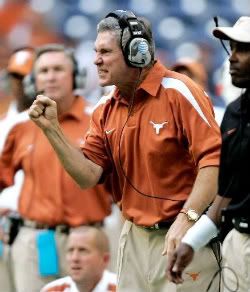 Attaboy!
Mack Brown has the clap. Not the sexually transmitted disease mind you, but the striking of the hands together in encouragement. He can't help it. He's a positive guy. He's Norman Vincent Peale at Disneyland. And this translates into everything he does, and what Mack Brown does best is sell the Texas program. For a guy who once sold meltdown to Tom Sizemore, this is easy.
If you think Brown didn't have much to clap about at the end of last season, you'd be wrong. You see Brown is at his clappiest when things aren't going well. It's almost like a nervous tic with him. Tackle missed a block? That's a clappin'. Tailback fumbled? That's a clappin'. Offensive coordinator can't design a running game? That's a clappin' raise. Obviously these are not hard and fast rules.
Last season was ruined by a perfect storm of injuries and schematic faggotry. Expecting Texas to stay injury free for two straight years was a bit much, especially when the star player of the previous two seasons was incapable of being hurt. As a child Vince Young bitchslapped Charon and did a reverse pike into the river Styx. He is no mere mortal. Gene Chizik took his Tampa 2 to Iowa State where Cyclone fans will learn that the '2' means two defensive backs biting on every play action.
So what do we have to look forward to when Texas emerges from the Moncrief-Neuhaus Athletic Center and runs onto Joe Jamail Field at Darrell K. Royal-Texas Memorial Stadium on September the 1st in the Year of Our Lord 2007 to face Arkansas State as presented by Wells Fargo?
He just doesn't know how. The running game once again failed Texas last year down the stretch, and the coaches yet again spent the offseason fixing it. Don't hold your breath.
The offense will rest on the shoulders of Colt McCoy. He's gritty, heady and every other adjective you say about a white quarterback without great physical gifts. He should put up big numbers this year if he can stay healthy. If? Texas lost both games last year in which he was hurt, partially because his backup was an untested true freshman. His backup this year will be an untested true freshman. I'm no George Santayana, but this is not good. John Chiles will be his backup, and he is an electric athlete with a great arm who will be very good in time.
Jamaal Charles is the returning starter after having split carries with Selvin Young last year. The knock on Charles is durability, and the rumour is that he takes himself out of more games than Benoit Benjamin. But he's potentially a 1,500 yard rusher and got bigger over the offseason in hopes of increasing his number of carries. Junior Chris Ogbonnaya, whose name means 'good kid who graduates' in Swahili, is the big back option. He has fans excited because he made a 1 yard td run against Kansas St last year ('Yeah, but did you see it?!'). The other RB in the mix is redshirt freshman Vondrell McGee. He has fans excited because they've never see him. Such is life in the closed practice world.
The strength of the offense is the receivers. They're good and deep, and as I type this, 3 of the top 4 are injured. Limas Sweed is not Roy Williams. I just had to get that off my chest. He's the best receiver on the team and will be a high draft pick. He still disappears at times so he needs to be more consistent. He's currently nursing an injured wrist. Billy Pittman had a better connection with Vince Young so his numbers last season weren't nearly as good as the year before. He's still a reliable receiver with an unreliable left shoulder. Quan Cosby came into his own last year as the number two receiver for McCoy. He's not big or fast, but he's a reliable possession guy. He still tries to throw the ball to first after each reception. Jordan Shipley is injured. That sentence will be included in next year's preview as well.
Sophomore Jermichael Finley is poised for a monster year at tight end. He's up to 240 and says his blocking has improved as well. Texas likes to run the Aces formation, but they haven't figured out who their 2nd TE will be. It's either going to be junior Peter Ullman or true freshman Blaine Irby. Ullman is the better blocker, Irby the better receiver. One of them needs to step up.
The weakness of the offense will be the line. Texas lost 3 guys to the NFL off a line that had trouble run blocking last year. The two returning starters at tackle had problems pass blocking. LT Tony Hills is on NFL draft boards based on potential. He struggled last year mightily in pass protection so hopefully he'll put it together this year. RT Adam Ulatoski also struggled. He was thrust into the starting lineup before he was ready and just wasn't strong enough at the point of attack. He better be strong enough this year because both tackle spots are backed up by one redshirt freshman and 2 true freshmen. Cedric Dockery returns at one guard spot after going down with an injury in the OU game. The other guard spot is going to be sophomore Chris Hall. The coaches have made some noise about how great Hall is playing, but I'll remain skeptical until he does it in an actual game. True freshman Michael Huey will figure in the guard rotation. Fifth year senior Dallas Griffin will start at center. He needs to be able to take on defenders without the help of the guards.
Duane Akina will be in charge of the defense along with former Arizona DC Larry MacDuff. Texas fans spent the offseason talking about the Desert Swarm defense that MacDuff co-invented at Arizona. They didn't really know anything about it, but the fact that it at least had a nickname was psychologically important. Texas fans spend much time and energy trying to come up with a name for their defense. Look for Akina to play sound defense with disguised coverages and a substantial blitz package. I'll settle for stopping A&M's option and not falling for the halfback pass. Baby steps.
The strength of the defense is the front four. Senior Derek Lokey is the best DT in the Big 12 and the most underrated player in the conference. Generously listed at 6'2", he plays with strength and leverage. When he went down against Nebraska, both the Texas defense and the short yardage offense suffered. Senior Frank Okam is a stand up guy. He stands up on just about every play. But the NFL scouts love him, he's finally healthy and he'lll be playing for a paycheck. He's also applied to law school so I've retained defense counsel. The 3rd guy in the rotation is junior Roy Miller who started six games last year and finished strong with his best game coming against Iowa in the Alamo Bowl. Senior Thomas Marshall will be able to provide 15 snaps a game.
The starting defensive ends will be juniors Brian Orakpo and Aaron Lewis. They combined for 14 TFLs and 7.5 sacks last year as backups. Texas is legitimately four deep on paper with Eddie Jones and Lamar Houston, and converted RB Henry Melton will also get some snaps in the rotation. Texas fans are hoping he fills the holes on defense a lot faster than he hit them on offense.
Texas returns all 3 starters at linebacker. This is not a good thing. MLB Rashad Bobino is undersized and a liability in pass defense as the guy couldn't take away the passing lanes in Murderball. SLB Robert Killibrew plays well against OU while desperately trying to navigate the rest of his season between a Scylla and Charybdis of personal fouls. His favorite professional athlete is Rasheed Wallace. Scott Derry will remind you of any great Penn State linebacker. From the 1950s. He's a natural Mike playing weakside and won't get you beat with mental errors. He makes big plays in his mind.
The backups are better than the starters. Rod Muckelroy started the first 3 games last year before missing the rest of the season with an injured finger. The wildcard is sophomore Sergio Kindle. He's big, strong and fast like Lavar Arrington. He unfortunately also seems to have Arrington's linebacker instincts. If Texas can find a way to use him like Penn State used Arrington, he would be great. They could at least sick him on the other team's punter.
Marcus Griffin returns at free safety, and Akina said he was the best DB last year after the first game and a quarter. Then he got injured and played hot and cold for the rest of the season. He can be an all conference selection if he stays healthy. The other safety will be senior Erick Jackson who has never started a game. Jackson can hit but can he cover? Depth will come from senior RB/LB Drew Kelson and freshman Ben Wells. Wells is a future star, but he won't be next year.
Texas has a lot of question marks this year. On offense they have an unproven line coupled with an anemic running attack. There just aren't any playmakers at linebacker or in the secondary on defense. The winner of the TX-OU game will once again have the inside track to winning the South Division. Texas won't go undefeated, but they still might make the BCS. If they do, it will be because their young talent stepped up. When that talent becomes experienced, 2008 and 2009 will be very good for Texas.

How about another BCS bowl?