This was our best effort on offense and special teams to date. A great effort not just because of each unit's production in isolation, but because each contributed mightily to ameliorating a horrendous defensive effort inspired by Akina and MacDuff's brain dead gameplanning. This was an important program win for building the confidence of a young team. Running the ball effectively in front of a visiting Darrell Scott with a group of Freshman/Sophomore OL leading the way was a nice touch too. It's also nice to beat Graham Harrell, whose douchebaggery in these games is extreme (consider: Rhett Bomar, Drew Tate, Graham Harrell - all douchebags, all head coach's kids. Doesn't this fly in the face of conventional wisdom?)

Harrell is all about the W
Mike Leach bitching post-game was amusing. We've been the recipients of hose jobs (I was in Waco for Teaff's last game). I've seen officials give us games - I attended our win over North Texas during The Dark Days. This wasn't one of those. This was an offense playing with the Tech defense the way a kitten plays with a cricket. Granted, Tech toyed with our offense, but we used our special teams and 4th down conversions to limit their play time. There's your ballgame. Time for pirate time out, Leach.

Playing Tech really is like Playstation
We had two crucial events on special teams, leading to 14 points for our offense:
1. The sky kick recovery by Curtis Brown. Hey, it was almost worth burning his redshirt! This wasn't a routine squib kick. This was a deliberate call by our staff and a nice example of scouting. The ability to steal a possession against the Tech offense and get a short field touchdown was crucial and it put our offense in a position to dictate tempo and pace for the rest of the game.
2. The fake field goal by Shipley. Another great job of scouting. As a bonus, Shipley's hamstring integrity remained whole. It enabled us to maintain possession, burn clock, and get 7 instead of 3.
It's nice to see the good guys winning the film battles with the opposition.
Greg Davis had to wear two headsets on Saturday - offensive coordinator and defensive coordinator. As offensive coordinator, he knew we needed 45-50 points to win. No pressure there. As defensive coordinator, he knew his job was to run clock and score on every possession...while still scoring 50 points. Punting was unacceptable. And so were quick strikes. Again, no pressure. He pulled off both coordinator tasks very adeptly: we ran 92 plays to Tech's 55, we held the ball for 2/3 of the game, we threw up 59 on the board, and we consistently dictated to the Tech defense how the game would be played. Old Greg came through in a big way.
We also did a nice job of scouting Tech personnel. #17 Chris Parker is probably the worst starting corner in the Big 12. Apparently, we noticed. Anytime we needed to move the chains in the possession passing game, we found whoever Parker was on (usually Cosby) and flipped out the ball for an easy 8-10 yards and a fresh set of downs. Later, we began to victimize him down the field and you'll see #17 trailing on a number of our TD passes and key 3rd down conversions like an Australian cattle dog chasing a truck on a ranch road.

Sorry Chris, I'm not trying to salt your wounds
We also noticed that despite Tech's change to Ruffin Mangino at DC, they still play a vanilla, two safeties deep defense. Maybe vanilla just has good connotations to the guy. Why you'd choose to play our run game honestly is beyond me, but we appreciate Ruffin's sense of fair play. They stayed in that defense for almost a full 3 quarters before they began to actively cheat on our running game (occasionally hiding run blitzing LBs in the hem of Ruffin's pants). Until that time, we were able to run a number of leisurely zone plays and simple isos. Charles feasted. Our game plan was simple: attack Parker, run Charles. We also featured two draw plays: a delay draw to JC and a QB lead draw which sprang Colt for his TD run. We've continued to involve Colt in the running game and it has paid off. It was also nice to see the ball distribution in the passing game. Finley and Ogbonnaya both had their names on the roll call on key 3rd downs.
The blocking of our WRs deserves special mention. These guys are Hines Ward. I saw five knockdown blocks from Cosby and Jones - I'm sure there were another five off camera. These guys are very limited from an explosiveness standpoint, but they're playing to the absolute 100th percentile of their potential. Not much more can be asked of any Longhorn player or the position coach developing them. I'll miss these guys as pure football players tremendously.
Our OL situation is scary with the loss of Hills, but I did see some very nice things from Chris Hall while he was at center and then from Michael Huey when he came in to play guard. Buck Burnette is a mauler, but not blessed with a lot of lateral range - the Tech DTs made at least 2 TFLs on him when he was asked to reach them on zone plays. Ulatoski is a very solid pass blocker, but a fairly negligible presence in the running game. Dockery is probably our most consistent OL.
Although it was mildly frustrating to see us bang the running game late for negative and zero yard gains against outmanned fronts on 1st down, it's important to consider that we were converting 3rd down at will, we were burning clock, and when we did try a 1st down fly route to Quan Cosby he seperated about as well as he has all year. Not at all. Put a healthy Sweed on this offense and you'd see a different result.
I saved the worst for last. Sigh. Defensively, Akina and MacDuff ran base 4-3 (with spread modified LB spacing) against Tech with heavy reliance on zone. I was fairly shocked to see them stay in it pretty much all game. Well, it certainly dissuaded Tech from running - I suppose we wouldn't run much either if a team lined up in a ten man front. The only problem with our defensive strategy was...everything. We still don't know to teach zone, our upper classman LBs aren't good in space and the weakest link on the team (so naturally we made them the lynchpin in stopping the underneath crossing routes), and we weren't able to blitz effectively to get pressure (usually declaring our intentions 18 seconds before the snap). We tackled poorly, we were poor fundamentally, and we played with a lack of passion late when Crabtree scored his long TD. That was fairly prideless on our part.
Other than that, Akina did a badass job.

We're fine on Defense. We won, didn't we?
It's impressive that we can string together three defensive gameplans that were each more disappointing than the previous. Over the last three games, we've given up an average of 34.3 ppg and 505.7 ypg. Tech averaged 8.7 yards per play. They didn't manage that per play average against any team they played this year: not against Rice, UTEP, NWLA, SMU, Baylor, Iowa St - the dregs of college football. Does that put it into context for you? Had they run their customary 75-80 plays (thank you Greg Davis clock management and special teams stolen possessions), they would have had 650-700 yards and 50+ points. On the heels of Oklahoma State's 594 yards and 35 points. If that's in any way acceptable to you, even given the physical deficiencies in our secondary, I humbly pray that you don't suffer from such low expectations in other areas of your life. It's a pity to end this write-up focusing on a couple of defensive coaches who drove up to the game in a clown car, but the Akina/MacDuff regime needs serious re-evaluation.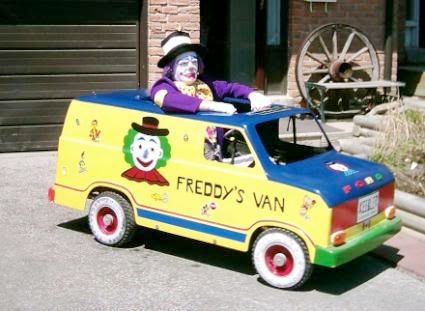 Bobino, Dery, Killebrew - get on that slot receiver pronto
Still, a hell of an effort from several of our coaches and most of our players. A good win.
See you in Aggieland...where QB careers die more quickly than Aggie preseason hopes.