For the second time this year, Michigan made the call down to their AAA farm club in Morgantown, West Virginia to bring up a head coach. Rich Rodriguez Monday became only the 4th Wolverine football coach in the last 40 years. He joins former WVU basketball coach John Beilein on the Morgantown to Ann Arbor shuffle.
Contract details have not been released, but it is expected to be in the $3 million a year range with incentives. Rodriguez brings several attributes that make him attractive to the Wolverines:
He is an offensive innovator (perfecting an offense that seems to especially bedevil one Jim Tressel), he has strong recruiting ties in two areas (Pennsylvania and Ohio) that are important to Michigan's success, and he is an outsider -- and some Wolverine fans believe that in order to defeat the hated enemy from the South, an outsider who will drag the program into the modern offensive era is needed. All of this boils down to one factor. He convinced folks in Ann Arbor that he can beat Jim Tressel (more on that later).
The fact that Rodriguez is ditching his alma mater for greener pastures has caused much angst among Mountaineer faithful. There are comparisons to Bobby Petrino as a traitor and a quitter.
Nonsense.

WVU offered to sweeten the deal for Rodriguez by increasing his house allowance, but he declined.
Rodriquez is actually bestowing several nice parting gifts on the Mountaineers, including a projected $17 million pay day at the 2008 Fiesta Bowl along with however much of the $4 million buyout from his contract they negotiate down. That will buy a lot of coonskin caps for the fans left behind. The Fiesta Bowl will be the Mountaineers fifth consecutive January bowl game.
This was a no-brainer for Rodriguez, and even his mentor knew that. Don Nehlen is a legend in West Virginia. Nehlen was the Mountaineer head coach for 21 years, and is the winningest coach in WVU history. Rodriguez was a walk-on defensive back for Nehlen from 1981-84. Before taking the West Virginia job, Nehlen had been an assistant under Bo Schembechler at Michigan. Nehlen made it clear to Rodriguez last weekend that he should take the job, and he backed that up with his public statements in the Charleston Daily Mirror.
"I think it's a great, great, great opportunity for him," said Nehlen. "I think it's tremendous. There are very few Michigans. When you coach at West Virginia you walk on water in West Virginia, but when you coach at Michigan, you walk on water, period. There's a difference. Some people around here don't want to believe that."

The hiring of Rodriguez breaks the 40-year mold of the Wolverines being coached by a "Michigan Man." The month-long train wreck that was the search for Lloyd Carr's successor was due in part to the Athletic Director (Bill Martin) having no real experience in conducting a search for an elite coach, along with the inner turmoil over whether Michigan should look outside the program for the next coach to take on -- and defeat -- Ohio State.
Make no mistake about it, for both schools their rivalry drives every decision that is made.
There are many easy comparisions to be made between Michigan and Texas, both off ( strong academic reputations, both in Top Ten on the billion-dollar, endowment-fund list ) and on ( rich winning traditions, massive fan base) the football field. Like Texas with Texas A&M, Michigan has an intra-state rival (Michigan State) that is looked upon as the gawky, socially challenged little brother who will occasionally land a lucky punch in the family fight. But it is the inter-state rival (OU/Ohio State) that generates an annual border war that creates more bitterness and more national headlines.
As Texas leads their rivalry with OU, Michigan holds a commanding overall lead in the series -- 57-41-6 -- but it is much closer if you mark it with the arrival of one Wayne Woodrow "Woody" Hayes to Ohio State. Hayes an Ohio native, became the Buckeyes head coach in 1951, and set about to turn the rivalry with Michigan into a war once again. Hayes played Michigan 28 times and ended with a 16-11-1 record against the Wolverines, but the record doesn't begin to tell his single-minded devotion to beating Michigan.
Hayes had a standing rule with his assistants on the recruiting trail. If, for some reason there was a HS player in Michigan that Ohio State was interested in, the Buckeye recruiter was under orders to stop at the Ohio border, gas up his car and eat, because he was to spend as little money as was possible in the state of Michigan.
In 1975 Baylor played Michigan in Ann Arbor in late September. The Bears held the Wolverines to a 14-14 tie. The next Monday, Baylor coach Grant Teaff was in a coaches meeting when his secretary told him Woody Hayes was on the line and insisted on talking to him.
Teaff went to the phone and Hayes started in with detailed questions about Michigans game plan, and what they tried on certain down and distances. After a few minutes Teaff said to Hayes, "I'll be glad to go over anything about the game with you Woody at a later time, but you don't play Michigan for another two months."
Hayes replied, "Grant, we play Michigan every Monday."
Hayes early dominance of the series forced Michigan's hand, and they turned to Bo Schembechler in 1969, who had been a graduate assistant under Hayes at Ohio State. Schembechler was hired by Michigan AD Don Canham, who needed someone to help him fill up the "Big House," which would have over 30,000 empty seats on some Saturdays in the mid-60's. Canham was an innovative marketer who would do just about anything to sell a ticket, including in 1969, sending over 20,000 seats for the Ohio State game to Buckeye fans.
After Michigan pulled off the stunning 24-12 upset of the #1 Buckeyes, Schembechler ran up to Canham and growled, "Don't you ever do that again!"
Canham shot back, "Keep beating Ohio State and I won't have to."
Hayes' career of course came to an untimely end in the 1978 Gator Bowl when he punched out a Clemson defender on the sideline. Some Ohio State fans will tell you he could have survived the incident if he didn't also have a 3-game losing streak against the Wolverines.

An enraged Woody Hayes slugs Clemson's Charlie Baumann after hearing him humm "Hail To The Victors"
Since Hayes arrival at Ohio State, the Buckeyes lead the series 29-26-2. What particularly galls Wolverine fans is that Lloyd Carr was 5-1 before Sweater Vest Boy made his appearance in Columbus, and 1-6 since.
Why do Michigan fans think Rich Rodriquez is the man to turn the series back around? First of all is Rodriguez' run-oriented spread offense that puts up Playstation numbers, and also appears to be just the offense to give Jim Tressel the night sweats. Rodriguez likes to state that his spread offense "takes what the defense gives us." Unlike some offensive coordinators, who think "Take what the defense gives you," means take the 3-yard out all the time, Rodriguez will either take the run or the pass, depending on whats there.
He was the offensive coordinator for Tommy Bowden at Tulane in 1997-98, and he helped Shawn King get some NFL dollars. King was somewhat of a threat to run, but his arm was his major weapon. Under Rodriguez system, King completed over 67% of his passes and had 38 touchdowns to only 6 interceptions in 1998. King set the NCAA record for QB rating in a season with a 183.3 rating.
At West Virginia he has emphasized the run in the spread option, where QB Pat White and RB Steve Slayton have both rushed for over 1,000 yards two years in a row. Those two stars point out another factor Michigan liked -- Rodriguez will work any route possible for recruits. White is from Alabama, while Slayton is from Pennsylvania. West Virginia produces virtually no D-1 football prospects. Rodriguez has to rely almost exclusively on out-of-state recruiting, and even there he hardly has been landing blue chippers. He finds overlooked talent, and turns them into a winning program.
Rodriguez has taken chances on some questionable characters at West Virginia, but he was recruiting out of the shallow end of the talent pool at Morgantown, and it just got a lot deeper for him in Ann Arbor.
Rodriguez hit most of the right notes at his press conference, and the honeymoon period has begun. But everything that happens between now and November 22, 2008 is really just so much throat clearing.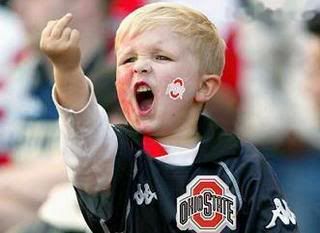 Welcome to the Big 10 Rich.