I typed in lines from some recruiting interviews and it gave me some useful insights. Thought I would share.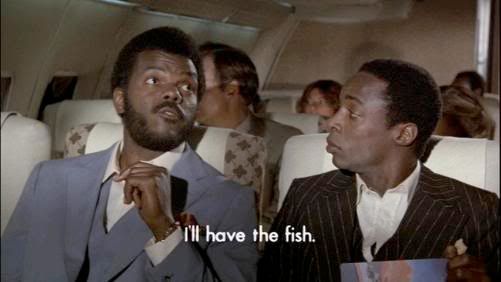 Translation in italics.
For me, it's all about getting a good education. Seminole. Bank on it.
I want to major in finance or petroleum engineering. sociology, holla!
I value a family environment. I'm going to fuck some white girls.
I really liked the atmopshere there. Yup, white girls. Not the fat ones neither.
You have to love the feeling at UCLA. Every locker has a X Box 360 in it.
What tradition in South Bend. I was so impressed. They showed me a bunch of grainy film of ancient white dudes who couldn't have started at my high school. I fell asleep.
Mom will be crucial in my decision. She has done everything for me. I also value the opinion of my shadowy Uncle Kenneth and my estranged father Ray-Ray, who will try to steer me to LSU or Miami the morning of signing day.
I think right now everyone is dead even. I've got some hard thinking to do. I'm going to string along Michigan, UCLA & Notre Dame so my stock will go up. Why does this Tom Lemming cat keep calling me?
Michigan really showed me a lot. Ann Arbor was cold as shit. Goddamn. A kid named Marques up there keeps a fuck lion in his closet. Real fluffy.
You know Marcus is my boy, I'd love to play with him. Fuck Marcus. Tell him he should have thrown me the ball more instead of taking off running all of the time.
We've both talked about going to the same school since we were little kids. I still can't get over it. Marcus was Prom King? Ha dee ha. How are you going to vote Marcus Prom King when he's not even Rivals Top 100? His best offer is Oklahoma State. I repeat, fuck Marcus Jenkins.
Their coaching staff is just so professional. They showed me the depth chart. They pointed out that all of the guys ahead of me are disappointments and that I'll start on day one.
Coach's resume is awesome. I was real impressed that he coached Brett Favre. And Favre hated his ass. Do these coaches think I don't watch ESPN? Never taught that fool not to throw dumb interceptions either, did he? Just like Marcus "Fake Prom King" Jenkins.
Coach is just a like a father to me. He sweet talks Mom and he'll disappear the moment a better prospect comes along.
Honestly, I'm just honored to be getting recruited by schools like these. You'd better let me wear #5 if you want me. I've been rollin' with that since pee-wee.
I really respect these schools and coaches. I just want to take time with the process and make sure it's the right decision. At the signing day press conference, I'm going to have a Michigan, Notre Dame and UCLA hat on the table. I'll put on the Michigan hat, but then drop it on the ground and stomp on it. I'll take the Notre Dame hat, point at it smiling, then I'll wipe the bill along my ass crack. Then I'll set the UCLA hat on fire and throw it at my principal. I'll say,"Naw, for real" and then grab the UCLA paperwork and sign my name real serious. I'll flip it around to show that I've written Doug E. Fresh. Then I'll rip off my camo to reveal Seminole 4 Life branded on my abdominals. Damn! I got chills just thinking about that shit
I'm just so pleased to be going to Florida State. Check cleared
May the translator serve you well in this recruiting season.