They haven't even made it out of district yet in their attempt to defend their state title, but it looks like the Dillon Panthers will get to play again.
There were seven more new episodes planned for the 2008 season before the writer's strike. Those probably will not be made, thus leaving season two with a cliff-hanger feeling. Talks with DirecTV to share the cost of production, and live screenings look favorable to lead to another season.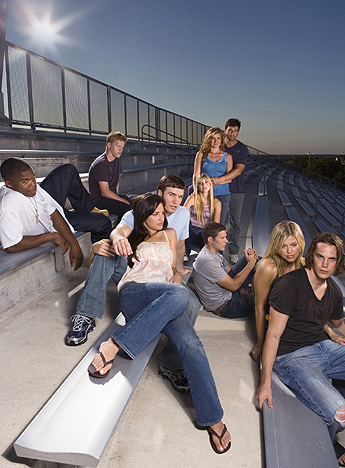 With realignment, the Dillon Panthers look forward to an easier run through district taking on the likes of Austin Hi!
The show continued to lag behind in the overall ratings, but NBC has a couple of good financial reasons to continue to look for venues to air the program. "FNL" draws a young, upscale audience (Adults 18-49 living in homes with $100,000+ income). It is also very popular with DVR owners. "Friday Night Lights" scores well in Nielsen's "live" audience vs. its "live plus 7-day" (DVR playback within a week) ratings. "FNL" jumps up 38% in DVR ratings, trailing only "The Office" and "Heroes" for NBC shows.
Filled with intelligent performances, crisp, authentic writing, "Friday Night Lights" isn't so much about football as about small-town life without being judgemental. Yes, the show is filled with the archetypes you expect - the "good girl" cheerleader, the stud running backs, the Good Old Boy Booster, but they turn out to be multidimensional, and no one is played for stereotypical laughs. The show gets the subcultures of high schools, and small towns down to a T.
Kyle Chandler as the head coach and Connie Britton as his wife are the best married couple on TV. They argue and bitch over all the little things busy married people do, but they stay true to themselves and each other. The documentary style of photography adds to the feeling that you are looking over someone's shoulder into a private conversation. (It may also help save the show, since the three-camera hand-held format of shooting is cost effective.)
The show tells the story of Texas High School football, but it isn't limited by it. The football scenes, though staged realistically, usually end up corny. However it is how this show captures the small moments between adults and teenagers that sets it apart.
Go Panthers.