Barring any more natural disasters, the NCAA Selection Committee will seed and pair 65 teams tomorrow evening which will result in a variety of inane gnashing of teeth from 60 year old bald guys at the expense of whatever selection committee member punching bag ESPN decides to trot out Sunday night. Fun stuff. Unless you're the mid-major that gets screwed or Syracuse.
But for our purposes let's fast forward a bit to our own Barking Carnival 16 team invitational tournament. I know, I know, we'll miss cool "Rudy" type shit like the 2 vs. 15 scare, the certainty that a 12 beats a 5, and Billy Packers' rants about solid screens and TV ratings. That's fine, but I'm more interested in the Goliaths (see our January prediction) and who has the best chance cut down the nets in San Antonio. I don't give a shit about SOS, RPI, or who has earned what or who has a solid resume. These are the best 16 teams in the country in my humble opinion. So, with apologies to those awaiting the Dick Vitale vs. Joe Lunardi cage match here are my regions.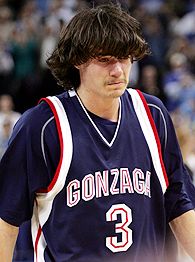 It sucks to be a mid-major.
The East
1. UNC. Simply the best team in America now that Ty Lawson is healthy. They've got wing players galore and an unmatched inside/out combination with Hansborough and Lawson.
vs
4. Indiana. Is Kelvin Sampson going to go down as the next Bill Freider? Doubtful. With first round NBA players inside and out in DJ White and Eric Gordon, this team can certainly make a run.
2. Georgetown. I'll keep my weakest 2 seed paired with my best 1. Georgetown plays tremendous team defense and offensively they can be dangerous with the inside/outside combo of Hibbert and Wallace. The problem they have is they run a lot of motion and don't have players that consistently create on their own when things break down. They really miss Jeff Greene and his ability to get a shot when needed.
vs
3. Stanford. The Lopez twins will definitely give Stanford a legitimate shot to win every game if they can control tempo and take care of the basketball. A first round matchup vs. Georgetown will be a game of horse, as who ever shoots it better wins.
MidWest
1. Tennessee. Now that the Vols have bought into the Bruce Pearl controlled chaos style they will be a very difficult out in the tourney. If you catch them on a cold shooting night you have a chance. If not, you'll likely be run out of the gym.
vs.
4. Notre Dame. Luke Harangody is the Big East player of the year and he's complimented by a fire and ice backcourt of Tory Jackson and hot shooting Kyle McAlarney. The Irish do have an Achilles heal and that is defending slashing guards and wing players. If you've got a couple of those weapons you had better pack your zone offense.
2. Texas. They'll guard you but which offensive team will we see? The one that attacks inside and out or the one that settles for jump shots.
vs.
3. Wisconsin. Pack your mouth piece if you're playing the Badgers. They'll guard you about as hard as any team in the country. They'll also make you guard for nearly 30 seconds every possession. If you're deep, patient, and able to play unselfishly you can beat them. If not, you'll likely lose a game played in the fifties.
South
1. Memphis. At one time they were playing like the best team in the country. The Tigers' unique Dribble Drive Motion Offense featuring 4 perimeter players looking to drive and kick repeatedly until they find an open look or get helping defenders to get out of position. On defense they guard like Calipari's UMass teams. Chris Douglass Roberts is the best scorer in the nation when things break down. Memphis' weakness is foul shooting. Under 60% as a team.
vs
4. Washington State. Probably the least talented team in our tourney, but certainly one of the better defensive teams in all of college basketball. They are a slightly weaker version of the Wisconsin Badgers.
2. Duke. The Blue Devils' lack of interior offense is well chronicled, but the trade off is they deploy 4 legitimate 3-point shooters and still can effectively defend and rebound. If they're on they can beat any team in the nation. A good, disciplined defensive team that can keep them from going nuts from downtown will almost certainly be their downfall.
vs
3. Louisville. A healthy Louisville team is probably the best value to win the tournament with Vegas putting their chances at 30 to 1. Their offense runs through Padgett who is the best passing big man in college basketball. On defense, they pressure like Pitino's old Kentucky teams. Their weakness is they struggle at times from deep with a backcourt of Terrence Williams and Edgar Sosa shooting about 35% from deep.
West
1. UCLA. My weakest 1 seed especially if Mbah a Moute remains injured. They don't defend as well as your typical Howland team, and Shipp and Collison have stuggled shooting the basketball. So much so that Kevin Love is now taking his game to the perimeter a bit. They should have lost 2 out of their last 3 games, and they look very beatable right now.
vs
4. Xavier. As long as they don't play St. Joe's they should be okay. They've got the floor general in Drew Lavender that you need in the tourney setting. Josh Duncan and Derrick Brown give them inside outside scoring punch. Burrell is a beast off of the bench. A very experienced well coached team. Did you know Sean Miller was on the Johnny Carson show as a 5 year old? He still has shards of glass lodged in his neck from the Jerome Lane dunk.
2. Kansas. They're certainly the best 2 seed and have a legitimate shot at a 1. Hell I'd call them 1a in this bracket. They've got great inside/outside balance and probably the best depth in the tourney outside of UNC. Their lack of a go to guy hurts them in my opinion. I'm not sure Rush is that player.
vs
3. UCONN. Superior size and athleticism on the interior leading the Big East in blocks. Thabeet and Adrienn are young but both have NBA ability. Jerome Dyson and AJ Price give them an explosive backcourt that can create and score. If their youth doesn't get them, they can compete with anyone.
How it plays out
East.
Carolina rolls a young Indiana team that has players pining for the NBA. They'll play Stanford after the Tree edges out the Hoyas 17 to 15 in double overtime. Pete Carril comes out on the floor in a drunken tirade screaming at John Thompson, Jr. for the pathetic display of the "Princeton Offense". Robin Lopez drains the two technical shots. Ty Lawson ends the Tree's run two nights later outscoring Stanford 24 to 23 in route to a 30 point win.

Bracket buster.
Midwest
Tennessee repeatedly slashes to the goal for open looks and kickouts before fouling out Luke Harangody. Texas in the nightcap outlasts a game Wisky club getting revenge for the regular season buzzer beater. A night later, Texas beats the Volunteers at their own game. They take better care of the basketball and better shots.
South
Memphis runs Wazzu out of the gym the first game. Tony Bennett's head explodes after getting 80 dropped on him. Louisville avenges Pitino when Derrick Caracter catches a 3 quarter court pass and hits a turnaround J as time expires. Denny Crum is seen on the sideline with hands on head weeping, certainly mocking Thomas Hill. In the battle of the Italians, Memphis beats Louisville. Memphis fails to cover the spread in either game however, but still advances. Weird.
West
UCLA is finally playing outside of California and it shows. Their inability to hit a perimeter shot is their doom. Xavier wins. Sean Miller dribbles 6 basketballs simultaneously to celebrate. In the nightcap, Kansas rolls a young UCONN team. Then they outlast Xavier. Bill Self calls Roy Williams a c*cks*cker to celebrate..
Your final four is Kansas vs. Memphis. Texas vs. UNC. Who wins?
Thoughts? Dissenting opinions.