(Apologies to TripsRight for any stepping on of toes I do here.)
The majors performed pretty much as expected. On the high end: The Big East was a last-second OT jump shot away from going a smooth 8-0. At the other end is the Pac-10, which split its six games. The Big 12 came in at a healthy 5-1. In hindsight, Baylor shouldn't have been invited - they played Purdue about the same as they played A&M and Colorado down the stretch - but everyone else played according to seed.
Biggest upsets: San Diego over UConn, Siena's margin of victory over Vandy, Belmont's heartbreaking almost-win over the Blue Douches Devils.
Best finish: Western Kentucky's Ty Rogers reaching into Drake's chest and ripping out its still-beating heart in OT. The Hilltoppers-Bulldogs beats out the San Diego-UConn ending, which lost style points for the aggravating run of fouls/free throws/timeouts, and the Belmont-Duke game because I fucking hate Duke and Gerald Henderson.
Best player: There were some tremendous individual performances, especially on Friday. I have to go with Davidson's Stephen Curry - 40 points, 14/22 from the field, 8/10 from behind the arc, 4/6 from the line, 3 rebounds, 5 steals and 6 of the Wildcats' last 8 points (a 3-pointer to break a 74-all tie, and three free throws in the last 1:04). That's a helluva day.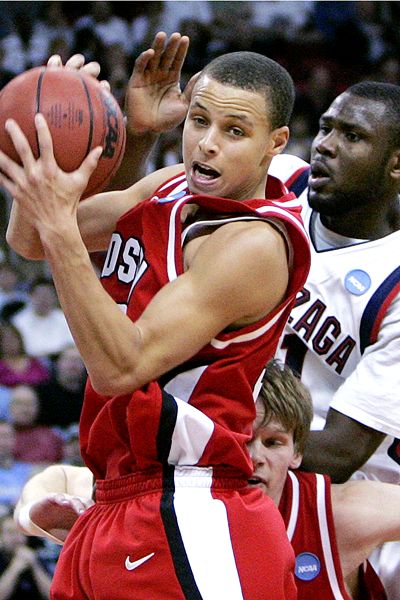 Ladies and gentlemen, the next President of the United States, Stephen Curry
Honorable mentions: Jack McClinton of Miami (38 points, 12/19 from the floor, 11/11 from the line, 4 rebounds, 3 assists); Sonny Weems of Arkansas (31 points, 12/14 from the field); Kenny Hasbrouck of Siena (30 points, 9/14 from the field, 10/10 from the line, 4 rebounds, 3 assists, 2 steals); Charles Rhodes of Mississippi State (34 points, 10/12 from the field, 14/18 from the line, 9 rebounds); Pete Campbell of Butler (26 points, 9/11 from the field, 8/10 from behind the arc, 5 rebounds, 2 assists ... in 20 minutes of play). Rob Jones of San Diego had a pretty good game against UConn, but not quite good enough to get me to drink the Kool-Aid.*
***
As for the Horns, I thought they played 75% of a great game. The last 8 minutes was basically unwatchable, with sloppy offense, indifferent defense, wretched free-throw shooting. Otherwise, AJ Abrams was unstoppable, Damion James and Justin Mason had tremendous games, and Connor Atchley and Dexter Pittman offered high-quality play. DJ Augustin was awful, even with 8 assists. In order to stay sane, I'm assuming that the crappy last quarter of the game was due to boredom and Augustin's bad day was simply a fluke.
Regardless of my undoubtedly overwrought reaction, the game against the Governors was a textbook first round win for a #2 seed - rush out to a big lead and coast to an easy win. A scrimmage, in essence. We got our tourney legs under us, and were even able to get our down-benchers Ian Mooney, Harrison Smith and JD Lewis some bragging material for their 10-year reunions. That last bit might sound like snark but it's not: I honestly think it's cool that those guys will be able to say they got to play in an NCAA tournament game for the Burnt Orange.
Sweetest of all: We took the Pig crowd out of the equation early and kept them out. I hope to see the same on Sunday. It's going to be just a little bit harder to do so, I imagine.

Keep your thoughts to yourselves, Razorback fans.
***
I really love the Second Round - only the Elite 8 games are better, as far as I'm concerned. The dregs and auto-bids have been scrubbed out, more fans have come in for the weekend, and you're generally left with very solid teams and/or Cinderellas scratching and clawing for every single possession. You also get contrasting styles of play between teams of similar talent levels. All this without the (admittedly glorious) bloat of the first round. Good times.
Today's games:
No. 7 West Virginia at No. 2 Duke (1:10 PM CST ) - You have to think the Dukies are wigging a bit over their recent outside shooting. West Virginia has played some outstanding ball down the stretch. Thus, I think we're perfectly poised to see a Duke romp. Because that's how life is.
No. 11 Kansas State at No. 3 Wisconsin (3:20 PM CST ) - Wisconsin's deliberate dullness is precisely the kind of approach that should give KSU a 40-minute migraine. I think the Badgers neutralize Michael Beasley and win comfortably.
No. 6 Purdue at No. 3 Xavier (3:40 PM CST ) - No idea. Purdue looked good against Baylor, but I don't think that means much. Xavier had been wobbly before finally shaking off Georgia. I'll go with Xavier since I have them in the Sweet 16 of my bracket.
No. 5 Notre Dame at No. 4 Washington State (5:40 PM CST ) - I didn't expect either of these teams to win as handily as they did on Thursday. I'll go with the Irish based on their inside presence as well as the apparent quality of the Big East this year.
No. 6 Marquette at No. 3 Stanford (5:45 PM CST) - I'll go with Stanford's size over Marquette's guards here, but I could easily see the opposite happening.
No. 8 UNLV at No. 1 Kansas (5:50 PM CST ) - Rock chalk, Jayhawks in a walk.
No. 5 Michigan State at No. 4 Pittsburgh (8:10 PM CST) - On paper, this looks like an outstanding game. I'm still not sold on Michigan State, but Tom Izzo's pretty much a witch in the post-season. Then again, I don't think there's a hotter team right now than Pitt. I'll side with my bracket again and take the Panthers in a low-scoring nail-biter.
No. 9 Texas A&M at No. 1 UCLA (8:15 PM CST) - Bruins romp, though I wouldn't be shocked to see the Ags keep it close for a half. Otherwise, I see UCLA as Nicolas Cage and Texas A&M as some Wicca chick.

(* I was already going to hell.This just gets me a rung lower.)