Just as in the first round, Day 2 offered the more compelling contests.
In the Longhorns' case, their contest was vastly more compelling than it should have been. For whatever reason, Texas took its foot off the pedal at about the 8-minute mark after playing some outstanding basketball. You do that against a 15 seed, and you wind up with a 20 point win. You do that against a 7 seed, and you have to hold on for dear life to secure a 3-point win. I don't know if the let-up was a directive from Rick Barnes or the team losing interest, but in either case, it's a bad habit to be getting into.
One thing we know didn't come at the coach's urging: The comical performance at the free-throw line. Even in the best of times, this Horns team isn't particularly great from the charity stripe. But in the tournament, this can kill you, and it almost ended our season Sunday. I shudder to think of what might happen if Memphis and Texas get into a free-throw contest in a potential Regional Final at Reliant.
It's too bad their performance down the stretch left such a bitter taste, because in most other ways, the Horns played outstanding ball. They were deadly on offense in the first half, and the team continues to play outstanding team defense. AJ Abrams has gotten blazing hot at just the right time, which is due to both his tireless work and the team's recognition of where he is on the floor at any given time. Damion James continues to be a rebound like a Viking (click here to see Burnt Orange Nation's appreciation). Connor Atchley had his second straight solid game (12 points, 7 rebounds, 3 blocks), and Justin Mason keeps on Justin Masoning the hell out of people (9 points, 9 rebounds, 7 assists).
I have to be happy with those performances and DJ's yeoman work ("yeoman work" means unimpressive stats but important part of the game regardless - especially his 8 assists, 12 points and 3 steals). So for all my griping about the last few minutes, I still have to throw up my Hook'em Arthur Carlson.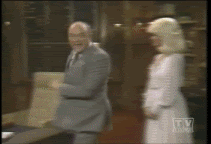 I believe we match up pretty well with Stanford, but the Horns have to be a lot tougher throughout the entire game if we're to make the Elite 8. No room for screwing around from here on out.
***
Recapping the rest of the round...
Best player: Once again, I'm going with Stephen Curry of Davidson. Curry wasn't as efficient against the Hoyas as he was in the opening win over Gonzaga, but he overcame a slow start to lead the Wildcats to a tremendous comeback - 30 points, 3 rebounds, 5 assists, 3 steals, 9/10 from the free-throw line. Check out the ESPN Play-by-Play to see his performance in the last 12 minutes of the game, when the Wildcats overcame a 50-39 deficit: 21 points, 2 assists, 1 rebound, 8/9 from the line. Sportswriters across this great land of ours are already lining up to anoint this guy as the Paragon of Student-Athleticism circa 2008. I was being facetious when I obliquely compared him to Barack Obama in my previous post. Now I think it's just a matter of time before someone in Bristol or New York does the same for reals, y'all.

Honorable mentions:

AJ Abrams, Texas - Duplicated his Friday's game against Austin Peay: 26 points, 6/10 from behind the arc. On Sunday against the Canes, he added 4 rebounds and appeared to be the one Longhorn who wasn't thunderstruck at the line - he was 6/6, all in the last 3 minutes of the game. And he played all 40 minutes. Let's hope he likes Houston as much as he liked Little Rock.
Brook Lopez, Stanford - 30 points, 10/11 from the line, 4 rebounds, 10 of Stanford's last 12 points in regulation, 8 of the Cardinal's 11 points in overtime (and the assist on the other 3), capped off by a tough game-winning jumper to beat Marquette.
Scotty Reynolds, Villanova - 25 points, 8 rebounds, 5 assists - Reynolds was the team leader in each of those stats against Siena.

Best game: Stanford 82-Marquette 81. The game saw a series of runs, from Stanford up 9-2, to Marquette up 36-25, to Stanford up 57-51, to overtime at 71, to Brook Lopez's jumper for an 82-81 win. Two teams playing well and thriving on the drama. Beautiful.

Runners-up

Tennessee 76-Butler 71 in OT. The Vols basically led all game, though Butler lived up to their mascot throughout - the Bulldogs fell behind early but kept gnawing at Tennessee's heels, finally getting its only lead of the game in overtime before falling just short. Butler blew a handful of layups down the stretch, which only makes their loss more heartbreaking. Sucks royally for the Butler partisans, but for the rest of us, that's what's so great about the tournament.

Yummy, yummy, you guys. The tears of unfathomable sadness!
UCLA 51-Texas A&M 49. What it lacked in style points, it made up for in drama. The Ags did everything they could to ugly up the game and make UCLA play on A&M's terms, and they came agonizingly close to pulling it off. To their credit, the Bruins scraped up just enough offense and poise to move on.
West Virginia 73-Duke 67. NFM.

Best team performances:

North Carolina barely broke a sweat in its two games. I mean that literally: Against Arkansas, only Tyler Hansbrough played more than 28 minutes for the Heels.
Louisville was just as dominating against nominally better competition than North Carolina faced.
Washington State methodically ground up Notre Dame in the same manner in which they did Winthrop in the first game. It will be interesting to see if the Cougars can Bennettize the Heels on Thursday.
Kansas had a bit of a fight with UNLV for a while, but ended up easily pulling away from the UNLV.
***
Conference records for remaining teams:
Southern (Davidson) and C-USA (Memphis) are 4-0 (100%).
Big 10 is 5-2 (71%), with Michigan State and Wisconsin still around.
Big East is 10-5 (67%), with Villanova, West Virginia and Louisville hanging around.
Pac-10 comes in at 6-3 (67%), with UCLA, Stanford and Washington State.
Sun Belt is 2-1 (67%), thanks to Western Kentucky.
Big 12 is at 7-4 (64%) thanks to Kansas and Texas.
The ACC come around with a 4-3 record (57%), thanks basically to North Carolina, the only remaining member. (Aside: F you Billy Packer. The ACC has in reality been a 1-team league all year.) (And a bonus F you to Dick Vitale, just on principle.)
The X-10, um, A-10 is 2-2 (50%), thanks to Xavier. Does Sean Miller go to Indiana after the tournament?
And finally, the SEC comes in at 4-5 (44%), with Tennessee as the final representative.
***
Here's the schedule for the Regional Semifinals:
Thursday
No. 7 West Virginia at No. 3 Xavier (6:10 PM CST)
No. 4 Washington State at No. 1 North Carolina (6:27 PM CST)
No. 12 Western Kentucky at No. 1 UCLA (8:40 PM CST)
No. 3 Louisville at No. 2 Tennessee (8:57 PM CST)
Friday
No. 10 Davidson at No. 3 Wisconsin (6:10 PM CST)
No. 3 Stanford at No. 2 Texas (6:27 PM CST)
No. 12 Villanova at No. 1 Kansas (8:40 PM CST)
No. 5 Michigan State at No. 1 Memphis (8:57 PM CST)