Man, we can't even excel at sucking. That honor, according to Forbes, goes to Atlanta, though it looks increasingly like Seattle will be passing them in the next couple of months. With the Rockets about to succumb to the McGrady phenomenon once again, and the Astros winding up for a truly hideous summer, we might be able to crack the top 5. The Texans' slow improvement is a troubling long-term trend, however.
Here's Houston's entry. I've decided to augment Forbes' blurb with some of my favorite elements of sporting misery from my home town heroes. The Rockets, being the city's most successful franchise, just have one citation here. The Oilers had by far the most hilarious of mishaps (I'm very disappointed that I couldn't find any pictorial record of Buddy Ryan's sucker-punching Kevin Gilbride - see #5 here). As indicated by my pics, it's the Astros who have most capably delivered heartbreak to our town.
The cavalcade of misery begins.

The epic fail by which all other epic fails are measured.


The ball still hasn't landed. This remains the most deflating moment in my history as a sports fan.

Seriously? You couldn't win one lousy game?

Unlike most around here, I consider this to be Texans' worst #1 overall pick EVAR.

Oh Ralph. This is so beneath you.

He seems pretty good. Let's trade him for Milt May.

Duck, ye Thon!

No worries. Jim Clancy will be an excellent replacement.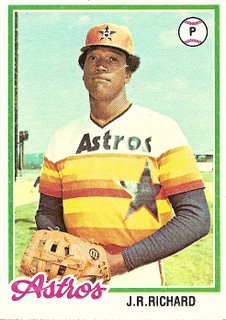 I've got no snark for this one.

Asshole.

Yeah, yeah, the umps shouldn't have been swayed by the crowd. But jeez, Toros, you couldn't hold onto a 5-run lead?

Fucking Lenny Dykstra. Fucking Ray Knight. Fucking Gary Carter. Fucking Doc Gooden. Fucking Wally Backman. Fucking Daryl Strawberry. Fucking Jesse Orosco. Etc.

Included because of the heartbreaking hair, mustaches and tiny pants.
As a bonus, click here to see how Houston managed to fail even in the realm of cheap-ass Roy Scheider noir thrillers. The fictional Astros ace featured in the trailer was apparently an amalgamation of Bob Knepper and Juan Agosto (WTF???!?!!111!). I'm not sure who the hook-handed guy was based on. Maybe Dave Dravecky.