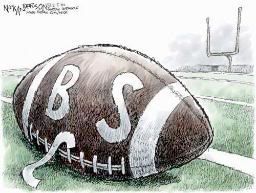 it didn't even come up for a vote.
In fact, the SEC and the ACC were the only conferences who wanted to continue discussing a possible playoff system. Today was the first time Big East Commissioner Mike Tranghese and Big 12 Commissioner Dan Beebe indicated that their leagues are against a BCS playoff system.
2014 is the next logical time that a change of format can be realistically looked at , since that will be when the ABC-Pac 10/Big 10/Rose Bowl TV pact runs out, and Fox is expected to negotiate an extension on the rest of the BCS TV package this fall that will also run through 2013.