No, not the TV show that stirs srr50's loins but rather the scribe who begat it. We're talking Buzz. H.G. Mr. Mojo. Apparently, Buzz, is not too fond of the sports blogosphere (WSJ).
What can I say? He better step the fuck off and respect this Carnival. Perhaps he didn't get the memo about the copious (one) and prestigious awards (one) we've received from some of the funniest fucking guys on the web.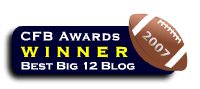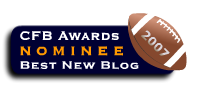 Il Padrino has a measured response.
You can also watch the segment here, if Deadspin has fixed its Internet Media Player.
I've never seen a Pulitzer Prize winner so unaware of irony.

Braylon Edwards now really hates white people.
It's amusing that this was a segment billed as Internet Media, just some sort of fad that they hope will pass, like Scipio and his Dolphin shorts. The Internet IS media. Or as Chirs Rock once called it, The Medias. Newspaper revenue models are crumbling as Craig Newmark stands as the gate holding is mouse like a cudgel. Paging Marshall McLuhan. Welcome to four years ago.
Great guy to read on this is Jeff Jarvis. This was a good story. Masnick also has a nice post-mortem.