Ryan Perrilloux has finally been kicked off the LSU football team.
LSU head coach Les Miles said that Perrilloux "didn't fulfill his obligation as an LSU student-athlete." What those obligations were are left to the reader's imagination.
He's just the latest in a long line of players, particularly quarterbacks, who have suffered career setbacks after spurning a scholarship offer from Texas. Kyle Wright, Rhett Bomar and now Perrilloux.
My favorite part of the article is the part that says Perrillux plans to finish out the spring semester. So after his finals in 'Drive Thru Daquiri Preparation' and 'Casino Profit Skimming' he'll only be 84 credits shy of a degree in Louisiana Arts.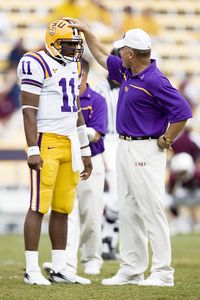 Son, this is gonna hurt me more than it it hurts you. Sort of.