Good Morning, You're on Tradio.
My great grandfather, my grandfather and now my father were/are farmers in the Texas Panhandle. Needless to say, I grew up spending 70% of my summers on the tractor, while my peers worked on their tan as lifeguards at the pool or sacked groceries at the local store, and further extended their lead on me for number of Bible Belt virgins they had finger banged via a bottle of Boone's and the latest Ricky Van Shelton tune.

This mixed with some Strawberry Hill didn't keep things between the lines.
Anyway, in the late 80s/early 90s, we still owned one tractor with only an AM radio. Your listening options were limited, not only by AM transmission, but by the number of radio stations available out of Amarillo, TX. You had two options: (A) Webb Pierce or (B) Talk Radio. Meanwhile, your sister was jamming out to Roxette and EMF across the field in the "new tractor" courtesy of the latest digital stereo technology supplied by John Deere. Maybe Webb Pierce wasn't so bad after all. AM radio had its highlights though, as I lived for Saturday mornings from 8-10 a.m. Talk Radio 710 had a program that in retrospect was years beyond its time, I think. (They probably had a similar program in every metropolitan or rural area in the U.S., but I was a little isolated from communications with the outside world.) The program was called "Tradio".
More or less, it was Ebay on the radio except exclusively for Rednecks in the Texas Panhandle trying to offload the obsolete shit accumulated around their homestead due to years of technological advances in the agricultural industry. In other words, you needed some kind of live animal to operate most of it. In the right frame of mind, if Time Life came out with a year by year series of recordings from the history of Tradio on an infomercial, I would be all over it. You couldn't possibly make up the shit that people traded/bought/sold on this show. The premise was great – they open up the phone lines, rednecks start calling in with their junk, other rednecks call in with their junk and ask for phone number of redneck caller with junk from earlier in the show. I never understood it, they were just basically swapping their junk for someone else's junk…..but, once the phone lines opened, you couldn't change the channel. It was hypnotizing and the fastest 2 hours on a tractor. A typical call went something like this:
Host: Good morning, you're on Tradio.
Caller 1: Yeah, this is Milton from Stinnett, and I've got an antique Singer sewing machine and a donkey that's broke to ride. I want $200 for both or OBO. My number's 806-544-2771.
Host: Thanks, Milton. Next caller, good morning, you're on Tradio.
Caller 2: Dale from Channing, I've got a front axle from a 1958 Oliver Tractor and a mule yoke that's only been used twice. Number's 806-723-8914. I was also wondering, if you could repeat the number from the guy over at Stinnett with the sewing machine and donkey broke to ride?
Now, what in the fuck these two guys were about to get done leaves much to the imagination, but I swear to God I would pay $100 just to be there when the deal went down. I've spent many days on some of the large ranches in the Texas Panhandle and I have yet to see one motherfucker riding a donkey. There's absolutely no functional value to a donkey once you are on its back. I guess that's how they used to taxi gringos from Del Rio to Boystown….over a century and a half ago, but other than that, I for the life of me can't figure out why you would need to ride one. They don't make radio this entertaining any more. But, Tradio was much more than just entertaining radio. It was the symbolism of everything that was great about capitalism, and it was no coincidence that the peak years of Tradio coincided with the waning years of the Cold War and the fall of communism. Tradio was the American dream. Commerce at its greatest, and a real-life lesson on the economics of the barter system. Fuck the commies and their state run media.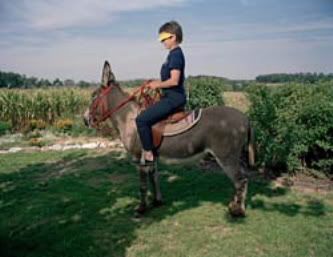 Mrs. Rhoades on her way to Bunco night aboard husband Dale's latest purchase. Hartley County, Texas, Circa 1988