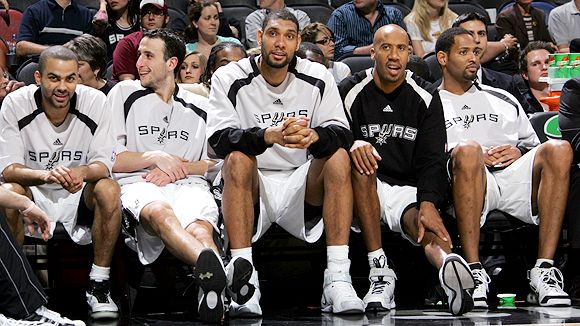 Sorry about the title but it was either that or "Spurs Sting the Hornets in 7" or "Bzzz Kill for New Orleans."
The Spurs held off a late surge from the Hornets to win game 7 on the road, 91 – 82.
Manu Ginobili, bald and unorthodox, once again coldly euthanizes another opponent, scoring 26 and hitting four foul shots in the final 50 seconds.
San Antonio, making their fourth appearance in the Western Conference Finals in the last six seasons, will face Los Angeles in game 1 on Wednesday. Suck it.
As for the Hornets, they're a classy young team that will likely wear a ring of their own someday if they can maintain this nucleus.
Gregg Popovich, quietly one of the greatest, got his 100th postseason victory, passing Red Auerbach. Popovich trails only Larry Brown, Pat Riley and Phil Jackson in playoff wins. Jackson has 186 playoff victories.
The Spurs – Lakers series will pit two of the four coaches in NBA history with four or more championships head to head. Jackson and Auerbach have nine. Pat Riley and John Kundla have five.
Say hello to the Hall of Fame, Pop.
The Lakers, not just explosive on the offensive end (that MVP guy and all), have played great defense. Kobe, and just a handful of other star guards, spends none of his time incessantly bitching about being guarded by Bruce Bowen. Being defensive-minded himself, he seemingly isn't even slightly offended by having an opponent make honest attempts at breaching his space. So, it'll be nice to watch two series in a row involving the Spurs without the tears over Bruce Bowen.
Even the defensive edge in this one might go to the Lakers. Derek Fisher leads the league in steals in the postseason. Pau Gasol, with 56.8% FG, is also 4th in the league in BPG for the postseason. Bryant was selected to the All-Defensive First team. None of this bodes well for a Spurs team that struggled all year in scoring.
The Lakers and the Spurs split the regular season series 2-2.
Go Spurs Go!