Texas Monthly.
Picking your favorite BBQ place is like picking your favorite Billy Squier song. There are so many. But if you held a gun to my head, I could pick a solid top 5 and that's what Texas Monthly did.
No. 1: Lexington: Snow's BBQ
I've never even heard of this place, but I love everything about it. The pitmaster is a 73 year old woman named Tootsie. They're only open on Saturdays, and when they do they open at 8am. Being able to acquire BBQ for breakfast is one of life's greatest pleasures. The Texas Monthly writers went apeshit over it even if they did turn me off by two of them ordering chicken. Ordering chicken at a BBQ joint is like reading BarkingCarnival because of Doperbo. Who does that? Nevertheless, I'm there.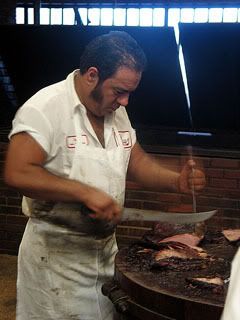 "Which one has the line?"
"Ahh."