Some interesting numbers here on the top NBA prospects.
Nothing new here in that college basketball players and coaches routinely lie their asses off about their true height and weight. Unfortunately for them, the tape measure and the scale do not lie.
Some quick impressions:
The fact that they have them test in bench press amuses me. I can't think of a less applicable lift for basketball.
DJ Augustin tested decently in terms of movement, actually running and jumping better than I expected. 5-10 in his socks? Ouch. Still, perhaps the Knicks draft him at 6. That way they could have eight point guards on their roster.
WVU's Joe Alexander helped himself. He had a 38.5 vert, ran his ass off in the 3/4 court sprint (2nd best time), measured just over 6-7 without shoes, lifted very well, and, oh yeah, he can play basketball pretty well. He's a consistent outside jumper away from being a really nice NBA contributor.
Kevin Love measured just shy of 6-8 in bare feet. That raised an eyebrow for me. His other measurables were actually quite solid which helps him to sell himself as a smallish PF with an inside/outside game. Of course, he has a phenomenal basketball IQ and his outside game will only grow.
OJ Mayo was 6-3 in bare feet. This kid lost three inches more quickly than your peter at the sight of a naked Candy Crowley. Maybe I'm too influenced by my reflexive SMU...err I mean... USC hate, but I honestly have a tough time seeing the difference between his game and, say, Joe Crawford from UK. Of course, OJ has experience in the pro game since he's been playing for money since he was 15.
David Padgett is legitimately long and though he moves like a lumbering buffoon at times in the open court, legit 6-11 guys with great skill sets don't grow on trees. I think he fits with a Spurs/Jazz type team in the 2nd.
Eric Gordon is 19 years old, 6-2 222 with a 40 inch vertical and he had the 3rd fastest sprint of any player at the combine. Too bad we didn't recruit him at WLB. Beyond his measurables, Gordon is also good at basketball. I think he's a top 5 NBA prospect, but that's just, like, my opinion, man. I know he's a couple of inches shy of what you'd like at SG and he went in the shitter down the stretch at Indiana, but I suspect that the NBA will suit his game just fine. He needs to get his head together and get the wrist healthy.
I'm curious about your thoughts.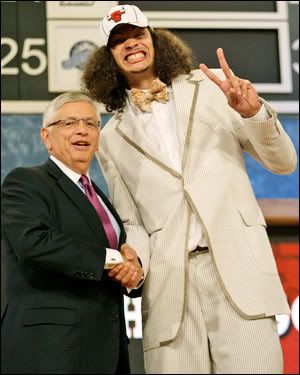 Noah points out that Stern is actually only two feet tall.