No, really. That's the headline.
From Sports Illustrated.
"We expect to have Josh on our roster this fall and look forward to a long and successful career for him both academically and on the football field," Sooners coach Bob Stoops said in a statement. "He became involved in a situation at his school during his senior year that certainly has caused us concern. At the same time, we have personal knowledge of Josh through our recruiting contact with him and from personal references from his school and individuals of authority in his life."
Barry Switzer added, "Hell, it was just a hand gun. It's not like he was in an airport or waving an Uzi around a dormitory."
The story also points out that the kid was expelled from his high-school but finished his coursework on the Internet. He spent a lot of time doing research on the Wikipedia.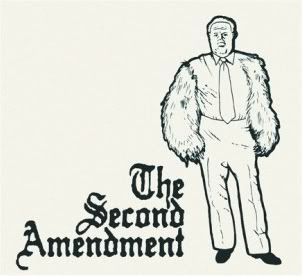 Stick 'em up!