The 108th U.S. Open held with tradition Thursday. Specifically the tradition of the first day leaderboard being populated by players who must wear their U.S. Open Player badges prominently in order to get inside the ropes.
Kevin Streelman and Justin Hicks fashioned 3-under 68's to take a one shot lead after the first round of the Open Championship. Hicks is making just his 3rd start on the PGA tour, while Streelman, a PGA rookie, has one win as a pro -- the Opelika Classic on the Hooters Tour.

Kevin Streelman has a share of the 1st round lead at the U.S. Open, along with the best gallery.
Of course the primary focus was on the trio of Tiger Woods, Phil Mickelson and Adam Scott, the three top ranked players in the world. Scott turned in a 2-over 73, Woods a 1-over 72, while Mickelson finished the day at even par 71.
Woods has played in five events this year without a double bogey. He promptly hooked his drive on the first hole, flew a wedge over the green and recorded a 6. Woods had another double bogey on 14.

Tiger Woods said his knee didn't bother him today, but he didn't practice after his round
Meanwhile, Mickelson, who has played with two drivers before, took on the longest golf course ever used in a Major without a driver in his bag. He went with a 3-wood off the tee, giving up an averge of 40 yards per hole to Woods.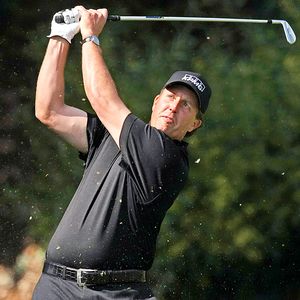 Mickelson was still getting 280-300 yards from his 3-wood and stayed out of the deeper rough.
Mickelson was 3-over par after 12 holes, but birdied 3 out of his last 6 holes to finish in a positive note.
While the names at the top of the leaderboard are known to few outside their immediate family, there is plenty of star power right below. 2006 Champion Geoff Oglivy birdied four of his last six holes for a 2-under 69. Two-time U.S. Open Champ Ernie Els is at 1-under par, as is Lee Westwood. Vijay Singh and Luke Donald joined Mickelson at even par. Davis Love III is among the group at +1.
For his part, Woods refused to give in to a flurry of questions about his knee and pointed out that despite two doubles, he is still only four shots off the pace. Tomorrow he and Mickelson will tee off in the late afternoon, when the greens will be spiked up and dried out, usually making the scoring conditions tougher than the early morning groups will face.
There are a couple of interesting holes to look forward to as the tournament moves toward Sunday. The USGA is talking about making the par four #14 drivable on Sunday, and the par 5 finishing hole is already a great risk/reward challenge, since a good tee shot gives the player a chance to go for the green in two. That should make for a terrific finish.