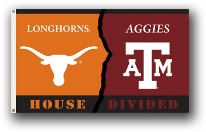 War Eagle Atlanta broke down the best in-state rivalries in a piece called Brother Against Brother. The Texas/Texas A&M rivalry came in at a respectable #2 overall. One a side note, here is a link to another post I did regarding Rivalries and Point Spreads just prior to us losing to Texas A&M last season.
His top 5 are:
1. Alabama/Auburn
2. Texas/Texas A&M
3. Miami/FSU
4. USC/UCLA
5. Oregon/Oregon State
I don't really have a ton of complaints with his list (particularly his top 5), but a couple of things struck me. There are not a lot of great intrastate rivalries outside of his top 5. Purdue-Notre Dame? Wow that sucks. I'd think the Aggies and Red Raiders count before ND and Purdue. Are there other Texas/old SWC rivalries worth discussion? Florida and Florida State strike me as a bit underrated, although they are relative newcomers to bigtime college football.. Are Washington/Washington State deserving? What about Colorado and Colorado State?