Let me start this out by introducing myself briefly. My name is Mike (mdr), I am a graduate of the University of Georgia, and my family has had season tickets for over 30 years. So clearly you can see where my loyalties lie. A couple of weeks ago, a writer for this site named ChrisApplewhite posted his list of top ten college coaches. If anyone who is reading this read the comments and rebuttals to Chris' list, you probably know who I am. As a result of my ongoing argument with Chris and others in those comments, I was asked to compile a list of my own. So, here it is: a meaningless list of the best coaches in college football compiled by a random guy with no writing experience who is bored at work. Enjoy.
Feel free to agree, disagree, call me retarded, whatever floats your boat.
Johnson moved on to Navy, and after a bumpy first year, went on to go 9-1 in the Commander in Chief Trophy competition over his six years in Annapolis. He posted five seasons with 8 wins or more and led the Midshipmen to five consecutive bowl appearances. Let's not forget this is the Naval Academy we are talking about here. All of the service academies are at a huge competitive disadvantage in big time college football and for Johnson to pull off five straight bowl trips is pretty remarkable.
The homer in me hopes that he is soon removed from this list after a colossal failure at Georgia Tech. However, the realist in me believes that PJ will continue to build winners wherever he may coach.

09. Bobby Petrino - Arkansas
41 wins in four years at Louisville continuing to build on the modest successes of his predecessor, John L. Smith. Two conference championships and a 2-2 record in bowl games including a BCS victory in the Orange Bowl, a first for the Cardinals. Petrino is widely acknowledged as one of the great offensive minds in the college game. His ethics have been called into question due to some loyalty issues arising from his discussions with Auburn officials behind Tuberville's back and then his abrupt resignation from the Atlanta Falcons before the end of last season. However, it's hard to argue with the results. Time will tell what he can do at Arkansas, but the tools for success are certainly there and Petrino should have no problems getting players to run his offense.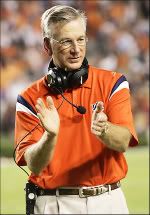 06. Urban Meyer - Florida
The guy posted a perfect season at Utah and has never failed to win at least 8 games in a season. Even better than that, there has only been one 8 win season in his career, every other year Meyer's teams have won at least 9 games. He also took a bunch of guys that Ron Zook signed and led them to a national title in his second year at Florida. Meyer has a great ability to mold his offensive philosophy to best fit the players he has. The offense he ran with Alex Smith in 2004 bore little resemblance to the one that he ran in 2006 with Chris Leak. His motivational skills and his game day planning are top notch as well. The only thing that is keeping him out of the top 5 on my list is the fact that he lost 4 games last year as the defending national champions with the eventual Heisman trophy winner at quarterback. A better year in 2008 will move him up another slot or two in my mind.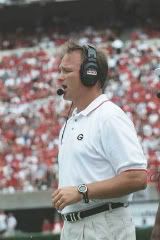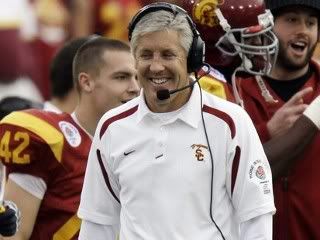 You'd be smiling too.