I'll start off by saying I have a fucking overwhelmingly gay love for Fantasy Football. Alright, I said it. With the season quickly approaching, I find it useful to start a thread that allows the cumulative knowledge of the football brain trust that is Barking Carnival to share their thoughts. I've always been a big believer in going heavy on RBs in the early rounds. I just got lucky last year to be playing two guys with the Romo/TO and Brady/Moss combo during their meltdown weeks in both my leagues. Maybe there's something to be said for that. The point being, I'm softening a little bit on this policy. Brett Favre saved my ass last season and I can't expect to get that lucky again.
I'm going with the best available player policy this season with the goal in mind of having 3 starters who rank in the top 5 in production at their respective positions after the first 3 rounds, but I won't go past the 2nd round without a RB. Assuming I don't land in the top 5 for draft day and have a shot at LT, Peterson, Westbrook or Addai, then I think I'll go QB, RB, & WR. I just don't think I can make it out of the 4th round without two RBs. I'll probably chicken out and go RB, QB, RB. I still believe you can find productive WRs on the waiver wire. The only WR I would have the balls to take over a RB in the 3rd round would have to be named Moss, Owens, Wayne, Andre Johnson and maybe Braylon Edwards, but his lack of separation scares me at times. Same with guys like Fitzgerald, Houshmanzedah, and Burress. I would be tickled to death with Marques Colston and Brandon Marshall of Denver as my starters and they might be around in the 4th and 5th rounds. Chad Johnson and Steve Smith are another pair that scare the ever living shit out of me equally whether I'm playing against them or they're on my team. One thing I know is for certain, FF Championships are won on draft day. Struggle here, and you'll be spending your season combing the waiver wire pondering whether you should start DeAngelo Williams over DeShaun Foster's hamstring as Bill Simmons would say. Here's a few things going through my head as the season approaches. Some are obvious, but some might be useful. You'll more than likely disagree with me, so feel free to add your own advice. I'm assuming starting lineups consisting of 1 QB, 2 RBs, 2 WRs, 1 TE, and 1 Flex Player. I'll cover some running backs today.
Running Back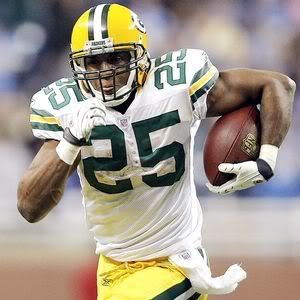 happen in Green Bay with this whole Brett Favre thing, and frankly, I want to suffocate myself with my sweaty, stinky flip flop every time I hear about it. Just like you. However, from a Fantasy Perspective, one guy who will benefit from this whole buffoonery will be Ryan Grant. He averaged 14 fps/game (Fantasy Points per game) last year after taking over the starting position for the last 12 games. You can win a title with numbers like that and I might take him over some more proven backs with a few miles on them. I've done a little research over the years and a back's prime years are from Year 2 to Year 6, which makes sense. Obviously, you don't take Adrian Peterson over LT, but you might want to look at taking Grant over guys like Frank Gore, Clinton Portis, Larry Johnson, and Willis McGahee. These guys all have either health risks, shitty offensive lines, or running styles that are conducive to injuries. I got a steal on Portis last year, but he makes me nervous as shit. Gore gets hurts hurt and has OL issues. Same goes for LJ on the OL, and I've just never been overwhelmed with McGahee. Grant has a good OL, not many miles on him, and the Packers will lean on him hard if he continues to be productive, while Aaron Rodgers gets settled in. Plus, the Packers have a decent defense, so they probably won't be playing from too far behind for the most part. I might be a little skeptical of the Packers receiving corps, but Grant is a safe play in the late 1st round. Don't be surprised when he's a top 5 back with regards to fps/game at the end of the season. I'm skeptical of Steven Jackson and Marshawn Lynch as well.
- I sure as fuck hope I don't get in a position where I have to draft Reggie Bush as one of my first two starters....again.
- Speaking of, here's a list of running backs I don't want to have to draft in certain rounds:
Frank Gore in Round 1: He plays on a shitty team with a shitty OL and they're always playing from behind. Plus, he's an injury risk. I would be comfortable with him as a #2 back, though. SF's defense is getting better.
Maurice Jones-Drew and Reggie Bush in Round 2: I hate having utility guys as even my #2 back. I think Jones-Drew will be a #1 back some day, but not until Fred Taylor dies. Any of those guys are well suited as flex players or depth for bye weeks of your starters. I wouldn't take Jones-Drew or Bush before round 3.
Brandon Jacobs or Laurence Maroney in Round 2: Jacobs can't stay healthy, New England throws the ball all the time and splits up carries. I'm fine with them as flex players starting in the mid 3rd round.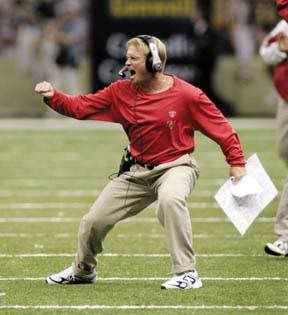 - I think I'm going to steer clear of Pittsburgh backs. I had Willie Parker last year in a league and he finished with over 1300 yards and 2 fucking TDs. Plus, they drafted Mendenhall. Only if one of these guys were to get hurt would I feel the other is worth more than starting as a flex player. It wouldn't surprise me if Mendenhall ends up with more fantasy points than Parker due to short yardage touchdowns. Here's the way to play this. Draft Mendenhall one round too early in the 5th to fuck your friend who drafted Parker in round 3. Then, start him as your flex player, watch him put up stats like 6 carries for 19 yards, and 2 TDs, and wait for Parker to go down. You now have the option of upgrading your #2 RB position or bending your friend with Parker over even further in a trade.
- I think it's now time to stay the fuck away from Rudi Johnson unless as a flex player in round 5 or later.
- Now, the big question. Where do we draft Darren McFadden? This is no where near the situation that Adrian Peterson had, so don't take him before the 5th round even though he carries an early 3rd round grade at this point. I think Chester Taylor is a better back than Justin Fargas, but I still see Oakland giving him the ball a lot. That may not make sense at first, but it's somewhat relevant. Plus, Oakland's offense resembles that of a Pop Warner team. Buyer beware. I actually think Jonathan Stewart might be the best rookie to pick this year, but Carolina is more fucked up than a carnie at this point.
I've got to run, so I'll share more thoughts on QBs, WRs, and TEs later.