A series of melees broke out yesterday at Titans camp during an intrasquad scrimmage with the St. Louis Rams.
Players vent their aggression at practice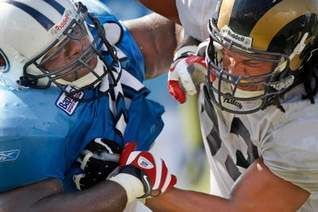 It started off innocently enough; second year running back Chris Henry misread a key block and careened directly into Rams head coach Scott Linehan who was standing next to a Gatorade stand about 40 yards away from the play, throwing a viscious forearm on the way down. When he looked up and realized where he was, he quickly helped two assistant trainers set the table back up and apologized profusely to Coach Linehan, who was dazed by the collision. Unfortunately before the Titan's players could explain that this was the normal running style for Henry, tempers flared and the situation destabilized. Torry Holt, noting that Cortland Finnegan was the smallest player on the field with the pansiest sounding name, wrestled him to the ground on the next play while mocking him in a fake Irish accent. The defensive unit as a whole, save Albert Haynesworth- known around the league for his restraint and calm demeanor, retaliated. Keith Bulluck earholed Reche Caldwell, Michael Griffin slammed two receivers heads together several minutes after the whistle, and Stephen Tulloch stabbed Jacob Bell in the leg with a trident. Kyle VanDen Bosch attempted to soothe the general disruption and calm the situation down by disemboweling Adam Goldberg and using his entrails to smear a bloody visage of the Cimmerian god Crom on his torso while chasing Antonio Pittman around the goalposts in an ever tightening spiral.
Things were calmer on the offensive practice field, with the exception of David Stewart whipping Chris Long about the face and head with a short piece of rubber siphon hose he always keeps in his truck. Coach Jeff Fisher downplayed the incident, noting that a little aggression was healthy and normal this time of year. Said Fisher "Dave was just whomping him a bit with that Oklahoma credit card, he's just being feisty. It's training camp." Titans defenders also downplayed the incident. Noted Bulluck "I feel like, as a defense, we're progressing. Last year in camp the only player who'd lay someone out after the play was Vince. As a linebacker, you feel like you should be tougher than the quarterback. Also, it's good to see that if someone calls Cortland a "wee little man" we can all come together like that and handle our business. Plus I got to slap Reche Caldwell." Kyle VanDen Bosch was initially unavailable for comment, and was later found several blocks away from Baptist Sports Park assaulting a Diet Coke vending machine. He was quietly tased and led back to the field house, no charges were filed.
Jeff Fisher added, "You know, it's really good to see the chippiness out there, it's healthy. These guys are competitors and it showed out there today. We don't condone fighting, but it's good to get those juices flowing and take on another team to see what we're made of. The assistant coaches and I are going to sneak into Linehan's hotel tonight and freeze their bras. We've dressed Lendale up like Kamala the Ugandan Giant to create a diversion."
Brett Favre was unavailable for comment.