First of all, let me state that I think Mike Leach is one of the best things to happen to Tech (and the Big 12) in a long time. His stream of consciousness style of coaching and speaking make for great entertainment. And I get why the Red Raiders are ranked #14 in the preseason Top 25. They have a lot of offensive talent coming back that Leach can unleash once again.
I just don't buy the national elite hype -- yet.
Our own dedfischer has done a great job detailing the explosive Tech offense He also went into great detail as to why the Tech defense will be better this time around.
Great in-depth information on Tech. However, since I used to work in television as a sports analyst, I find that kind of information much too detailed and boring to pore over. Just give me some nice superficial information -- like plain old results. And while past performance isn't a guarantee of future results, it's a pretty solid way to bet.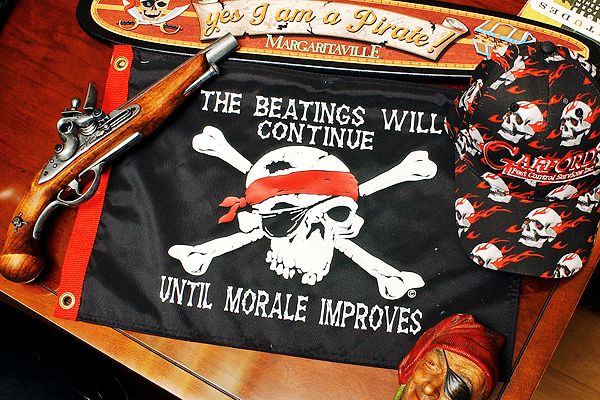 In his eight years on the Plains, Leach has garnered a 65-37-0 record, which is a 63.7% winning percentage, the best for any coach at Tech over an extended period in over 70 years. He's done it largely with a 25-5 (83.3%) non-conference record. A non-conference schedule that has largely been a joke.
Out of those 30 games, only five have been against other BCS-conference teams and Tech is 2-3 in those games.. Ohio State (loss), Mississippi (2 wins) and North Carolina State (2 losses). The last time a BCS-conference school showed up on Tech's non-conference schedule was 2003.
They have balanced those 5 games BCS conference games with 5 games against 1-AA teams -- really bad 1-AA teams. Stephen F. Austin (6-5), Sam Houston State (3-7), Indiana State (0-11), Southeastern Louisiana (3-8) and Northwestern State (4-7).

Tech AD Gerald Myers has a special phone reserved for dialing up future non-conference opponents.
Over the past eight years, Tech has played SMU and New Mexico five times each. In Big 12 conference play, Tech is 35-29 under Leach. That's a 54.6% winning percentage. It doesn't help that he is 3-13 against Texas and OU.

Leach may have a lousy record against the Longhorns and Sooners, but he was 4-1 against Franchione.
He's had a 4-4 conference record four out of the eight years -- including the last two in a row. These numbers tell me that Tech runs up play station numbers on almost everyone, but can't beat the teams with some quality talent on both sides of the ball . As dedfischer astutely points out, teams with elite players on offense will play keep away and shorten the game.
Many of the national voters who are giving Tech love this preseason point to their non-conference schedule as a reason to believe they will get off to a fast start. It has not one, but two D-1AA teams on it, although these two (Eastern Washington & Massachusetts) actually made the play offs last year. SMU is on the schedule - again. But there is another non-conference game that will go a long way to telling me what to expect from Tech. The Red Raiders actually travel out of state to play the Nevada Wolfpack. This WAC team has the kind of offense that could give Tech fits. They return 8 starters, including four offensive linemen along with junior RB Luke Lipponcutt, who gained over 1,400 yards and averaged over 5 yards a carry last year. Soph QB Colin Kaepernick (6-6, 220) was the second leading rusher for the Wolfpack (over 500 yards and 5 yards a carry) and in just nine games last year he threw for over 2,100 yards with 19 touchdowns and only 3 interceptions. The game is set for Sept. 6th in Reno, and until then, I won't buy into the Red Raider Pirate Ship sailing into the sunset just yet.