...at least according to Forbes Magazine. They took a look at the contracts of the coaches in the BCS (and Notre Dame) and devised some metric to compare salary vs. productivity. They proclaim Jim Tressell as the best BCS Bargain.
Forbes lists the coaches they see as the most overpaid and the most underpaid in the BCS.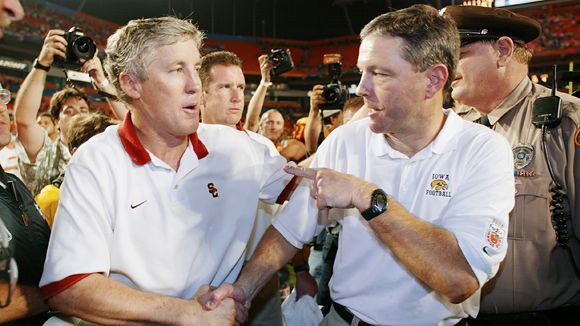 In 2007 Pete Carroll was paid $400,000 per win, while Kirk Ferentz picked up $567,000 per win.
The magazine looked at the records for the BCS schools from 2005-07 and compared a coach's 2007 salary with his team's performance over the past three years. Bonus points were awarded for winning any of the five prestigious Bowl Championship Series (BCS) bowl games. A score of 120 meant that the coach achieved 20% more victories per dollar of pay than the average coach.
The Five Best Bargains
1. Jim Tressell Ohio State (score of 122). Ohio State was 33-5 over the past three years and reached the BCS Championship Game the past two seasons. He earned $2.6 million in 2007. Eight BCS coaches made more.
2. Mike Riley - Oregon State (score of 118). Oregon State was 24-14 from 2005-07. Riley pulls down $1.1 million a year.
3. Jim Grobe - Wake Forest (score of 116). Grobe is 24-14 over the last three seasons at the smallest BCS school -- one that had never won more than 8 games in a season until he arrived on campus.
4. Pete Carroll - USC (score of 114) Carroll pulled down $4.4 million in 2007. UCS was 34-5 from 2005-07
5. Frank Beamer - Va. Tech (score of 110). The Hokies have won 10 games four consecutive years, while Beamer was paid $2.1 for 2007.
The Five Not Worth The Bang For The Buck
1. Kirk Ferentz - Iowa (score 71). Ferentz made $3.4 million in 2007 while compiling a 19-18 record from 2005-07 while watching the police blotter in Iowa City being expanded with Hawkeyes.
2. Greg Robinson - Syracuse (score of 75). Greg is 7-28 at the 'Cuse. Not much for $1.1 million a year.
3. Charlie Weis - Notre Dame (score of 84). Weiss got a 10-year extention worth over $3 million a year. He is coming off a 3-9 season.
4. Ralph Friedgen - Maryland (score of 88). Maryland gave him a raise to $1.8 million, and the Terps have been 20-17 since.
5. Al Groh - Virginia (score of 89) Groh pulls down $2 million a year and the Wahoos were 21-16 over the past three seasons.