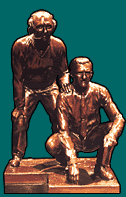 Nunez was sent on a vision quest to find a blocking sled and now he runs a tai chi O-line camp for fat kids, Greg Davis finally consented to run Houston Madison's offense for Vince and was branded an innovator, and we put Bull Reese out to Ozarkian pasture so he could scheme ten man 3rd and 26 blitz packages on coffee shop napkins with no material consequence.
Make no mistake, a change needed to be made. Our Fulmer Cup ranneth over, we were 0-4 1-3 against our two rivals post-Vince, complacency was rife throughout our staff, and Duane Akina was coordinating our defense like Mr Magoo let loose at Talladega. We all expected Mack to hire more guys that eat dinner at 4:30 and love Murder, She Wrote reruns but he crossed us up like a Mamet plot twist and went out and got himself a couple of firebrands. A pair of thirtysomething ass-kickers who will destroy the other coaching assistants at the Big 12 Media Field Day potato sack race.

You're dead, Venables
To fix our considerable defensive faggotry, Mack wisely went again to the only place in college football where defensive coordinators feel spoiled with 10 points in a big game: Auburn. Mack offered Will 16 points in big games, which is a smooth 60% raise. "16 points!" exclaimed Muschamp, shaking his head in disbelief. "I never knew it could be this good." At first, Mack was leery of Muschamp when he heard of his youth and profane intensity, but he softened when he learned that Muschamp suffered from GERD and gets up a lot during the night to pee. He'd fit in fine. He may reconsider that the first halftime Muschamp Buddy Ryan's Greg Davis in the throat, but such is life. Right now the Longhorn fan base is crushing on Will Muschamp so deeply that they find themselves doodling 'Mr. and Mr. Will Muschamp' on their TPS reports in their best cursive. So far Muschamp has evidenced that he gets it in a major way. Speaking of Teh Major...
Brown hired Major Applewhite as our running backs coach. I don't know if Major will add new wrinkles to the offense, but he will bring freckles. Applewhite has a brilliant football mind, he's a tireless recruiter, and he'll relate well to our running backs as he understands what's it's like to run nimbly through tackles at a 4.4 40 clip. When Mack brings Chris Simms on the staff next year, Major's mindfuck will be complete.
Mack: Well, Teh Major you had a heck of a coaching year. Our backs combined for 1650 yards and 21 TDs and we only fumbled twice in thirteen games. Ogbonnoya was flawless in his blitz protection and he xeriscaped a community center. Best of all, we had thirty 'splosives!!! Sally loves 'splosives!!!
Major: (Beams)
Mack: So. We're going to let you go. We're bringing on Chris Simms.
Brown makes a finger tent and leans back contentedly.
Major: Simms!? But why would you do it to me again, Coach? All I ever wanted to do was serve you.
Mack (whispering): Why? Because I wanted to destroy something beautiful.
Major: I...do...not...understand (sobbing)
Mack: You shall in time. You should also know that I've had Cleve Bryant plant several pounds of Anatolian black tar heroin in your Bible study knapsack. The authorities have been alerted and will be arriving presently. My plan - concieved so very long ago with Phil Simms - is now complete. I feel like Kevin Spacey in Seven when Brad Pitt opens the package with Gwyneth Paltrow's head and...
Major: I didn't see it. It was rated R.
Mack: Exactly why I am doing this. You will learn to thank me one day. For giving you this pain. Use it, boy. Use it! This was the same favor done to me by Barry Switzer so very long ago.
The sirens grow louder
So we're showing some new attitude. We're pegging our Jordache jeans and hanging out with the other programs that dip Big League Chew and eat candy cigarrettes behind the bike racks. Accountability is significantly up after having become a nickel stock the day went Vince Young went pro. We've endorsed Will Muschamp's Big Board concept: a constant forced ranking of our athletes and a means of holding staff accountable for their development and use. If someone is the best athlete on the team, you find a way to get him on the field. Period. And by period, I mean save your spilled senior blood excuses for your overflowing tampax. We're starting young talented guys and have decided to coach them when they make errors rather than bury them on the depth chart. This is a new methodology known as "teaching." We're integrating John Chiles into our offense in the unstoppable Cluster Flux Package proving that the shortest distance to a three yard gain is a double throwback reverse option rocket pitch against UTEP.
Defensively, we're experimenting with concepts like covering a spread offense's slot receiver with a nickel instead of a WLB. We are dabbling in revolutionary thought, some of it straight out of the top high school programs in Texas circa 1988. Look, I'm not saying this stuff will all stick. I'm saying that living the lie is all I've got.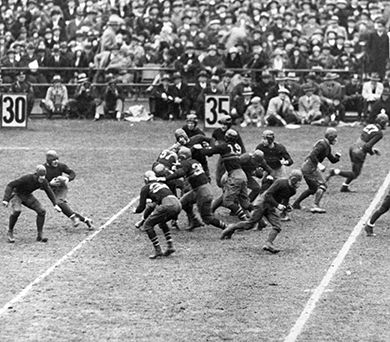 We're evolving
Offensively, we have a reasonably good, erratic college QB in Colt McCoy. Like Robin Williams his greatest strength is his improvisation, but it often goes horribly wrong. Greg Davis remarked that Colt threw interceptions last year because "I trusted him with too much to handle." Which is a really stand-up way of suggesting that the kid screwed us with his utter incomprehension of masterful schemes. Proving that the one thing we did consistently pass well last year was the buck. Backup John Chiles is a supreme athlete who struggles throwing the ball consistently, which most of us agree is something we'd like from the position. Unless he turns a corner soon, coaches will need to have that delicate conversation with him in which they point out that his 40 time is higher than his likely number of completions in a game and hey, have you met Garrett Gilbert?
RB is perceived to be a concern by many Longhorn fans and though a Benson, Charles, or Williams is nowhere to be found, we have two quality RBs in Vondrell McGee and Fozzy "Wakka Wakka" Whitaker. McGee is as tough as nails and runs with north/south economy. Porsches are sexy, but Honda Civics have their merits. Fozzy is deceptively strong and is off-of-the-charts quick, particularly laterally. Chris Ogbonnaya is our 3rd down back, where our primary criteria is blitz pickup and an Eagle Scout badge. See Brett Robin. Cody Johnson is a guy who has asserted himself in camp. He's a very intriguing short yardage possibility and change up back.
WR is a legitimate concern. If you lined up our guys and drafted the top three based on who would rock an Under Armour commercial, you'd end up with a starting group of Phil Payne, Montre Webber and Malcolm Williams. Substitute the frat boy for Payne and the tough chunky kid for Webber and then you'd have it right. Jordan Shipley is a quarterhorse with all of the implications for health and ability that suggests. Quan Cosby is a gritty football player with the best hands in the Big 12. He's also a 5'10" possession receiver who separates as often as Kate Moss from her coke dealer. Malcolm Williams is a redshirt freshman physical freak who looks like he could be a playmaker for us. When? Brandon Collins and James Kirkendoll are receivers #4 and #5. Longhorn fans aren't sure what their upside really is - Brian White or Eric Jackson? We have extraordinary young talent in Hales, Buckner, DJ Grant and Monroe but they're likely a year away.
The OL, despite the rantings of the preview magazines, will be a strength. We don't have great experience, but we have good talent and quality depth. Sophomore OT Kyle Hix will be a three year starter and then spend ten years in the NFL. Junior guard Charlie Tanner is OK, but many Longhorn fans are tantalized by the potential of sophomore Michael Huey, aka Juggernaut. Junior center Chris Hall is a program poster boy: smart, pious, unselfish. His powers of Christianity will be added to Colt's with each act of the center snap exchange. The power of Christ compels thee, Gerald McCoy! Line not up in a shaded one technique or receive smitings! Senior OG Cedric Dockery looks like a 4thish round NFL guy. Junior Adam Ulatoski holds down LT and though he gets some justified criticism this is the first time he has been healthy in quite a while. He's 6'8" 310 but primarily a finesse player. Depth is good across the board, though we don't have a third OT that we can fully trust yet. Tray Allen is that guy and he's a natural guard.
Tight end is most notable for its mediocrity. Blaine Irby is a Bangladeshi version of David Thomas, Peter Ullman is our jumbo package blocker, and Josh Marshall (now out for the season) and Ian Harris are athletic youngsters who show some flash but need to get stronger. We've converted OT Greg Smith (a former high school TE) back over for depth and he and Ullman represent an interesting smash mouth double tight look.
Defensively, you'll see a significant change in Texas. This is a defense that will be able to bring pressure and overall team speed will be at or above 2005 levels. I said OVERALL, motherscratchers. If you don't believe me, let's line up Lamarr Houston and Frank Okam and have a race right after Kindle goes Usain Bolt on Derry. We'll need to be fast as the offenses we'll face every week will be damn good. Our last Auburn guy was famous as a one-trick pony who couldn't adjust his philosophies to the spread once Michael "I Fix All Schematic Problems" Huff graduated. Will Muschamp has already implemented significant change: starting talented youngsters over veterans, moving DEs to DT, and devising specific packages for the ultra talented square pegs that didn't fit into Duane Akina and Larry MacDuff's round holes (i.e. where their heads were lodged). Muschamp is a our Petraeus: we're finally going to unleash the Serge!

Benching playmakers is not saxy, Ach-mal
The DL will be a strength. Along with Gerald McCoy, Roy Miller is the best pure run-stopping DT in the Big 12. Call him Maalox. He's healthy and this is a contract year. His partner "Hedley" Lamarr Houston is a converted DE and though he's light at 275 I'll take a three technique with a motor who can run. We don't know where we'll get our depth from other than converted DE Aaron Lewis. Lewis is a former starter at DE who will offer what Houston does minus 12%. "Five Foot Ten" Ben Alexander looks like Sams from Lean On Me and he can't sing the Eastside alma mater either. We have two very nice freshmen prospects in Kheeston Randall and Jarvis Humphrey, but counting on young DTs is iffy. Look for them to wreck small villages in 2010. By small villages, I mean every away destination in the Big 12.

Ben Alexander wrecks a small village
At DE, we go three deep with real quality. Brian Orakpo is basically a good citizen version of Adebisi from the HBO show Oz who has battled too long with injuries and weak scheme. He's a 6'3" 260 pound guy who can run and he benches over 500 pounds. He'll need to as that is the approximate size of one of Phil Loadholt's bowel movements. Sam Acho is a big cat off of the edge and will play a lot. His best competition is Eddie Jones, a sophomore VHT. Like Sergio Kindle, we know it's there, but we're waiting for it to happen. Henry Melton is a senior who has had an interesting journey from short yardage folk hero to A&M goat, but he's another guy with tools. Destiny dictates that he drop Jorvorskie Lane on a key 4th and 1. Then after the game, they split a fondue. Russell Carter is a nice redshirt freshman who will make an impact in 2009.
Linebacker play has made Longhorn fans bitch for twenty years. If you bring up Derrick Johnson, I will raise you Eric Hall, Tyrone Jones and Robert Killebrew. We finally have a LB coach and DC (the same guy, Muschamp) who believes that you create a defense to fit the abilities of your athletes. We're in a spread league which, by definition, demands situational packages from your defense - not vanilla declarations of alignment. Muschamp has more packages than Mark Richt's gay porn collection.
So LB is a strength!? (He wrote querously, haltingly; questioning the very foundations of his sanity) Junior Sergio Kindle has crazy athleticism. Injuries, bad coaching, and his own immaturity have cost him the opportunity to feature it. Serge is going to be a key part in some of our nickel packages as a hero blitzer off of the edge and you'll see him grow profoundly in his role as a traditional OLB as well. Rod Muckelroy is a really nice player and he should flourish in the new regime. He has always sought contact and he has good natural instincts. Keenan Robinson is a promising redshirt freshman impressive enough to run first team for much of the summer over some pretty good players. Some think he's a poor man's Derrick Johnson. I'll take that.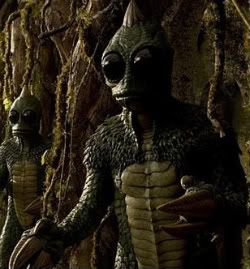 I think we should go for it.
Acts of God put aside, I think we're setting up for one of the most simultaneously encouraging and heart rending seasons in Texas Football history. Very much like an episode of Webster. We're playing a challenging schedule in arguably the toughest league in football. I think we roll through our non-conference schedule and then lose 2-3 conference games by a razor's edge. That will send us to a minor bowl game where we'll promptly pants our opponent and give a preview of a Top 5 team in 2009. Our most likely places for those losses? In schedule order -
@ CU
OU (neutral)
Mizzou
@ Tech
@ Kansas
Colorado has the ability to pull off an upset at home as our team will still be finding itself. Oklahoma and Mizzou are the class of their divisions. Tech and KU on the road will both pose significant challenges. I wouldn't be surprised to write a season retrospective in which I lament that a 10-3 Texas team was three touchdowns from being undefeated. Football is measured in wins and losses but there is a qualitative element. Meaning that there's a damn good 10-3 and there's a pathetic 10-3 (last year). The former is nothing to be ashamed of if it serves as the launching pad for bigger things.

Man cannon