Is going to be very useful.
Each game offers distinct challenges that will allow us to prepare for our Big 12 slate while still allowing us to win all of the games. That represents the best use of a non-con schedule short of a match against a massively hyped opponent that can vault or cement you in the rankings (see Ohio St. vs USC). Frankly, this team isn't ready for one of those, so I'm glad it's not there.
Let's look at what each match up offers us: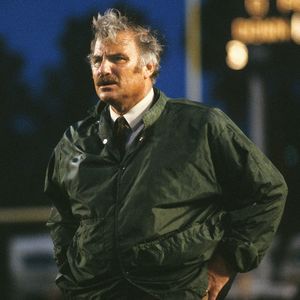 Insane? Yes. But at least not a golf prick
Florida Atlantic
This will be a great introduction to the college football season for our back 7 as FAU has top quartile Division I skill players at QB and WR and reasonable quality at RB. Rusty Smith is a Bernie Kosar clone and a future NFL draft pick. 3688 yards and 32 TDs with 9 INTs isn't too shabby for a sophmore QB in any league. WR Cortez Gent (64 catches, 1069 yards, 9 TD) is Desean Jackson lite. Some of these guys can ball and will serve as very useful stand-ins for Big 12 skill position talent. Defensively, FAU will bring speed, intensity and experience. Most of all, they're talking a lot of shit and their intensity will demand ours manifest itself in return. That's a good thing for a young team.
Now that I've scared you, we'll win because their OL doesn't line up against Sergio Kindle, Brian Orakpo, and Roy Miller in practice. From a physical standpoint, they can't even conceive of what that player looks like. They'll hit some big plays in the passing game, but we should inflict a large number of negative plays in return: sacks, turnovers, hits on the QB. Facing a dangerous opponent talking noise, a sold out 98,000+ crowd in a new stadium, the electricity of Vince's jersey retirement - this is all good stuff for young guys to process in getting ready for big time football. Maybe we rise to the challenge and drill them 48-7 or stumble through to the tune of a 34-21 win, but it really doesn't matter. It's about getting the first notch in the holster.
UTEP

Who Moved My Cheese?
UTEP is nice in that it represents a road experience with training wheels on. There will be a significant Longhorn crowd in El Paso, but we're assured of a fairly spirited UTEP presence. If our first true road game was at Colorado, I'd pencil us in for a loss now. UTEP has a solid coach in Mike Price and once again we face a quality QB in Trevor Vittatoe (3000+ passing yards as a freshman). UTEP can throw the ball and Price is a quality playcaller. We'll also face our first junk defense - a modified 3-3-5 - which will provide good looks for us.
Our safety net is a horrendous UTEP defense. Our offense should put enough on the board that any defensive brain farts become teachable moments rather than a disaster in the desert.
Arkansas

The first opponent with quality trench Hawgs
Finally, a challenge for our big guys. Arkansas has some top notch OL and DL personnel and they're physical. This is a great physical test for our lineman and excellent preparation for Colorado/Oklahoma/Mizzou type line quality. Arkansas has questionable skill position personnel, but Petrino is an outstanding pure play caller. Arguably the best in college football. This represents yet another test for our Gerber secondary - not a physical test so much as a mental one.
Our insurance is that their skill position players on offense are pedestrian and Petrino will still be working in his offense. This is a team being forced to change their entire identity. Ask any Nebraska fan how seamless that process is. Be prepared to hold them gently as they weep.
Rice

Thanks for the bye. Now buh-bye
The timing here is exquisite. We'll have some injuries and bruises after three games. What better time for touch football? Rice runs a great scout team level spread offense and Jarrett Dillard will present a challenge to our CBs. We'll get some great looks, our DBs will be forced to make more game time decisions, and we'll nurse our abrasions before heading to Boulder to start Big 12 play. Further, the MOB band will test our player's ability to appreciate satire.
In sum total, I see a preseason schedule with constant mental stress on our secondary, some unit level battles that will prepare us the big boys (Arkansas OL/DL, FAU skill guys), and some early experience in dealing with hyped up opponents in hostile and friendly environments.
Your thoughts?