As a native El Pasoan I thought it would be a good idea to educate the Barker readership on what to expect when visiting this fair West Texas city in the Western most part of this great state. Before making any judgments on what I'm about to tell you, please keep in mind the following. El Paso, for all intents and purposes, is more New Mexico than it is Texas. UTEP's Aggies reside in New Mexico. They're fanatical to the extent you'd agree the ongoing red chili vs green chili feud is fanatical. Other than that, they're pretty damn normal. To give you a geographic feel of where you're venturing, El Paso is about 60 miles closer to Los Angeles than it is to Beaumont, is in the Mountain Time Zone, and has shared sports conferences with Hawaii.
With that out of the way you'll need to know the following to make sure you get the most out of your trip out west. To put things in proper perspective, I'll try to add Austin or Longhorn equivalents where possible.
Places to Go
Cincinatti Street....Austin Equivalent 6th Street
It's hip, it's youthful, it has that artsy character. Okay not really, but it's a place where students and younger folks congregate to drink and act like they don't live with their parents. Don't let them fool you. They do. Otherwise they'd be at New Mexico State or Sul Ross.
Chico's Tacos...Austin Equivalent Kerbey Lane
Mainly because it's become that overrated dining staple as a direct result of late night binge drinking driven hunger. Chico's rocks because the majority of its clientele just paid 10 bucks for an all you can drink night in another country. Locals will tell you to drink the taco juice after consuming the hard shell rolled tacos. If you take 5 tequila shots and down 3 buckets of Dos Equis, it's probably not a bad idea. Otherwise choke down that double with cheese at your own peril. Seriously, who gets excited about this crap unless you're hammered and have just left the donkey show?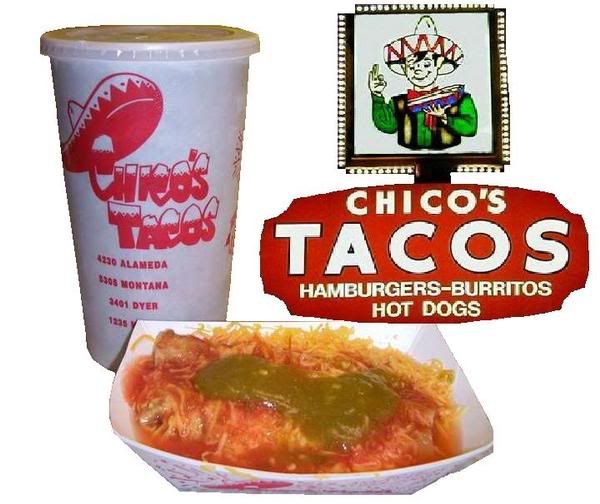 Drinking the Juice = Eating the Worm.
Tequila Derby...Austin Equivalent Maggie Mays
It used to be a Thursday or Friday night target of many a sub-21 party goer. Sadly, since it's in Juarez Mexico, it's now target practice between rival drug cartels with submachine guns. Ten dollar drink and drown on Thursday nights has been replaced with drugs and drown in cement shoes. Stay away unless you're a Coca Patron looking to expand your sphere of influence.
The Sun Bowl...Austin Equivalent DKR
The Sun Bowl is beautifully set up in the Rocky Mountains overlooking the city and campus. It's actually the second nicest collegiate football venue in the state of Texas behind DKR. It's small in that it holds south of 60K, but it's charming and there's really nothing else like it in the state. You'll be impressed.
Talking to an El Pasoan
If you're talking to an El Pasoan about sports you're most likely going to be talking basketball. It's their claim to fame. Hell, they are the only team in the state of Texas to win a national championship in basketball. You've seen the movie. Embrace it. Acknowledge it. They'll likely buy you a beer. Just remember a couple rules of thumb.

Hang Loose. Hook 'em. Or Pick Axe?
Tim Hardaway to them is Ricky Williams to us. Ours smokes bowls, their's is a homophobe. David Lattin is Tommy Nobis. Bobby Joe Hill is James Street. Nate Archibald is their Earl Campbell. In football to football terms. Toraino Singleton is their will Goodloe. William Doctor is Adrian Peterson. Andre Jones is the Mike Price curse. Don't worry, about remembering the football part. They'd rather talk basketball or bull fighting.
If all else fails and you still can't find common ground with Miner fan, talk bad about the Aggies. It'll work unless you expound. Or tell him you remember that night in 1985 that UTEP dropped nine into coverage and upset defending national champion BYU costing Robbie Bosco a Heisman run. Shit, tell him you were there. He'll probably return the gratuity by talking about Vince Young. If he brings up Rashaan Salaam's Heisman, dot him.
So here's to a great game in my old stomping grounds. Hook 'Em and uh Gold Rush 'Em?
Did You Know
The UTEP fight song used to be a version of Texas Fight. Now it's a sped up version of Marty Robbin's El Paso. Small world, because Texas Fight is a sped up version of Taps.

Great View. Great Border Town.