Everybody has a couple of games under their belt and we're all starting to realize who can and can't make plays on this team. I can't speak for Texas or any of the other Big 12 programs, but I can mention a little about Texas Tech and it's time to assess where this thing is going on defense.
McNeill has done a good job to date of putting his best players on the field. Schematically speaking, it's tough to say as I haven't had any decent film to watch. I will be seeing the SMU game in person, so that should tell me a little. Much like your weekly Big Board, here's a list of guys that have shown the ability to do some positive things throughout a football game to date:
Tier 1 Guys
1. Brian Duncan, MLB - A breath of fresh air to actually see a MLB on your screen making plays within 3 yards of the LOS. He's young and will only get better as the DTs continues to mature.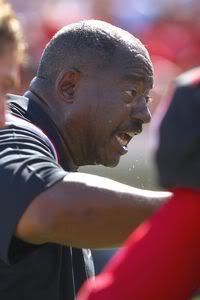 Maybe an Option Guys
The last group of guys are the ones who have shown very small flashes of exceeding the production of guys not in your first two groups. You would like to see a little more of these guys, but they may not fit any mold to a tee. Typically, they'll have a specialized skill set that can either be used to your advantage or exploited by your opponent depending on how they are schemed. Tech has always had a lot of these guys, and that's the biggest thing I always admired about John Goodner. He knew how to use them. Here are the guys Ruff has to work with.
12. Jordy Rowland, SS - McNeill has been using him on passing downs as the nickel safety. Rowland is a decent matchup against a tight end in coverage and a bad matchup against a tight end in the run. Vice versa on small, quick slot receivers. He likes to hit and always knows where he needs to be. In other words, he's got a LB skill set stuck in a DB body. Typical of most Nazareth Swift Big 12 football players. Most people dog on the lack of talent at the high school level in the Panhandle and West Texas, when compared to other parts of the state. Admittedly, the depth is thin, but the top 2 of 3 guys in that region could play anywhere in the country and usually do (Roy Williams/Benson/Walters....well, I guess mostly Texas). However, the next 4 through 10 are often some of the most underrated recruits each year and often land on all conference teams at the next level. Auston English and Ziggy Hood are good examples this year. I really like what Tech has done in recruiting the last several years, and we're in much better shape than we've ever been. I think Leach has figured out what Spike did in that instead of taking a JUCO player with only 2 years and some baggage, you're better off taking some project guys in that 4 to 10 group. My point is project guys with upside in that 4-10 group from that region are better players than 2nd or 3rd tier guys ranked higher in other parts of the state. That's it. You may not agree. That being said, I think Rowland is a better football player than Marlon Williams. Marlon doesn't really make many of the plays we have him in there for (stopping perimeter runs), isn't great in coverage, and not fast enough for the duty of chasing down a running QB. Rowland appears to possess the skillset to do two of the three. It wouldn't surprise me if he's better against the run, too. He's made plays in practice for 3 years now, and in limited action. Let's see some more of him. We don't have anything to lose by doing so.
At this point, including anyone else on this list would be a stretch. Anthony Hines hasn't really done much to impress me over Charbonnet, but he might be able to perform the same role as Rowland. Taylor Charbonnet and Laron Moore have done some nice things on special teams, but not sure if they would be an upgrade from Wall or Nickerson. Blake Collier intrigues me like he does all Tech fans, but from the little I've seen, he's just a fast guy that doesn't know what's going on. I think that's where this unit is at personnel-wise right now, and we'll see what Ruffin does next.