This is the segment in which a cattle gun is placed against my head by Anton Chigurh and I'm told to call it. I have to pick every game, even the ones I feel aren't subject for righteous divination. I'm much better at picking winners than handicapping, but Anton has no pity. The lines this week suck so flipping a coin is probably my best bet, but nonetheless....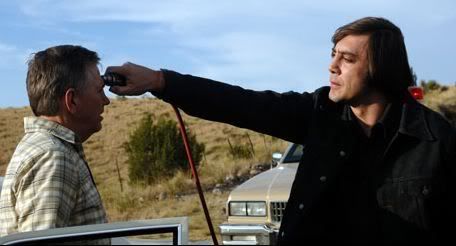 Iowa State - Kansas Jack Trice Stadium, Ames, Iowa 11:30 a.m. VERSUS
Your first instinct is to take KU and not sweat the points, isn't it? Admit it. Consider this though: Iowa State is bad, but has pride at home. Yeah, they're dirt poor, but they put plastic on the furniture and mow the yard occasionally. Their two losses were both competitive and both on the road. Kansas is coming off of an uninspired home performance against Sam Houston St. And no one, and I mean no one, wants to experience the madness that is Jack Trice Stadium at 11:30 in the morning! Will Iowa State win? No. Can they keep it close enough to make a +12.5/+13.0 betting line interesting? Hmm. Not so sure I'll run to my sportsbook for this one either way, but Anton is getting impatient, so let's call it....
KU - 34
ISU - 24
Baylor - Oklahoma Floyd Casey Stadium, Waco, Texas 11:30 a.m. FSN
Robert Griffin is the most exciting freshman in the country and Art Briles has jacked Baylor's loser mentality up against a locker and given it a bracing slap across the face. OU will score on Baylor's defense like Rosie O' Donnell on the Yale field hockey team. Can Baylor cover +27? There are a lot of a sound historical reasons to dismiss Baylor completely and predict a 56-7 result, but this is an attitudinally different Bear football team. Their performance against UCONN suggests actual balls. But to cover, you're counting on a late score against scrubs and I'm not interested in that....soooo....what to do? Alright, Anton! Alright. Enough with the threats, damn you.
OU - 48
BU - 22
Kansas State - Texas Tech Bill Snyder Family Stadium, Manhattan, Kan. 2:30 p.m. ABC
It's appropriate that KSU named their stadium Bill Snyder Family given his famous comment that losing a football game is like losing a child. Perspective, Bill. You emotionless eel. This is a crucial SOT game. SOT = Same Old Tech. If they aspire to be something more than the team that crushes A&M and upsets an occasional big boy while blowing games to the lame and halt - Same Old Tech - they need to go into a hostile environment and convincingly pistol whip a middle of the pack football team like they'd keyed their IROC. Dedfischer's sly West Texan propaganda guised as plain speakin' has influenced me. His posts are the Zimmerman Telegram and I'm easily led. Texas Tech can offer the -7.5 because they're being merciful.
TT - 45
KSU - 28

The betting lines are rough this week
Oklahoma State - Texas A&M Boone Pickens Stadium, Stillwater, Okla. 6:00 p.m.
If A&M Football isn't a mess, it'll do until the mess gets here. Let's face it: everyone in the league is looking forward to this game. Not for the quality of the football, but for the quality of the graphic art that will be placed on Texags.com post-game. The 24.5 point line is shocking. Shocking. Shocking! Let's make this clear: Vegas is saying that OU is to Baylor in roughly the same way that Oklahoma State is to Texas A&M. Think on that for second. If I were an Aggie fan, my mouth would taste of retch. Still, I can't say I disagree. Go get the Scope and cue up the graphic art.
OSU - 45
A&M - 17
Colorado - Texas Folsom Field, Boulder, Colo. 6:00 p.m. FSN
I cover my thoughts in my Texas/Colorado Football Preview. Altitude schmaltitude. Ralphie Schmalphie. Hemp Schmemp. Brian Orakpo, Lamarr Houston, Roy Miller, Sergio Kindle and our 19 other rotating defensive ends will pass Cody Hawkins through their stool as easily as Trips Right can pass a vaselined heroin balloon in an El Paso alley.
Texas - 31
Grateful Dead - 13
Nebraska - Missouri Memorial Stadium/Tom Osborne Field, Lincoln, Neb. 8:00 p.m. ESPN
Missouri hasn't won in Lincoln in since the late 1970s when James Wilder ran amok. I don't think I really care. Different Nebraska, different Mizzou. So why is the line 10.5? Is this some sort of trick? It has to be. Still, only way to fight out of an ambush is to trigger it. So fire those claymores.
Mizzou - 34
Nebraska - 21

I'd like to invite you inside to share your own thoughts.