I will make you care. You see, I can watch bad bowl games.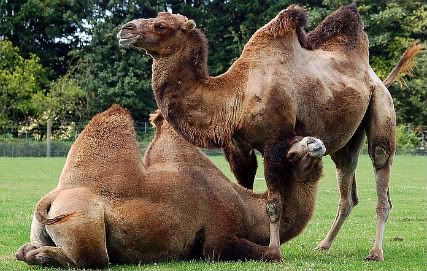 Humpty Dance
I'll watch a pair of Bactrian camels slow hump to Norah Jones on hi-fi if one of them is holding a football, but I will concede to you that some of these games are special. That's why you have to look for points of interest that are not readily apparent. Consider this a Sally Struthers' advertisement for the holy trinity of Meineke, Poinsettia & Gaylords Hotel. For just pennies a day - well, $2500 in hotels, flights, and tickets (so technically that's 7 years at 99 cents per day) - you can watch bad college football in undesirable venues with play-by-play provided by the #9 crew on SpikeTV. Yes, that's Scott Baio doing color. Like bad sex, bad college football fills a void. Some of the Barkers have built an entire life on those twin truths.
1. magicJack St. Petersburg
Memphis vs. South Florida St. Petersburg. Fla.
Tropicana Field Dec. 20, 4:30 p.m. ESPN2
I remember my first magicJack. It involved a mental image of Phoebe Cates emerging from the water in Fast Times. In retrospect, I wish I'd lit candles. A magicJack is actually a small pocket-sized device that allows you to make cheap local and long distance calls through your computer's USB port. This is a fine sponsor for a pocket-sized bowl that needs a quarter to call someone who cares. I am not "tech savvy" but the way magicJack works has to do with molecules of phone substance careening through cascades of voice atoms in a manner similar to a fax machine, but without ink. Sorcery.

magicJack?
The combatants 6-6 Memphis battles 7-5 South Florida in an epic match between a deeply corrupt provincial AAU-run basketball school and a nascent third tier football program with athletes so stupid that they can't get into Florida St.
Best Player USF's Matt Grothe. He led the Bulls in both passing and rushing while sporting a haircut inspired by Taxi Driver. What kind of bullshit football team allows their passing QB to lead them in rushing?
What's at stake? The game is being played in St Petersburg so there's a legitimate opportunity for several Memphis players to have sex with JAPs who want to piss off their fathers.
Winner The game of football is the real winner here.
2. Sheraton Hawaii
Hawaii vs. Notre Dame Honolulu
Aloha Stadium Dec. 24, 8 p.m. ESPN
Every Saturday, Notre Dame lets itself into my living room via the skeleton key of their national television contract and takes a fat dump of terrible play and self-righteous hubris on my hardwoods. Their karmic reward is a Christmas vacation in Hawaii. This is worse than the Khmer Rouge.

Soften you up with Phoebe, then I go Weiss on you
The combatants A 6-6 Notre Dame, still irate that Jimmy Clausen isn't a Heisman finalist, battles a 7-6 Hawaii program that peaked around the time that natives beat Captain Cook to death at Kealakekua Bay.
Best Player According to Tom Lemming, Notre Dame is a team comprising nothing but four and five stars. So take your pick.
What's at stake? The fate of humanity. Somehow, some way, Hawaii must win this game. Failing that, they should beat Charlie Weis to death post-game and eat his front hump to absorb his feeble mana.
Winner Coppertone. That's a lot of pasty yankees slapping on SP-45.
3. Motor City
Florida Atlantic vs. Central Michigan Detroit
Ford Field Dec. 26, 7:30p.m. ESPN
A bowl game in December in Detroit. This is definitive proof that the U.S. auto industry doesn't deserve a bailout.

But we make good cars!
The combatantsThe demented Howard Schellenberger's FAU Owls (6-6) battle the Central Michigan Fat Girls in Baggy Sweaters (8-4) for the supremacy of all Time-Space.
Best Player QB Dan LeFevour. An outstanding dual threat QB. A member of the single season 3,000/1,000 pass/run club.
What's at stake? The viability of the United States auto industry.
Winner Toyota.
4. Independence
Northern Illinois vs. Louisiana Tech Shreveport, La.
Independence Stadium Dec. 28, 8:15 p.m. ESPN
Give me Independence from this matchup. We hold these truths to be self-evident: Shreveport is the uptight northern cousin to SW Louisiana's fun-loving Cajuns and the state's counterweight to New Orleans decadence. In short, Muncie, IN is a more enticing town for a good time.
The combatants Quick: name a single player on Northern Illinois or Louisiana Tech? No. Michael Turner plays for Atlanta now. Let's try La Tech. No. Troy Edwards graduated from there a decade ago. Let's move on.
Best Player tie - Troy Edwards and Michael Turner! (You're stubborn aren't you?)
What's at stake? All year long so-called experts have wondered: could a 6-6 Northern Illinois Husky football team manhandle the running attack of a 7-5 Louisiana Tech? Well, college football fans, the time for all of that talk and conjecture is over. Let's decide it on the field.
goosebumps
Winner Low expectations.
5. Roady's Humanitarian
Maryland vs. Nevada Boise, Idaho
Bronco Stadium Dec. 30, 4:30 p.m. ESPN
The most humanitarian thing I think you can do for a roady is to let them drown in their own vomit at the conclusion of the Deep Purple tour so that you're not left with a burnout speaker pack-bitch who tells endless drug-addled stories about retrieving a live mic from a men's urinal just in time to save the '74 show in Piscataway, NJ. Others give them a bowl game in Boise in December. And they call me sadistic?

Roadie fluff boy
The combatants Nevada has the Pistol offense. Maryland has the Firing Squad defense. The viewer needs a blindfold and a cigarrette.
Best Player Nevada QB Colin Kaepernick. He threw for 2500+ and ran for 1000+. Even more interesting is that he's about 6-6 and weighs 200 pounds soaking wet so that when he runs it's looks alarmingly like the preface to an attack from Big Bird.
What's at stake? The legacy of Colin Kaepernick!
Winner The children. America.
6. Texas
Western Michigan vs. Rice Houston
Reliant Stadium Dec. 30, 8 p.m. NFL Network
In a just world, Notre Dame would be playing in this bowl for recruiting purposes and Rice would crush them on an eve of Christmas Eve telecast behind the sensational play of James Casey, Jarrod Dillard, and Chase Clement. Instead, we are left with the Western Michigan Fat Girls in Baggy Sweaters Part Deux playing a bowl game in Houston. I realize that many of my readers are proud Houstonians so I will merely say that as a bowl destination Houston is significantly better than Detroit and slightly worse than an open sewer behind a Slovenian whorehouse. But Continental in-flight magazines assure me that it's a cross between Barcelona and Sydney.

Luv ya, grey
The combatants Rice is 9-3. Holyfuckingshit. I think I had more to say, but I can't get past that. That's awesome.
Best Player Chase Clement. Dillard and Casey both have professional futures, but Clement grew an ironic moustache and kept it all year. You have to respect that.
What's at stake? The growth of human knowledge. If Rice loses, I have it on good authority that they will drop admission requirements and turn the place into a football factory.
Winner The winner in Houston is always the same: traffic.
7. FedEx Orange
Cincinnati vs. Virginia Tech Miami
Dolphin Stadium Jan. 1, 2009, 8:30 p.m. FOX
This is a BCS bowl. That may be a fact, but that doesn't make it true.

The alleged Bearkat
The combatants Virginia Tech won an ACC conference with more evenly distributed losses than your 401K statement and Cincinatti won the Big East starting their ninth string QB using plays that Brian Kelly made up on the sideline that referenced distances to water coolers and began with, "Gilyard, you are this sunflower seed. Now I want you to..."
Best Player Marshwan Gilyard. He's a great receiver and return guy and a fervent child advocate. He hugged a boy! I once saw him carry a sleeping Doug Flutie from the studio with such gentleness...
What's at stake? Bearkat vs. Hokie is more debated than Ninja vs Pirate. Not only in terms of who would win, but what exactly a Bearkat or Hokie is.
Winner Bearkats, Hokies, Unicorns, Dragons, Clitorises and all other fictional mascots.
8. International
Buffalo vs. Connecticut Toronto
Rogers Centre Jan. 3, 2009, Noon ESPN2
Nothing says international exoticism like Canada. For example, Canadians speak guttural French and many eat poutine. Even the money is different. Never mind that it's just a more polite and less ambitious America with terrible weather. It's an hour and a half drive for the Buffalo players - how will they adjust to the two and half minute time zone shift? How will they handle the strange food, water, and atmosphere? Is it dangerous? Is there an exit strategy?

Saigon 1975 = Toronto 2009
The combatants UConn is 7-5 and Buffalo is 8-5, but what is a record but a number? A number that shows wins and losses.
Best Player Donald Brown is a very good RB, but let's be honest: a fortysomething year old Turner Gill is still the best player on that field. Pad up and run the Veer, Turner.
What's at stake? International relations. If we don't put on a good show, who knows what Canada is capable of?
Winner Entropy.

The Canadian peril
So there you have it. Happy bowl season everyone.