Nice to start off the season 1-0, even if it took a big second half to get it done. I still feel the game was capped correctly when you look at the boxscore. It just took the Deacs a half to wake up. On to today's play, for one unit. USM +5.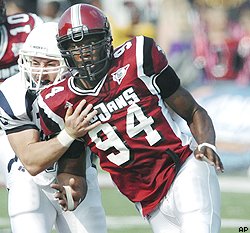 No Demarcus Ware on this Trojan squad.
Going to use bullet points on why I am playing and some of my concerns with the play.
Reasons I like USM
--I feel this team is peaking right now , especially the defense. USM has given up a total of 35 points over their last four games combined. They won all four of those games and have come together as a team behind first year coach fedora. I think you can give them a bit of a pass on the earlier season issues as they were in a little transition period
--speaking of the coaching transition… the USM program took a lot of heat for the way they handled removing Brower last year. I think that makes winning the bowl game a priority for this program. Time to get this thing moving in the right direction. In my opinion, while there are better teams this year than USM in conference usa … USM is the class program of this conference and has been for awhile.
--This will be the third time in five years that USM has played in this bowl game. Logistically, this should help the team. They won the '04 game over North Texas 31-10 and they won the '05 game 31-19 over Arkansas State. Both of those schools obviously are Sunbelt schools. I like the teams familiarity with the venue.
--Unless I missed a game, Conference USA went 7-1 vs. the Sunbelt this year evidencing conference dominance. In addition two of USM wins were vs. Sunbelt teams Arkansas State and ULL who are two of the better sunbelt teams this year. The Eagles won those games by a combined score of 78-45. I find it also important to note that usm played those two teams when they were playing their better foorball. Troy also beat them but later in the year when ULL and Arkansas state were playing a lesser brand. The lone Sunbelt win came with FAU over UAB , the CUSA worst team. Again, I looked over the schedules so I may have missed a game between conferences somewhere and please correct me if my tabulation is wrong.
--Southern Miss has been competitive in their losses. Vs utep they out gained the mighty miners 541-382 losing in overtime. They caught Marshall when Marshall was playing their best football and outgained the Herd despite giving up a flukish 80 yard td run to the opponent. They lost by 7 there. They lost 24-7 to Boise State giving the Broncos one of their tougher games of the year. They were stopped on downs at the Broncos 21 near the end fo the third quarter, stopped on downs at the Boise 34 in the fourth quarter and intercepted on the Boise 19; so they were capable of moving the ball and did have 278 yards against the stout Boise defense. They were outplayed by Rice and Auburn but were competitive in those games as well. I just think this team is coming together and have not shown the want to get their doors blown off. I also think the type of offense they have will leave backdoors open if they do fall behind though I actually like them to win straight up.
--When the line was released , it was still questionable sas to whether USM would be with superstar receiver De'Andre Brown but he will be eligible to play in the New Orleans bowl after all. Still the line has moved the other direction.
--Troy plays a good brand of defense but they have been aided by the types of opponents they have faced. They actually are vulnerable vs. the pass. They played two decent pass offenses this year that rate near what USM brings to the table in Oklahoma State and FAU. Okie st threw for 254 yards and FAU threw for 283 yards. North Texas also sort of qualifies as a decent pass attack and they had 246 yards of passing offense. FIU the next best and they had 266. What Troy does is defend the run well in a run happy conference or a pass deficient conference. Much will be made of their performance against tOSU in what was a dream spot for Troy with the bucks coming off of the USC loss and starting pryor for the first time. This is arguably the best group of receivers that they play all year though one might give a nod to okie st. usm , ina ddition to the talented Brown has a solid receiver in Gerald Baptiste and one of the best tight ends this season in cfb with Shawn Nelson. Throw in the number of balls Fletcher gets in the screens, swings and wheels and I think USM can really move the ball on Troy through the air. This is one of those things that I think you need to look at when examining the season stats of teams. USM pass defense by stat is worse than Troy's by quite a bit … but one team is playing in pass happy CUSA and the other in more run happy Sunbelt .. In fact I think the Sunbelt is kind of offensively challenged in a lot of ways.
--Damian fletcher running the ball gives USM the most balanced attack since Oklahoma State who they couldn't stop. I don't think Oklahoma St punted once because of the Troy defense. They punted once in the first quarter because the cowboys had ten yards of penalties on a set of downs and were faced with fourth and five … and they punted with 3 minutes to go in the fourth while running out the clock with a 31 point lead. Now, I am not saying usm offense is as powerful as Oklahoma State but I am saying that this is the offense that most resembles USM. Well balanced. We all know about Fletcher who has been good for a few years now (he has over 1200 yards this year and averages over 6 yards per carry). I just think this type of balance and speed is something that Troy has not had to face a lot of this year. I also think that some of Troy's offensive stats can be attributed to the fact they could stop weak Sunbelt offenses.
-- I like the time USM has to prepare for Troy schemes
--Third downs. USM has been very solid all year at getting into manageable third downs and converting. Troy on the other hand has struggled at times with conversions , especially on the road. I think it is of special note that USM succeeded at will on third down vs. the Sunbelt this year converting 19 of 33 times or an amazing rate of 57.6%.
Ok now some of the concerns
--Troy balance offensively vs. USM subpar defense. I do think this is mitigated by a couple of factors the main one being how much better they played down the stretch. But it is a concern that Troy averages 421 yards a game and USM gives it up at 368 a game. Jernigan can get open and make big plays for troy as can Kennard Burton. Levi Brown is a decent enough qb I guess but I am not a huge fan. His numbers and production can't be overlooked though. They did lose a something with their running game when Hampton went down with a leg injury vs. FAU earlier in the year and Brown simply doesn't make up for that. DuJuan Harris has had a good year with over a thousand yards rushing. Troy has a lot of depth at wr and that is going to give USM problems and Blakeney doesn't mind abandoning the run if the pass is what he thinks will get the job done .. See the LSU game where they threw the ball 72 times and called even more pass plays than that. It's hard to have a ton of confidence in this USM Defense.
--Penalties. USM commits a bunch of them.
--Special Teams. Troy has one of the best kick coverage units in the country and USM kicker Barefoot is less than reliable.
--Troy defense -- … USM has played just four really good defenses this year with boise st , Auburn, UCF and East Carolina. They averaged just 14.5 points per game in those contests and Troy is certainly a capable defense. They only give up 320 yards ag ame or so. Again , I think they have shown some hidden vulnerability when faced with teams with balance that can pass but this is one of the better defenses that USM will have faced this year. Brandon Lang has been a monster for troy with 10.5 sacks this year and USM allows over two a game so I would expect troy to get to the qb a couple of times int his one. Boris Lee and Bear Ware also excellent tacklers. The Troy defense plays with an attitude and is good at creating timely turnovers.
--Last year's snub. I think Troy really got screwed last year when they were not offered a bowl bid despite going 8-4 last year. It was insane. I am not sure if this will motivate them to prove themselves but it may. I think less so since they got the automatic for winning the conference but it atleast has to be considered.
--Coaching experience. Blakeney has been at troy for something like 18 years. Fedora is a first year coach in his first bowl game.
I am sure I left a lot out, especially on the concerns side of the equation but I hope that helps explain what I am looking at. I think this is a game that really goes down to the wire, and in that scenario getting 5 seems more than generous to me. Bowl games tend to be more open and i like the athletes on USM offense compared to what troy has seen most of the year. Sort of like USM on the moneyline but i am gonna go with the safer play.
USM +5 boom.
--Vegas Kyle