With the exception of personnel, I could probably cut and paste the Michigan State Preview and not be a whole hell of a lot off in terms of what to expect from Wisconsin. We're playing the Badgers. They're coached by Bo Ryan. They're going to guard the hell out of you, try to control tempo on offense by running possessions deep into the shot clock, and they're going to play smart, sound, fundamental basketball on both ends. It's not sexy, but it works well, and Bo has recruited the type of kid that excels at this style. On to the personnel.

Marcus Landry Badgers' frontcourt warrior.
The Backcourt
Trevon Hughes and Jason Bohannon combine to make a very experienced and complimentary backcourt tandem with skills that mesh on the offensive end of the floor. Trevon Huges is the Badgers best option creating off the bounce, while Bohannon is a good spot up shooter that does a very good job defending the opposition's best weapon on the other end. Both are above average deep shooters and reliable free throw shooters averaging 80% and 73% from the foul line respectively. I suspect Bohannon will be chasing Abrams off of jumpers the majority of the night, but the good news is Bohannon is not nearly the defender that Travis Walton is, and AJ should have an easier time finding good looks.
The Frontcourt
Any conversation about the Badgers frontcourt and the team in general has to start with do it all forward 6-7 Marcus Landry. The senior has added a deep shooting capability to his offensive repertoire, hitting 12-27 from beyond the arc for the year. Longhorn fans should be all too familiar with Landry's capabilities from last year's game, a game in which Marcus had 14 points on 7-13 shooting.
Joe Krabbenhoft is another senior forward who has been stuffing stat sheets in order to make up for the departure of Brian Butch's team leading 12 points and 7 rebounds per game last year. Krabbenhoft is Wisonsin's version of Justin Mason, and he's averaging 7 points 6.4 rebounds and nearly 3 assists per game. Defensively, he's a good defensive answer for Connor Atchley in that Joe is comfortable playing on the perimeter.
John Leuer is the Badger's biggest player and he'll likely draw Pittman. The 6-10 225 lb sophomore is an adept rebounder who can score inside and out. He's hitting 50% from deep, and averaging nearly two offensive boards per game.
The Bench
Keaton Nankivil, Tim Jarmusz, and Rob Wilson provide frontcourt and wing depth, but the Badgers only have one true ball handling guard that backs up the starters in freshman Jordan Taylor. Taylor is more of penetrator and distributor, and the Longhorns could help off the freshman guard when he's in the ball game. He's really not a threat to hit from deep at this stage in his career.
Keys to the Game--Offense
Run your stuff.
A Bo Ryan defense is not going to give up quick catch and shoots to Texas' first option or even second option when the Horns run their sets. Texas can't get frustrated if for instance Abrams is denied the ball and the second option Atchley is chased off his jumper. Don't kill the set by dribbling the basketball or reseting. Texas needs to run its plays and continue these plays out to option 3 and 4 because the Horns simply don't have the personnel to manufacture points by dribbling to create against a good Badger defense.
Inside-Out
Again, against solid and sagging man-to-man defenses like Wisconsin's, catch and shoots and dribble drives will not be available unless the defense as a whole is forced to help and recover. Texas has the personnel to force the help in recover by entering the post and generating offense of the collapsing help. Post kickouts to the perimeter will give Texas' perimeter players the edge they need to dribble by recovering Badger defenders. I'll take AJ, Mason, and James slashing versus Bohannon or Hughes when either of the two Badger guards are chasing the basketball. If the Badgers are allowed to maintain their perimeter shell consistently against Texas, Texas will have a hard time breaking 50.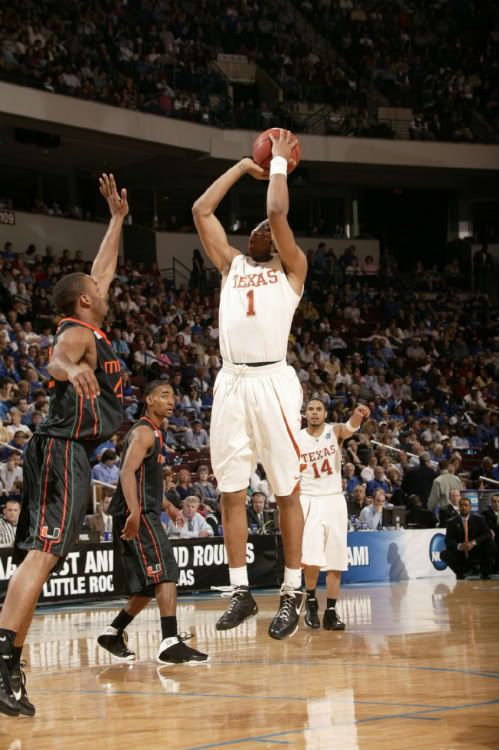 Coming out party?
Gary Johnson
I think AJ is going to struggle getting good looks. James can be a factor if he's patient but the jury's still out on that. Connor's struggling, and Pittman probably won't get the looks he needs to be effective. Mason will have to run the show and guard a very good offensive player. The one player that possesses the skill set, in my opinion, to really give the Badgers fits, is GJ. Defensively, the Badgers really have no answer in their frontcourt for Gary's quickness coupled with his 15 foot range. Landry isn't quick enough to float with GJ and Krabbenhoft isn't strong enough or athletic enough to keep Gary out of the lane and off the glass. Gary needs 15 shots this game, and he can be a key in freeing up the Longhorn perimeter game when the Badgers have to start helping.
Run
I like Texas' players 1-5 in any kind of a foot race with the Badgers. Points will be at a premium this game, and any easy buckets will take pressure off Texas having to score in a halfcourt setting. This key goes hand in hand with the first key on defense.
Keys to the game--defense
Pressure.
Texas has more depth. Texas has more athletes. Texas needs easy buckets. It's a no brainer. If I'm Barnes I play two separate games. I body blow with Pittman and Chapman in 5-10 minute bursts using 3/4 court soft token pressure to make Wisky use precious seconds in their shot clock before getting into an offense. It will also lull the Wisky guards into a false sense of security right before Texas goes to its quick trapping pressure. When I'm on offense I run my sets trying to get easy looks off inside/out strategy.
Then, bam. I hit the Badgers with 90 ft quick pressure with personnel that includes James, Mason, Ward, Johnson and Abrams looking for steals and turnovers. Long quick athletes all ove the floor. Jay Bilas' wet dream. Under no circumstances do I allow the Badgers to walk the ball up the court make or miss in either pressure scenario the entire game.
One and done
Texas has to rebound the basketball on defense for two reasons. First, the Horns can't afford to play defense for 50-60 seconds on possessions extended by offensive boards. Secondly, Texas must get control of the defensive backboards so they can start their running game. If they allow the Badgers to stay even on the glass, Texas will be fighting an uphill battle.
Contest Aggressively
The Badgers don't possess the slashers and penetrators that the Spartans do. Texas can afford to really run out on Bohannon and try to smother Hughes. Hell, if they don't, the Badgers will just knock down open looks all night. Texas needs to play tough, in your shorts, Big 10 style defense and let their superior athleticism take over.
Prediction
I think Texas will show up tonight after a disappointing loss, an embarrassing loss in a game the Horns controlled for 35 minutes. Wisconsin has played just 1 major conference school in Virginia Tech and I suspect this game will go very similarly to the Horn's win against Villanova in MSG. Remember, Villanova had played a similar schedule. If the Horns hit free throws they'll win comfortably. Call it 65 to 55 Texas.
For more info check with our friends at BON:
Morning Coffee Is Offended By Rick Barnes' Offense