Tiger Woods captured his first PGA event Sunday in almost nine months after recovering from knee surgery. And it was CBS and the NCAA Elite Eight that took a hit to the ratings kneecap as a result.
Woods dramatic birdie on the last hole sealed the win at the Arnold Palmer Invitational, and it also helped CBS record a double digit ratings drop in its featured Elite Eight contest.
The anticipated showdown between OU's Blake Griffin and UNC's Tyler Hansborough recorded the third-lowest rating for the Sunday featured game in the last decade. The 7.7 rating was down from last year's Kansas-Davidson contest which drew a 9.3.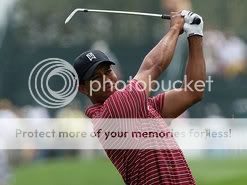 Tiger Woods dramatic finish at the Arnold Palmer Invitational boosted that tournaments ratings by 23% while helping CBS see a 17% drop in its Elite Eight ratings.
The 7.7 rating for the OU-UNC game was the lowest for the late Sunday timeslot since the 2003 Texas-Michigan State contest drew a 7.3.
Meanwhile, the Woods victory at the Arnold Palmer Invitational was the highest-rated golf program since Woods won the U.S. Open last June, higher than the either the British Open or the PGA.