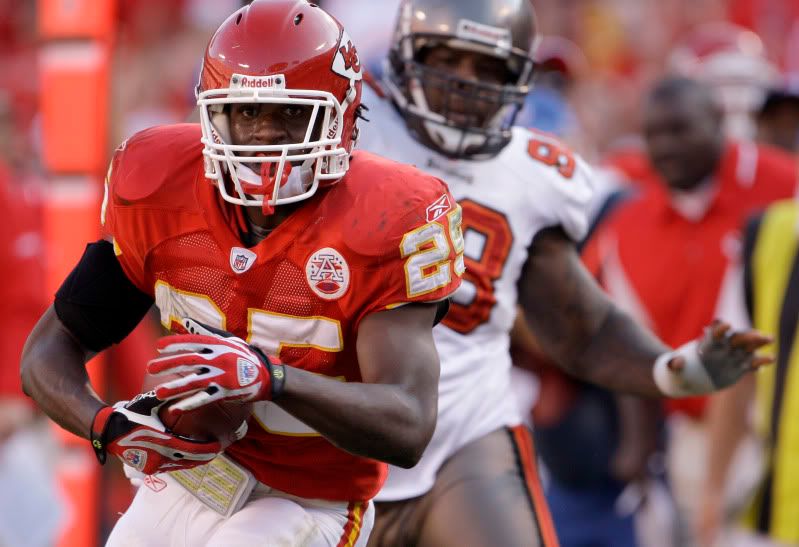 From a recent interview in the Port Arthur News, Jamaal Charles is just one pound away from contending for a starter's role in Kansas City. Sort of like how water turns into steam at 212 degrees but not 211? The coaches want one more pound out of the Port Arthur speedster so he can presumably evaporate in the backfield and run untouched into the endzone:
"They want me at 208 (pounds). I'm at 207 right now and I'm going to get to 208 and stay there ... I didn't work enough. I didn't want that to happen again so I've been busting my tail."
And #25 thinks thinks that could make all the difference between backing up Larry Johnson and taking his job. We're assuming Larry Johnson doesn't read the Port Arthur daily newspaper, and to his credit their fact-checking and copy-writing is right on par with Kevin Durant's Twitter feed (and coincidentally a live Jamaal Charles interview sounds like he's reading Kevin Durant's twitter feed...) but LJ sure as hell reads Barking Carnival. So listen up:
"I like Larry," Jamaal said. "We are friends in the locker room. And I'm going to be a good teammate, but I plan to take it from him. I think my coaches realize they need me. They are going to have to give me that chance. I have fresher legs and our offense plays to my advantage. I think they are going to use me a lot like Marshall Faulk."
So they're going to put him in a suit and interview Larry Johnson after the game for Fox Sports? Maybe he meant the old Marshall Faulk, the one that made runs like this in his sleep.
I could watch this all day...
211 yds in da 4Q wtf1? whats gooood, PA holla!
I'm glad Jamaal is treating the NFL like a job because guys looking to take his head off on defense certainly do. Jamaal had a respectable 5.2 YPC (67 for 357) and an impressive 27 rec for 272 and 1TD in his rookie year with the Chiefs.
Adrian Peterson only caught 18 passes last year and pretty much disappeared down the stretch when it mattered so I think that debate is settled. Keep this little nugget of free advice in mind come draft day: if Jamaal is still available in the 12th round, grab him. If Peterson is available at any pick, grab him.
THSCA Alll-Star Game
The game went down tonight at DKR and apparently was a blowout by halftime by the West squad, which featured UT's only two commits in WR Greg Timmons and RB Chris Whaley. With only a handful of D1 signees, it's one of the weaker rosters in recent memory.
Timmons stacked on 10 pounds of muscle (up to 6'3" 209) in the off-season and looks completely ripped. Whaley is hoping he can carry 250 like its 230. We already have a 250 RB in Cody Johnson so let's hope he can drop 15 pounds (anybody have Todd Wright's number?) and give us some separation from an otherwise good but not great stable of backs already on the roster.
Mack shared some mid-summer thoughts with the coaches and media earlier today.
The game airs Wednesday on FSSW at 1 p.m. We'll post some thoughts after watching the scintillating broadcast.
One final thought on the new field turf: Did Boone Pickens donate the paint? They fucked up the color, favoring Okie white trash neon over the inherently classier burnt orange hue. Otherwise the field looks good and thankfully won't look my lawn does right now after 1,378 days without rain come Thanksgiving.
Jetsam?