The game between #3 Boise State and #10 Virginia Tech on September 6th, 2010 is being billed as the first true early season clash of titans (particularly with LSU in decline and UNC in meltdown)
and the winner will have an inside track to voters' hearts, early season press, and an all-access pass to elite status.
It's a mirage.
And a brilliant idea for both teams. This is a game that serves both programs beautifully.
Boise State can elevate their stature with another win over a major FBS program catapulting them into a media courtship that may progress from flirting glances to actual petting, using the Broncos as a tool for their anarchist sympathies for a playoff and pestering the BCS; Virginia Tech comes into the game as the underdog playing a team that will confirm the preseason high ranking they typically squander against middling ACC opponents on their way to three losses.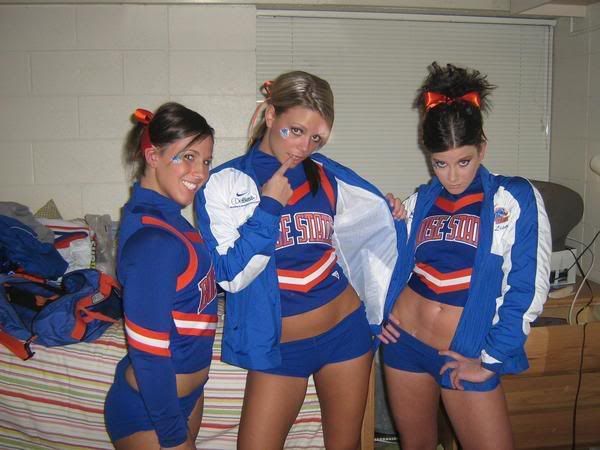 Boise ranked #3 in other polls, too
The beauty of this mirage is that the loser and winner of the game should both win their next 6-7, lending an air of legitimacy to the winner. If the loser eats some late season losses (and Boise sure won't), pollsters will already have cemented the highly ranked winner as a MNC contender.
Virginia Tech won't play another serious opponent until November with 7 weeks of bye called James Madison, East Carolina, Boston College, NC State, Central Michigan, Wake Forest, and Duke. If they beat Boise and run that group, they're sitting at 8-0, ranked #1 or #2 in the country, and primed for the home stretch of Georgia Tech, North Carolina, Miami and a weak Atlantic Division champion in the ACC title game.
Boise State has an even sweeter road with "tough games" at Wyoming, a home game against respectable Oregon State, followed by a series of tomato cans until a road trip to Nevada. A Nevada team that lost least year by 30+ to a Notre Dame team that couldn't handle UConn.
Don't get me wrong. These are both good teams, but the winner will be considered one of the early MNC frontrunners, largely on the basis of beating another team with questionable legitimacy.
The game match-ups themselves are fascinating, partly because Boise State is such a difficult team to prepare for and because Virginia Tech can be so schizophrenic in their play.
How Boise State Wins
Boise State will be facing an inexperienced Hokie D with only 4 returning starters. Boise State's complexity and emphasis on assignment football should confound the Hokies at times, but, as always, their ability to throw and run their trick plays is dependent on their underrated running game. It sets the table for everything. Ten returning starters, 4 out of 5 returning on OL, a stable of RBs, and an experienced QB in Kellen Moore with a 39-3 TD:INT ratio isn't a bad place to start. Their task is to introduce as much as complexity as possible and hope that a young, athletic Virginia Tech defense busts coverages, overplays tendencies, loses composure, and commits the mental errors that Boise feeds on.
On defense, they have a tough row to hoe. Although the Broncos return 10, they graduated the best player in their program in CB Kyle Wilson. The Broncos are a disciplined, physical unit, but they lack team speed and quickness and will need to focus on a game plan that commits to stopping the running game and putting the burden of winning the game on Va Tech QB Tyrod Taylor, a player who hasn't always stepped up in the clutch situations. Similarly, in passing situations, they can't allow Taylor to break containment and use his legs to extend drives. Boise has shown a knack for putting together inspired defensive game plans with limited talent and they'll need to do it again.
The Broncos need a good start. Something they generally excel at. If they fall behind early in front of a pro Virginia Tech crowd and have to go to a pure passing game, they're in trouble.
How Virginia Tech Wins
There are three games that Virginia Tech needs to scout heavily from last year to understand how to attack Boise State on both sides of the ball: Fresno State, Nevada, TCU.
Fresno State rushed for 320 yards featuring RB Ryan Matthews in a losing effort (but put 34 on the board) and Nevada's mobile QB Colin Kaepernick gave Boise containment problems. Nevada put up 33 in their losing effort.
Virginia Tech can do both of those things. Boise will have trouble corralling QB Tyrod Taylor's elusiveness and the 1-2 power running punch of Ryan Williams and Darren Evans, both 1,000+ yard rushers, gives Virginia Tech hope that they can run it down Boise's throat. Unlike Oregon in last years opener, Virginia Tech does not have a timing based offense that depends on rhythm. They're going to run downhill, bootleg Taylor, and dare Boise to stop it. Boise won't have a physical answer for 6-2 210 pound Virginia Tech WR Jarrett Boykin either.
Boise State's offense is predicated on the running game - no matter how shiny their passing statistics - and its ability to create 5 second long clean play action pockets for Kellen Moore to throw downfield to an endless array of wide open receivers. Moore is slight, short, and unused to being hit and though he does a great job of getting the ball out quickly and with accuracy, quick pressure paired with man coverage from good athletes isn't something Boise sees much. That's what TCU did and they stifled Boise State effectively in the Fiesta Bowl. Although the Hokies lack TCU's overall quality on defense, they should be able to provide a decent replication of that effort.
Final Call
I like Virginia Tech in a mild 27-21 upset followed by a rocket up the polls. I'm hesitant to pick them given their schizophrenic nature, what they've lost on defense, and Tyrod Taylor's inconsistency, but they match up too well, Boise isn't on the Smurf Turf, and the scouting report on Boise is something the Hokies should be able to execute.