It's nut cutting time. My apologies to the eunuchs and married men out there, but in terms of Texas basketball it's one of the last opportunities for resume building before conference play begins. It's also a tremendous opportunity for Texas to right a wrong that sent the then #1 ranked Longhorns into a tailspin just a short year ago in Storrs at the hands of these very same Huskies.
I'm not into to payback or vengeance, but it would be nice to feather our selection Sunday caps with another top 20 victim before we enter the bear that is the Big 12 conference.
Let's start with UConn's personnel.
The Backcourt
Kemba Walker. The 6-1 junior guard was the early season favorite to win player of the year after he almost single-handedly vanquished top 10 foes Michigan State and Kentucky on back-to-back nights. First he embarrassed Kalin Lucas et al in a 70-67 win against MSU and then made Brandon Knight look like a high school player by embarrassing the freshman and the rest of Kentucky's young pups 84-67 with little to no help. Walker's stat line in those games was a combined 20-36 from the field with 10 assists for good measure.
The problem for Kemba is that teams are now starting to send waves of defenders at the talented junior in an effort to wear him down. Teams like Pitt and Notre Dame used multiple guards on Walker in the last couple weeks--the scouting report in both games seemed to be to chase Walker off of jumpers and force the ball out his hands. The results were 18-50 from the field and two UConn losses. Hmmm. I wonder what Texas will do.
The other guard is true freshman Shabazz Napier who is not as athletic as he sounds. Shabazz is important to UConn because he's clever with the basketball and he's the only player on the roster that is skilled enough to get Walker off the ball. He's a plus shooter too, so you can't leave him to help to Walker. Napier is also a freshman and he's not overly explosive off the bounce so he is prone to turn the ball over when marked by a good athlete—I'm talking to you Cory Joseph.
Donnell Beverly is the bigger third guard. He does the little things well, or he does little well depending on the night--but really he's ceded a lot of playing time to true freshman wing, Jeremy Lamb. Beverly will give Calhoun some experienced minutes, but really he's a non-factor on the offensive end.
As you can see, UConn has zero depth in the backcourt so it's no surprise that guys like Napier and Walker are battling tired legs. This is good news for a Texas team that has discovered its optimal tempo is a faster pace with some pressure. More on that in a minute.
The Frontcourt
Remember when I typed about Michigan State being the perfect matchup for Texas' dream-wagon frontcourt lineup of Hamilton, Johnson, and Thompson? Well ditto that for UConn. The Huskies have the same type of weak frontcourt which means our most talented offensive troika should be able to get all the minutes they want without fear of being punished on the defensive end. In your Shooter Flatch voice repeat after me, "UConn ain't got no head-toppers, they're a bunch of mites." It's true and that's good news for a Texas squad at its best with those three on the floor. As a Texas fan the teams you should worry about are teams like KSU and KU that can roll out two credible post players to take advantage of Johnson on the block. UConn doesn't have that. What they do have is the following…
Alex Oriakhi. The 6-9 sophomore is an average offensive player with his back to the basket and a solid face up shooter from 15 feet in. Oriakhi shoots a respectable 53% from the field but he only averages 5 foul shots per contest. Unfortunately for UConn fans, he's the perfect mark for Tristan Thompson. Thompson should be able to tag Oriakhi away from the bucket while still having the length and athletic ability to smother anything Oriakhi tries to do on the block. Oriakhi is by far UConn's best post player, and that's not saying a whole lot if the Pitt game was an indication.
The other big is 6-8 205 pound freshman Roscoe Smith. My friend Bob in Houston would characterize Smith as more of a gatherer than a hunter. He shoots a woeful 38% from the field and he's light in the ass. Johnson should be able to move Smith out of his comfort zone and keep the slightly built freshman out of the lane for easy money. Smith's presence alone allows Johnson to stay on the floor which is huge for Texas on the other end.
The small forward is 6-5 inch 115 180 pound Jeremy Lamb. Seriously, the dude looks like a prawn from the movie District 9. He's built like Stacey Augmon's skinny twin, but he's got some game. Lamb's carnival-like length allows him to get blocks and steals on unsuspecting offensive players. My guess is he'll give Jordan Hamilton fits on the perimeter, so bet on Jordan taking Lamb down to the block for stretches. That's the the beauty of playing alongside a face up 4 and 5 duo that can play away from the basket. As a 3, you get to post up, and shit.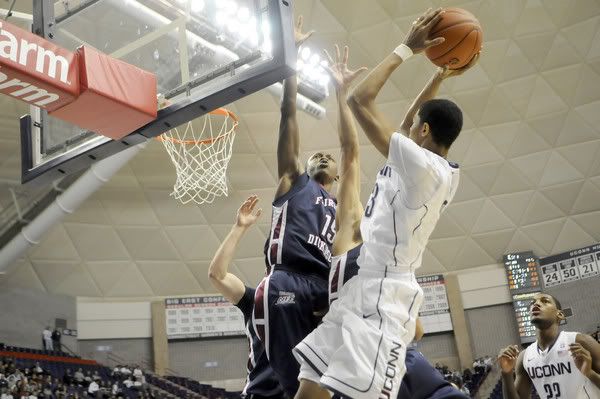 As for the rest of the Huskies, meh. I'm pretty sure swing man Niels Giffey is Australian and has a poster of Andrew Gaze over his bed. So yeah, we need to chase him off jumpers and call him a Kiwi to get in his head. Or if you're J'Covan Brown, "a mo-fuckin' Kiwi." That should be enough.
Keys to the Game
Wear Down Kemba Walker. You do that by doing three things. First, you send as many bodies at Walker as you can. That means you rotate Joseph, Balbay, and Brown on the talented guard who seems to be experiencing heavy legs. The second thing is deny whenever possible. If he's off the ball you deny in the halfcourt. If he's the point, try to deny make or miss in a fullcourt. The idea is to make Walker work to get the ball so you can enjoy the dividends of tired jumpshots and turnovers later in the game. Third, once Kemba has the ball you jump on his shooting hand to take away easy catch and shoots. Give up the dribble drive knowing helpside is there to force the ball out of his hands. Blitz and trap all ball screens. It's a win for Texas when Lamb or Napier are handling the ball.
Tempo. I lied, there are four methods to wear down Walker. But tempo has other benefits as well. Texas is a good enough a team to make opponents match up to them. A faster tempo is perfectly suited for Texas' explosive lineup or any lineup including Doge Balbay for that matter. Some transition exchanges every two or three possessions is healthy for Texas because it helps emphasize our depth and athleticism advantage. Oh yeah, it'll help wear down their big baller Walker.
J'Covan Brown and Cory Joseph. Now that wearing down Walker has a theme warning attached let's go full tilt. This duo will have to their part on the offensive to make Walker put in an honest day's work on defense. Cory needs to be factor in the screen/roll game to tax Walker defensively. When Walker guards Brown, J'Covan can be just as problematic to Walker's fatigue factor. Remember, Brown has become adept at moving without the ball and hurting teams off of curl cuts for easy jumpers or nice little dimes when the defensive over hedges. Look for Brown to run Walker through a guantlet of screens for some easy offense for Texas especially when Walker tires.
Jordan Hamilton. He can really work Lamb if he's patient and doesn't settle for jumpers. Lamb can get to Jordan's jumpshot so Jordan either needs to be clean off of a screen to get something on the perimeter or he needs to use his strength to bully Lamb on the block or driving to the hole. Hamilton can go nuts this game, he'll just have to do it a bit more strategically than he's used to-limit the heat checks and get more going to the goal.
Tristan Thompson. UConn has no answer for Thompson, so we need to get this budding superstar into the game early by not settling for early jumpers. It's okay to run and take quick shots, but when there's no numbers advantage in transition, Texas needs to be patient and find this singular talent.
Prediction
As you can probably tell, I think we're going to kick the shit out of UConn. If we don't, or somehow lose, it means we weren't ready to play, Kemba Walker went bananas, or both. I think we'll be ready. I'm pretty sure Coach Barnes has last year's game on a loop. Texas 80 to 64.
Hook 'Em