In the second round, the Dallas Mavericks embarrassed the two-time defending champions and swept them out of the playoffs. The Oklahoma City Thunder, meanwhile, were taken to seven games in a bizarre, back-and-forth series by the #8 seed.
Neither outcome will have much of an effect on the Western Conference Finals.
The NBA playoffs are about match-ups, not momentum. How a player plays in a series depends primarily on whose guarding him, not who was guarding him last week.
In 2009, the Cleveland Cavaliers rampaged to the Eastern Conference Finals, winning their first eight games by an average margin of 16.75 points. The Orlando Magic dropped two first-rounds games to a 41-win Philadelphia team before eking out a seven-game victory against a Boston Celtics team playing without Kevin Garnett.
But Cleveland had been dominating two teams (the Detroit Pistons and the Atlanta Hawks) without much of an interior presence. Their centers couldn't handle Dwight Howard on offense, while Howard prevented LeBron from dominating the lane, and the Magic stunned the Cavs in six games.

There is no transitive property in the NBA.
The next year the script was reversed, with the Magic sweeping their first two playoff series before playing the Celtics, who won two hard-fought series against one-man teams in Cleveland and Miami.
But Boston had centers who could defend Dwight Howard without a double-team, preventing Orlando's shooters from getting open looks, while their roster of veteran jump-shooters were unaffected by Howard's shot-blocking process. They won the first two games in Orlando, and the series was over before it had even really begun.
So how do Oklahoma City and Dallas match-up?
It's somewhat hard to say, because these two rosters haven't played each other so neither coach has had the opportunity to make adjustments.
The Thunder went 1-2 against the Mavs this year, but all three games happened before they traded for Kendrick Perkins and moved Serge Ibaka into the starting line-up. Dallas had Caron Butler in the first game, lost Dirk Nowitzki to a bizarre knee injury in the second and was playing with a severely depleted line-up in the third.
Dirk and Kevin Durant, both super-sized jump-shooters, should have big series.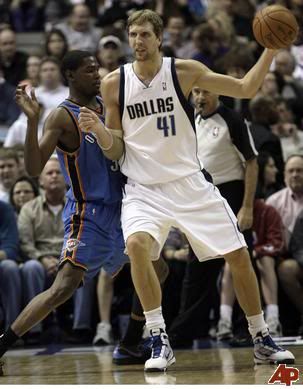 Dirk should have made first-team All-NBA over Durant.
After battling long, athletic big men like who could move their feet, like LaMarcus Aldridge and Lamar Odom, in the first two rounds, Dirk has a much easier match-up against the Thunder.
None of their top four big men -- Kendrick Perkins, Serge Ibaka, Nazr Mohammed and Nick Collison -- are suited to chasing a seven-footer twenty feet from the basket. Ibaka, their best physical match-up, is still a very raw shot-blocker, and Dirk should have no problem pump-faking and getting open looks on him.
And none of the Mavericks' forwards are even in the same ball-park defensively as Tony Allen, who has taken on the mantle of Bruce Bowen and Ron Artest as the league's best perimeter defender after battling Wade, LeBron, Kobe, Manu and Durant in consecutive playoffs for Boston and Memphis.
Five years ago, Shawn Marion, Dallas' only true small forward since Caron Butler's injury, would have posed a challenge for Durant. But after just turning 33, his foot-speed isn't what it once was, and he doesn't have the strength to push Durant off his spots and prevent him from catching the ball like Allen and Shane Battier.
The series will be decided on the perimeter, where Oklahoma City has a decided advantage. At the end of games, Dallas uses Jason Kidd, 38, and Jason Terry, 33. Neither has a prayer of staying in front of Russell Westbrook, who is sixteen years younger than Kidd.
** Caron Butler had a son at 15. Kidd is old enough to literally be Westbrook's father. **
Even worse, neither player has much of a chance at defending James Harden individually either. Harden, a 21-year old 6'5 220 shooting guard, was the X-factor for the Thunder against Memphis, and he could have an even bigger series against the Mavericks. When Oklahoma City goes Westbrook/Harden/Durant at the end of games, Dallas has only one player in their late-game line-up -- Marion -- with a prayer of guarding any of them.
JJ Barea's ability to penetrate to the rim was the difference maker for Dallas against the Lakers; I'm not sure how he gets on the court against the Thunder.
Dallas will have to either play their offensively-challenged defensive stoppers -- DeShawn Stevenson and Corey Brewer -- or do something drastic. My guess is Rick Carlisle will use a lot of zone in this series, especially when Thabo Sefolosha is on the floor.
They might try to copy Memphis' strategy in Game 6, when the Grizzlies centers shadowed Durant and Westbrook on the court, essentially ignoring the Thunder's offensively inept big men. Besides Durant, none of Oklahoma City's main perimeter players are reliable long-distance shooters, so a steady diet of zone might force Scott Brooks to insert Eric Maynor and Daequan Cook, two guys Dallas' older guards can actually defend.
If there was ever a time to dust off a box-and-one, with Marion shadowing Durant while the rest of the Mavs stay in a zone, it's in this series.
Dallas' best chance might be in the intangibles, as the Mavericks are one of the oldest and most experienced teams in the NBA while the Thunder are the youngest. If playoff experience matters, Dallas has the edge.
I don't think it really does, which is why I think Oklahoma City will beat Dallas in six games.
Correction: Dallas went 2-1 against OKC in the regular season.