I like tacos.
Burritos -- okay by me.
Enchiladas, I love you.
Chips and salsa, you complete me.
I adore Mexico. I love Mexican people.
I hate El Tri with the fire of 1000 suns.
Cuauhtémoc Blanco, Jorge Campos. Rafa Marquez, Hugo Sanchez, you may feed starving children and pet homeless kitties, but I don't care.
Sadly, I think you and your modern cohorts are going to smoke our ass later today in the Gold Cup final.
The US is in a no-win situation. Had we been bounced out at the first hurdle, at least we'd have gotten the coach fired. At this point, we lose to Mexico and it's no big deal -- their huge wins so far mean they're world (and US beaters). Beat Mexico, and the US team is heroes. Either way, Bob Bradley keeps his job, and the USA keeps -- at bet -- treading water. So, at this point, I feel comfortable rooting for the US. The outcome's going to be the same, no matter what, and a win over Mexico is always worthwhile.
I've not been particularly impressed by the US' central defense in this tournament, and I think they're going to find themselves under a lot of pressure from Mexico's forwards. In addition, the wide attacking options from the fullbacks (necessary in Bradley's width-less 4-2-2-2 formation) are going to find themselves pinned back. Clint Dempsey and Landon Donovan need to have their best games of the tournament, and the US needs to get extra attackers forward from midfield to stand a chance.
The US is also in need of some real motivational material, despite the fact that if you play for the team and can't get up for a match vs. Mexico, you shouldn't be in the side. To that end, I offer up this photo of Jeff Agoos.
WIN IT FOR THE GOOSE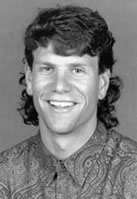 For a bit of deeper analysis, I refer you to my Mexican friend Omar:
"I think its going to be closer than u think. You fucking gringos are really in our head."