Everyone who has ever played a team sport knows that you cannot sabermetric everything. There comes a time on every team where a player makes or breaks a reputation for reliability, capability, and inspiration. If the player steps up and makes a play – or achieves an unlikely result – then the player earns the team's trust and the rest of the team starts to believe it can win.
This sounds like coach-speak, but by God it is true. Not only does the team pick it up, but the player usually responds to the team's trust in kind, becoming ever more reliable, inspirational, and confident.
Of course this mutual frenzy of confidence, which eventually seeps into a fan base and a coaching staff, has to start somewhere. This morning is full of obituaries for Garrett Gilbert's career, paeans to his class, and comments on what went wrong, all of which is married to the coronation of the kid from Belton. I would like to contribute a counter-factual that I think could have turned his entire career around and talk a little bit about the role of luck in football.
Gilbert's Moment – and Bad Luck:
It's the second quarter of the National Championship game against Alabama. All-World, near demi-God, Colt McCoy is injured on one of Greg Davis's all-time worst play calls (I'm still shocked he doesn't catch more grief for calling an option there, putting his most valuable player at the mercy of the most physical part of the toughest defense in college football), leaving the offense to be helmed by a freshman quarterback who has not played meaningful minutes all year, 5-star recruit Garrett Gilbert.

Gilbert
Predictably the offense scuffles. Feeding off of that, the defense gives up a 49-yard touchdown run to Trent Richardson and Texas goes behind 14-6. Things look grim.
On the next series, peeks of light streak through the black curtains. DJ Monroe attacks the big, strong edges of Alabama's defense with speed, scampering for 26 yards. The huddle looks different. The sidelines look different. To quote B.I.G., Gilbert has "nothing to lose tattooed around his gun wounds, everything to gain, embedded on his brain."
http://www.youtube.com/watch?v=-mBilft7RiE&feature=related
R.I.P. B.I.G.
Gilbert executes a nice play action, makes a good read, and spots Malcolm Williams in the end zone. Gilbert makes a good throw. It hits Williams in the hands. And he drops it.

This Could Have Changed Everything
The next pass Gilbert throws to Javier Arenas, who unfortunately plays for the other team. Gilbert goes on to throw three more passes to the other team, for a total of four interceptions. He rallies late, when it doesn't matter.
Here is the half-time, real-time, quote from Paul Myerberg, live-blogging the game for the New York Times (available at http://thequad.blogs.nytimes.com/2010/01/07/live-analysis-texas-vs-alabama/):
Is it time to wonder what the long-term effects of this game could be on Gilbert? He is, after all, the heir apparent to McCoy. Could a game like this damage his confidence heading into next season?
That was his moment. If Williams catches that pass it is 14-13. The defense gets new life. The team gets new life. They start to believe in the gangly freshman quarterback. Maybe Saban keeps foolishly trying to throw the ball, leaving McElroy to be devoured by Kindle. Maybe we go into half-time down by 1. Maybe we win a national championship. Maybe we start the next season 100% confident in the direction of the offense, comfortable with the quarterback. Maybe we win 9 games last year instead of 5. Maybe Gilbert has some swagger.
http://www.youtube.com/watch?v=vH5oyo7lxS4
"Bad Luck" by Social Distortion
My point is, that one dropped pass, to me, was his moment. And through no literal fault of his own, it didn't come off. And he was still an unknown into the next season. The pressure melted him. And he became what he is now – a desperate gambler of a QB, who makes impulsive heaves when his confidence is shaken, hoping Lady Luck will bail him out, but knowing that she won't. That is the story of that second pick last night. That was an unanswered prayer, the kind of throw only a QB with no faith in himself makes.
Ash's Moment – Good Luck Personified: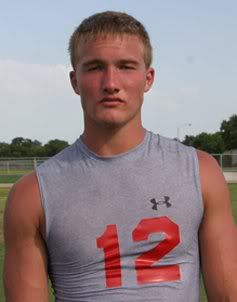 The Belton Gun-Slinger Himself
Everyone loves David Ash this morning. I sure do. He brought a swagger to the huddle. He was excited. He got a moribund OL to actually run block. He took people on. He was decisive, even when it was the wrong decision. And he, even more than Case McCoy, injected some much needed confidence and energy into an emotionally stagnant team and stadium. That 4th Quarter crowd was as loud as I have ever heard DKR get.
But here's the thing – it all started with some tremendous luck. The first pass that Ash threw last night, with about 2:20 left in the second quarter, in the first action he saw, was a screen behind the line to DJ Monroe, which Monroe promptly took up field for 26 yards. It was our biggest play of the game to that moment and it really got some excitement building, more so even than Ash's earlier scramble. More tellingly, Gilbert threw his second interception, the terrible one, immediately afterwards, on the very next play.

Fast DJ
I watched it again this morning. The blitzing BYU linebacker was in the backfield and knew exactly where Ash was going with the ball. Ash stared Monroe down. The LB missed intercepting that pass by about 6 inches. If he picks it then he walks into the end zone, because we were on our own 18-yard line (following our first first down of the game, and Malcolm Brown's big 8-yard run). If that is a pick-6 (or a TAINT as I like to call it) then the Ash legacy is still-born, because then we are in a deep hole, down 13-0 to a physical defense that is whipping our O-line everywhere. That kind of hole requires throwing QBs. We might not have seen much more of the Ash option package. Gilbert never would have thrown that second INT, because Ash would have beaten him to it. It's a whole different story line. If Gilbert doesn't throw that second INT, maybe he doesn't get benched. Or at least not when he did. And maybe we lose the game. But Ash looks as bad an option as Gilbert.
Now the completion, in and of itself, did not turn the game. But what it did do is give the team some confidence in Ash. Some belief that we could topple that Tongan wall and win the football game. It created the mindset that let Ash come in and have success. And it nearly didn't happen.
http://www.youtube.com/watch?v=ARgIC0L9dDc
Tom Petty's Take On It
Ash's moment went his way. He turned the game completely.
The Take Away:
I don't know that there is one. Fate is a fickle mistress. Gilbert has not had a lot of luck in his career at UT, but he has not helped himself much either. He's been saddled with incompetent coaches, terrible offensive lines, and no reliable running game (until this year). But he has also made a number of terrible, reckless decisions and he has never tried to take care of the ball properly. I am not absolving him of blame, but he didn't make Williams drop that end zone pass.
Ash is new. Fresh. Unmarked. With real coaches, real running backs, and real confidence. Also, apparently, some good luck. We can use it. Luck matters, even if it cannot be explained or quantified, just like swagger.
But it is interesting to think about those moments when it could have easily broken the other way.