A source has indicated that Texas athletic director DeLoss Dodds is scheduled to be in Vatican City next week to discuss conference realignment issues and expanding the Big 12 should Oklahoma and Oklahoma State depart. The deal being negotiated centers around an austerity package in which Texas would re-capitalize the Italian banking system in the event of a Greek default and European contagion through proceeds from the Longhorn Network. In exchange, Texas will receive Notre Dame's lifelong allegiance to the Big 12 conference.
The source, with close ties to the UT program, stated, "Dodds has been out in front of this conference realignment issue since the mid-90s and he recognized back then that Notre Dame was the grand prize. He's been watching the situation in Greece and Europe closely for the last five years and sees it as the perfect opportunity for Texas to act now."
Details are scarce at this point, but the source indicated that the deal would include programming for selective private Catholic high school games on the Longhorn Network.
"Mack Brown is extremely concerned about how street agents have infiltrated the private high school systems in states around the country. He views this as a serious threat to Texas' ability for continued recruiting dominance and wants to drive a stake in the heart of the street agent game once and for all. This deal would do that and ESPN has already been in contact with St. Thomas Aquinas in Fort Lauderdale, Central Catholic in Pittsburgh, St. Xavier in Cincinnati and De La Salle in Concord. Those are the schools we'll target first, and of course, it will also develop a strong pipeline into those programs for Texas."
The deal would provide TV coverage on an unprecedented scale nationwide and give Notre Dame access in markets that are attractive to their own future network as well. Texas controls 98% of the market share from San Antonio to Brownsville, the fastest growing region in the country, of which 100% is of the Catholic faith.
The source added, "You think we bought a billion dollars worth of gold to diversify our portfolio? Dodds saw the Euro collapse a mile away. Where do you think the market is headed at that point? The proceeds alone from this move will cover the re-capitalization costs in Italy."
In response to the timing of such a development, the source replied, "When Dodds arrived here, Texas A&M and SMU were running a train on Fred Akers and the Program (Editor's Note: Was instructed to capitalize program.). The higher ups weren't going to stand for this and Dodds set a 30-year timeline on his Master Plan. He wants to leave his legacy here and has said that Texas wouldn't start the realignment game, but by God, we'll finish it. He knows that game will end with whoever has the Pope in their pocket. Dodds and Benny have a great relationship, but if Benny won't kiss the T-Ring then all bets are off. It's been a holdup in the negotiations or this deal would have already been signed, sealed and delivered. We're confident they'll cave in the end. Most folks are keeping an eye on Norman, but like I told you last week, that's merely a smoke screen. Keep an eye on Athens in the next 60-90 days."
Georgia?
"Ha ha ha ha ha!!! Greece, you simpleton Plains twit."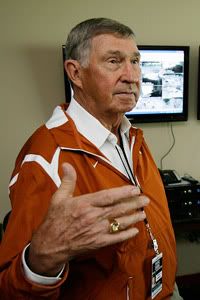 "Do it, Rome."