It's everywhere you want to be.
At this point in the season Texas has not been tested downfield in the passing game by an opponent and consequently our only sack has come from a defensive tackle (although Okafor would have made it had Dorsey been blocked) while the rest of our front has managed only to pressure the QB without striking home.
Evidently the combination of Texas' 2010 game tape and Diaz's game film from Miss. St. and Middle Tennessee St. was all it took for both Bronco Mendenhall and David Bailiff to write off the vertical passing game as a significant part of the game plan for attacking Texas.
Since UCLA has Nelson Rosario (6-5, 220, 7 catches for 161 yards) and Joseph Fauria (6-8, 250, 7 catches for 124 yards) it's likely that they won't completely abandon the deep vertical game but you can expect it to either be on a rollout up the seam to Fauria or off play-action because I don't think Neuheisel will be any more inclined to test our DL and Fire Zones with 5 step drop plays than was Mendenhall.
In my article for Longhorn Kickoff 2011 I discussed Diaz's basic formula for preventing scores as taking away the vertical game and running game and then relying on disguise to hide the open parts in the middle of the field and superior tackling to minimize the damage inflicted if the offense found soft spots.
BYU was a fantastic test of whether Texas could actually A). stonewall a physical and effective downhill running game and B). hold up against the intermediate and short game.
To the great relief of Mack and the rest of us, we actually shredded their Power game with our defensive tackles and will undoubtedly drain the color out of several Big 12 offensive coordinators' faces when they put this tape in evaluate our run defense.
I still haven't chronicled each snap of every defensive tackle on the roster but I feel confident in asserting that Kheeston Randall, Desmond Jackson, Calvin Howell, and Ashton Dorsey would be starters on most Big 12 defenses. Muschamp's recruiting at the position has finally paid off after that seemingly indefinite period between the 2009 and 2011 seasons when our DL wasn't stocked with mismatches at every position.
If UCLA gives Texas problems in the running game I'm betting it won't be because of these guys. Rather, it will come from poor run fits by the linebackers (which was drastically improved against BYU) or losing containment on the edge. UCLA's option and inside zone attack are perfectly designed to exploit mistakes in either of those categories so discipline and confidence in the schemes will be essential for our defensive front. I expect our guys to come up big in both after seeing what they can accomplish in this defense (43 rushing yards on 23 carries) when they aggressively pursue their assignments.
BYU was able to hit the seam with their TE's and slot receiver and also did damage on roll out throws to Luigi (or whatever his name was) coming out of the backfield. However, they managed only 5.1 yards per attempt from what was certainly their only functional offensive strength in the game. The reason? Tackling.
Let's examine just a few instances of the open field tackling on display against the Cougars.
Here we see Heaps has completed a pass to the TE #80 down the seam, in between the linebacker and the safety.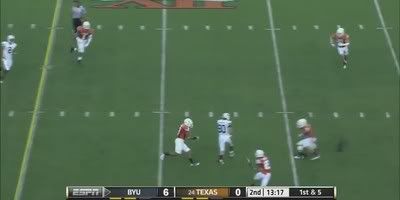 However they threw it to Vaccaro's side of the field, as opposed to...the other side of the field. Consequently, it ends there.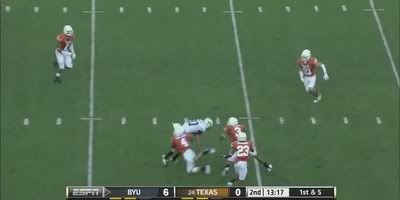 Big gain for the offense but no yards after catch. Playing a zone defense and utilizing the fire zones are going to allow plays like this from time to time, but yards after catch are what kill a defense. At this point Texas is free to continue to attack and erase that play.
As it happens, BYU finds the other side of the field and gets an RB past Acho in the flat.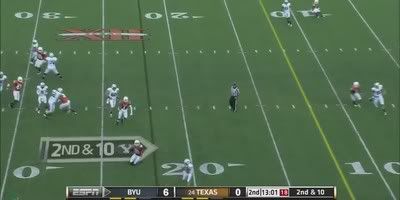 Gideon comes up with a chance to meet the mario brother at the first down marker but then the RB demonstrates the traction that is offered by choosing Luigi as your driver.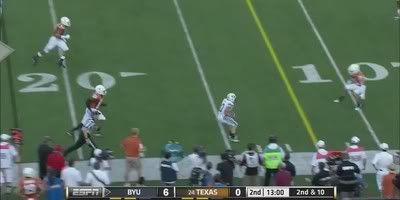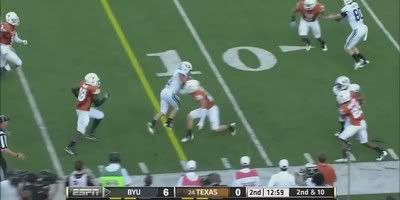 BYU gets inside the 10 yard line and set up their only TD conversion on the night.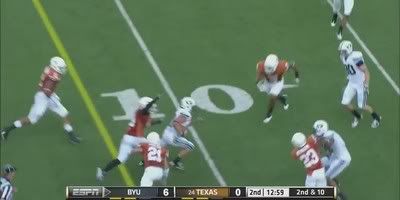 Overall, Texas' weaknesses in open field tackling are less than what we saw in any of Muschamp's creations. We use less nickel defense and instead ask Hicks to handle the boundary #2 receiver and he's done an excellent job in that role, actually upgrading our play at the position in terms of tackling from what Aaron Williams offered. Here we see him denying the middle of the field to the receiver and forcing a throw to the outside by the Quarterback. You see even players like Landry Jones miss this throw on occasion and though Heaps completes it...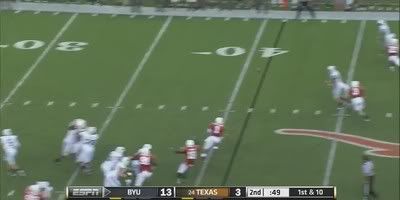 ...the damage is limited.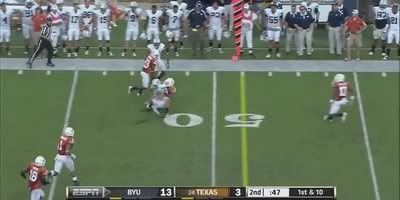 On the next play Hicks has taken a deep drop against the #2 receiver and, needing only 2 yards, BYU slips Luigi back out to do more dirty work.
Hicks closes in like a red shell on a straightaway. Should've gone with Wario...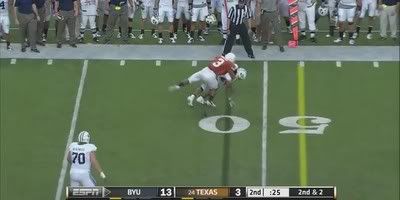 When we want to play nickel defense we aren't taking Hicks off the field but simply playing him inside and handling some of the boundary defense with Vaccaro or Phillips. The comparison for Adrian that I most easily buy into is that of Cedric Griffin. He doesn't have the same coverage abilities yet but he's of the same physical-tackler/corner mold.
Here we seem him racing to match his assignment on the RB like a hawk.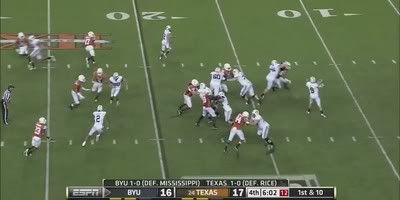 He closes by the time the ball arrives due to a superior angle and his natural speed. Then he wipes out the RB for a loss on a play that could have been a big gain.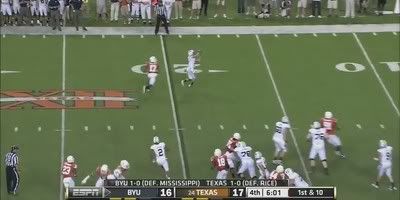 Finally we have the force play from our corners. Many of you probably remember that Saban alternated between assaulting Curtis Brown, Chykie Brown, and Blake Gideon with Alabama's outside run game. Even Earl Thomas could only drag down the Crimson Tide backs in pursuit after big gains. While we don't have the same coverage as the postal service offered (yet) outside runs and throws are going to meet a different outcome against our new defensive backs.
Here BYU has RB in space on the edge from a draw play, heading into open waters. At the bottom of the screen is Diggs, who has recognized the situation and assuming his force responsibilities.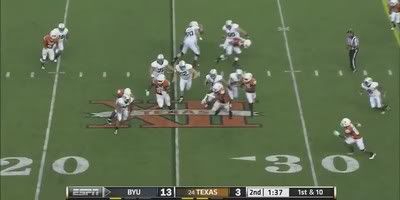 Had Diggs been blocked or shown weak against the run he would have allowed the RB to cut upfield with power and perhaps beat the angles of pursuit, or at least get positive yardage. Instead he challenges him with authority.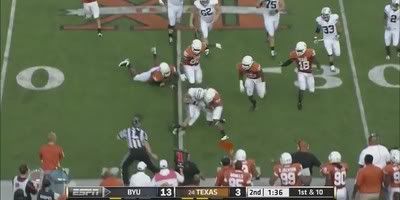 What we're seeing is that although Texas doesn't have the same coverage abilities as during Muschamp's 2nd and 3rd seasons, we have a more physical team that is denying yardage where possible all over the field and demanding that the offense beat their pressure again and again.
Being able to rely on his squad to clean up in the open field is going to allow Diaz to throttle what offenses love to do best with his pressure. Then, he can make the offense begin to see ghosts. Which will come in handy against Landry Jones, but we'll get to that in a few weeks.