The slow motion "Noooooo!" of seeing my original 2000 word Defensive Post-Mortem obliterated by a bot invasion server malfunction still can't sour me on our team's great performance in Los Angeles. I took in the game on a flawless SoCal day surrounded by 20,000 enthusiastic Longhorns, 40,000 grim Bruins, and 25,000 empty seats.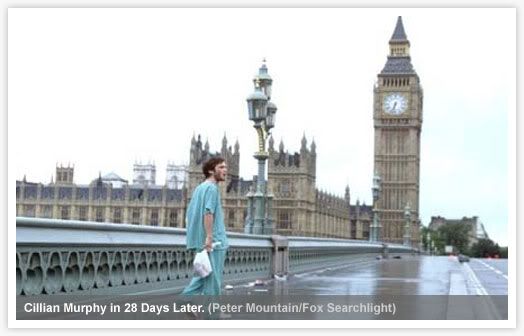 Helllooooooo. Has anyone seen Terry Donahue?
There were scenes in the Rose Bowl in the cavernous end zones not unlike 28 Days Later after Cillian Murphy stumbles out of the hospital and wanders through a gutted London wasteland wondering what the hell happened. Then three dudes wearing visors and flip-flops start chasing him, spitting up infectious chai lattes and beaning him with hackeysacks.
Defense
Overall, I was pleased with the performance. The defense drew the tough assignment this week. We're mediocre at what we know we're mediocre at, we're very good at what we know we're good at, and our secondary's development is beyond any of our wildest estimations. UCLA may have a bad football team, but don't confuse that with having a bad offense. UCLA has a good offense that will slit its own throat with turnovers, drops, and penalties. The key is to keep handing them the knife and encouraging them to run around the swimming pool.
I was particularly pleased to see us dominate the 1st and 4th quarters - exactly the time periods you want to dominate against a run-oriented football team. UCLA didn't score until its 5th possession of the game and didn't score in its last 4.
DL
Overall, fine. Holding UCLA to 141 yards rushing at 4 yards per carry without committing extra defenders is a positive, particularly since they didn't really abandon the run until the mid-4th quarter. UCLA makes sure to get hats on the DL, knowing that the deception in their offense and the NFL quality of their backs will create something if they can keep the big boys occupied. No one was getting whipped up front. Most of their quality runs were taking advantage of a run blitz and their backs finding a seam. I would have liked to have seen more push in the backfield, but you don't want to stunt excessively with down lineman against that kind of offense and UCLA's squatty interior OL have a great base (read: 6-1 335 pound guys) and are tough to get going backwards. Ashton Dorsey gets a bad mark for being drawn off by a hard count on 3rd and short, but he was solid otherwise.
Kheeston Randall's big stunt hit on Kevin Prince (which did cause a fumble, improperly ruled on field) was a really good example of what Diaz is capable of doing with this defense on 3rd and long.
We also played heavy containment on passing downs, relying on LB stunts for inside pressure instead of cutting our DEs loose. This may not be pleasing to Alex Okafor's stat sheet, but it was effective, eliminated drive continuations off of scrambles (Prince killed us last year with that), and it led to a lot of ill-advised throws and easy hits on the UCLA QBs. We have a team concept D and this game was for the back 7 to shine.
LB
A mixed bag, largely because they drew the toughest assignment on the field. The beauty of the Pistol is pairing power downhill running with deception and assignment football sufficient to cause paralysis and doubt in your LBs, give backside defenders responsibilities so they can't crash and help, and offer UCLA's fine RBs daylight. Rather than sit and read, we decided to use our quickness advantage to stunt the LBs - Acho in particular - and it was feast and some famine. By now, presumably everyone is bought into my contention that we start 3 OLBs and we'll see the effects of that - good and bad - throughout the season. Acho's stat line of 10 tackles, 2 TFL, 3 QB Hits, 1 sack, 1 pass break up is pretty sparkling, but we also saw 3 10+ yard runs on our interior when Acho took the wrong gap - particularly the series where Coleman gouged us. Edmond got some snaps and on one play he smashed the OG so hard, the guy's knees buckled.
Football is about trade-offs. We can pine for giant run-pluggers at LB until Oklahoma State rolls into Austin and throws for 400 easy yards just flipping the ball to their running backs and slot receivers. For every play where we see our faults, know that there are things that other teams can't do simply because of our LB's strengths. UCLA was designed to attack our weaknesses in the front 7 and negate some of our strengths and they got 20 points and 317 yards out of it. That's solid defense in today's era.
DB
Wow. These guys just continue to exceed expectations and though we've seen nothing yet that will prepare us for the receiving talent we'll see at OU, OSU, A&M, it's hard not to love this bunch and their speedy development. In addition to three interceptions (and forcing a fumble), they continue to be physical, rarely blow coverages, and we're not giving up big plays over the top. Carrington Byndom's diving interception was no easy catch and it's great to have a group of DBs that will finish the play with a turnover rather than a deflection or a stone-handed carom.
Kenny Vaccaro is my player of the game. 13 tackles (8 solo) and an interception. Forget the stats though. His impact is best summed up by a two play series in the late 1st quarter, which had lasting effects throughout the game. Hoping to find some momentum, UCLA targets 6-8 TE Joe Fauria in the seam and Vaccaro delivers a vicious hit. I decide to follow Fauria as he runs off of the field and I was rewarded for doing so. The minute he gets to the UCLA sideline, he folds over clutching his ribs, and spends the next three quarters tip toeing, grimacing, and offering a non-verbal "Fuck this shit." The next play immediately after, Vaccaro reads Prince's eyes, jumps a route and makes an interception. Two plays: Kevin Prince is done and UCLA loses its only inspirational leader; UCLA's most potent physical mismatch is done even though he goes through the motions for three more quarters until Adrian Phillips whops him and forces a fumble. Fauria could have legitimately worked us to the tune of 6 catches for 100 yards and Kenny made him irrelevant.
As much as Xs an Os influence outcomes and we love to talk them here, football is a physical game. And Kenny can end very well-concieved plans. Want to understand why the much recruiting guru-loved 7 on 7 tournaments can be such bullshit? Because in real football, people can knock you unconscious. Two hand touch doesn't quite communicate that impact.
Adrian Phillips and Carrington Byndom were very good and had some tough assignments with the 6-5 Rosario running jump ball sideline fade routes. Each had a pick and both brought the wood, with Phillips also forcing a fumble. UCLA's drops weren't coincidental. Although Quandre was a bit more quiet, he dropped an interception and I saw only one coverage bust. I can't even fathom that he's a true freshman.
Blake Gideon had two nice tips - one leading to AP's interception, the other on a blitz - and he had a solid fill on the option in the alley. Being at the game only reinforces the specificity of his role - he's either in deep punt return safety or blitzing. Not much else going on. There were entire series where he just didn't experience any of the game.
Special Teams
As happy as I was with our offense and defense, special teams gave me a headache. Shipley's early unforced fumble was a killer though the defense bailed him out. Good to see him again after that miscue - Mack is going to let them learn the hard way.
UCLA's Josh Smith is a good returner, but when a kick returner can catch the kickoff at the 10 yard line at a dead run, it's pretty impossible to keep him on the other side of the 40. We've got to do something to find more leg or we're going to have to start mixing in some squibs. We're also losing outside containment - those guys can squeeze, but they can't get sucked inside.
Similarly, I hate our straight line rugby punt formation. We play two OL in protection on the gate and, along with Tucker, that puts three non-tacklers on the field. One accidental line drive punt equals an easy touchdown return. That may not be punished by BYU, but Ryan Broyles is on the schedule. Similarly, our kick returns don't have a plan. It's not even clear when we have a directional return on sometimes. There's just no coordination. It's not clear what we're trying to achieve.
Right now, if we played OU, they'd win 100 yards of special teams field position over the course of the game against us. That's 6-10 points. We're not remotely good enough to allow that.
Overall
We played a run-heavy Pistol team with good talent and generally handled their offense without committing extra numbers to the run, prevented big plays, and six of their 20 points came on 50+ yard field goals. UCLA was 4 of 16 on 3rd and 4th down. More crucially, three quick turnovers turned the tide of the game early, gave a young team huge confidence, and staked us to an early lead. The 2nd and 3rd quarter had some adversity, but the 4th quarter was a shutout, ending the game with four consecutive three/four and outs. Just like BYU.
As much as we talk about Manny Diaz's pressure and creativity on 3rd down, the key to the defense is that it's very difficult to get an easy scores on a big play. As much as it may bother a Longhorn defensive purist living in 1977 who remembers offenses that were neanderthal primitive and 13-6 victories, Diaz will allow some 14 yard runs out at midfield in order to prevent a 76 yard strike over the top. Allowing three touchdowns in three games works for me and I'm happy with the defense heading into the bye.
Your thoughts?