As the administrations of both institutions attempt to prop up the rivalry between Tech and UT without A&M being in the picture, I am reminded of one of the long-standing great high school traditions that somehow loses favor at the college level. You know the one where the cheerleader squads of bitter rivals introduce each other and lead the crowd in a joint cheer for the opponent?
It makes no sense and no one really knows why it continues, but everyone appreciates it for the opportunity to scope out the prime talent from your nearest towns. Is it worth attending the White Deer rodeo? I'm pretty sure this tradition died at the college level when the Aggies entered the picture, and it would be nice to recommence now that crowds won't be subjected to Bubba from Calvert attempting a mid-air split in a milk man outfit.
I also find it amusing as mortal enemies suddenly become BFFs for the length of a 200-yard walk around the track despite rampant rumors of an alleged handjob on the starting QB at the Caprock Roundup Dance last summer. I will have a not-so-similar cordiality with Tipsy Gypsy at the Barking Carnival tailgate despite the fact that I will mock him to my schoolmates for his chest being tattooed like the hood of a Firebird. I am unfortunately privy to this information because Vasherized fills my phone with text messages of shirtless men by the pool from every Fantake blogger retreat that I conveniently schedule the engagement of activities for heterosexual men. Pimping skinny jeans at the Ghost Bar is just not my thing.
This is getting weird, so let's get to the football.
Tech Offense
The Tech team goes as Seth Doege goes, so for those of you only marginally interested in technicalities, this is as far as you have to read. That's how a team beats OU on the road and, subsequently, gets blown out by Iowa State at home. At one time, I had high aspirations for this Tech squad until they lost their #1 (Eric Stephens) and #2 (Ronnie Daniels) running backs and suffered normally season-ending injuries to our #1 receiver (Darrin Moore) and starting center (Justin Keown). When I think about that and the impact it would have on other squads in the conference, I am somewhat impressed that things aren't worse than they are.
I can get into specifics with personnel, but I'm fairly positive that is not where the interest lies for most readers. It seems bizarre, but Tech actually matched up better with an over-aggressive, pressure style defense of OU than a rush four and drop seven deep philosophy of ISU. The Tech OL has been largely stellar to date in preventing pressure, so risking additional resources has typically simplified the read process for Doege. He had a tendency to lock on favorite target Eric Ward in the matchup with the Cyclones and Wally Burnham made a sound call of bracketing him or using Leonard Johnson in press coverage under obvious medium-range route circumstances. Overall, the wide receiver corps has shown minimal ability to punish someone deep. The more bodies you bring in pass rush, the more potential they have to beat you. The one thing they've done well to date is catch the ball. I'm most concerned with the athletic UT secondary being able to man up across the board and handle the Tech receivers. If that's the case, then pressure becomes a viable option.
The running game has been based on opportunism and schematics versus execution, although LT LaAdrian Waddle and LG Lonnie Edwards have been adept at pushing guys around in stretches. I don't see that being a serious issue for the UT defensive front unless the scoreboard allows for the run game to remain a threat. They made Travis Lewis and Frank Alexander look foolish in stretches, but it's not an asset with which Tech can beat you. We'll still have to make a reasonable commitment, regardless.
Tech Defense
The poison for the Tech defense has been exploiting the size deficiency at DT with a mobile QB and zone read to take advantage of the numbers game. Given that both DTs run about 265, Tech has taken a fancy to slanting in an attempt to play for 2nd and 11. Efficient zone blocking teams have been able to single block on the interior and free run with the combo man to the LB level. OU, lacking a mobile QB, didn't possess this threat. Kansas State and Iowa State did. Kerry Hyder is an underrated player on the inside, who would receive more notoriety for his quickness and motor playing next to Colby Whitlock. He's still good enough to disrupt several plays a game on his own merit.
You would think a guy from Aldine lacking an appropriate amount of vowels in his name would be better than he is, but Cqulin Hubert isn't. I don't know who the Iowa State OC is, but I can tell you he was savvy enough to study film and target Hubert. At the other LB position, Dan Cobb has improved throughout the season. True freshman Blake Dees was showing promise as well, but he's out with a sprained ankle.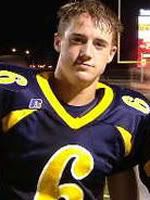 In Blake Gideon Voice: "This is Cody, he's a junior and plays white safety!!!"
SS Terrance Bullitt has been Tech's best overall defender, but he dislocated a shoulder last week and is out. FS D.J. Johnson has been an asset in coverage. The CB position is a mess struggling with injuries and walk-ons. Shawn Corker, a wide receiver, has been playing the position for 3 days and already won a starting job.
Summary
This wasn't a deep Tech team to begin with prior to injuries and heart only takes you so far. That seems to have caught up with them last week and we learned that Seth Doege isn't quite Professor Dumbledore. The OU game gave a false sense of security, but overall, we lack the talent across the board for one unit to overcome the other. All three facets of the game must play good to achieve victory, but we're also just talented enough to be capable.