After a whirlwind free-agency process that saw the Dallas Mavericks lose Tyson Chandler and the LA Lakers lose Lamar Odom, Kevin Durant and the Oklahoma City Thunder are the trendy pick to reach the NBA Finals.
The NBA's hype machine is already in full force, with everyone's favorite Longhorn scheduled to shoot a "Space Jam" type movie over the next year. But publicity brings expectations with it, and the knives are already being sharpened:
I always let LeBron know off top: they love you right now; they love you right now. But please believe me -- the first incident, the first time something happens -- they waiting man. They waiting. -- Allen Iverson, 2005

So far, Durant's career trajectory has only been upwards: going from 20 wins as a rookie, to 23, 50 and now 55 wins last season. Most importantly, his Thunder teams have exceeded expectations in both their trips to the playoffs: battling the eventual-champion Lakers in a tough first-round series in 2010, making it to the Western Conference Finals in 2011.

It doesn't matter how well Durant plays on the court or how well he conducts himself off it. If the Thunder don't win a championship in the next three seasons, the same people who turned on LeBron will turn on Durant as well.
Durant, whose already made two All-NBA first teams before the age of 23, is far from a finished product. He can still improve his low-post game, his passing and his individual defense.
But if the Thunder are going to win the title, they're also going to need Serge Ibaka to hit perimeter jumpers, Kendrick Perkins to recover from the knee injury he suffered in the 2010 Finals and Russell Westbrook to learn to share the ball with James Harden.
Of course, no one wants to hear that. Perimeter superstars are like QB's: they get too much of the credit for victory and too much of the blame for defeat.
I can see the narrative already. Jason Whitlock and Bill Simmons have been pushing a silly "Avon/Stringer" story-line for Durant and Westbrook for over a year now.
** As an NBA writer, it's quite irritating that I can no longer reference "The Wire" without looking like a hack. It was a great show, but can we let it rest in peace without acting like it has all the answers to the world's questions in it? **

The Thunder are one of ten teams opening the NBA season on Christmas Day this year, with the head-liner being a rematch of last season's epic NBA Finals between Miami and Dallas:
Boston at New York, 11:00 AM, TNT: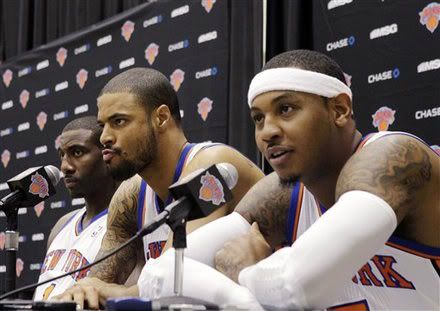 The Carmelo trade is looking better by the day.
Three Things To Watch For:
1. Boston's interior defense: Can Chris Wilcox, Brandon Bass and Jermaine O'Neal keep Tyson Chandler from dominating the offensive glass and Carmelo and Amare from putting them on a few posters? The Celtics season is going to depend on it.
2. New York's back-court: After amnestying Chauncey Billups to free up the cap space to sign Chandler, the Knicks will depend on a group of talented but untested youngsters (Toney Douglas, Landry Fields, Iman Shumpert and Bill Walker) and the decaying corpse of Mike Bibby to defend Rajon Rondo and Ray Allen and run Mike D'Antoni's offense.
** That is, until Baron Davis returns from his back injury. If he's healthy, which is a huge if, he could be a serious problem in the Big Apple. A top 10 talent. **
3. Boston's Big Three: Do KG, Paul Pierce and Allen have one more run left in them? Can they stay in front of players who were in middle school when they entered the NBA?
** Remember Avery Bradley? He could end up playing a huge role for them this season. He would have been a Top 10 pick if he had stayed an extra season. He had no reason to rush out of school; he wasn't someone like Cory Joseph who needed to take the money and run when he got a first-round promise **
Something To Tell A Family Member: Phil Jackson to the Knicks in 2013 makes a lot of sense for everyone.
Miami at Dallas, 1:30 PM, ABC: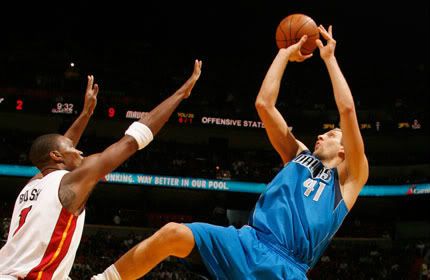 Chris Bosh is 6'11 230 with a 7'3 wingspan and 30 inch vertical. Not that it matters.
Three Things To Watch For:
1. The Mavericks' centers: The cupboard isn't entirely bare in Dallas, as the Mavericks will need Brendan Haywood to earn the $55 million contract he got by playing with consistent effort on a nightly basis while staying mentally involved in the game. They've got three athletic 6'10+ players -- Ian Mahinmi, Brandan Wright and Sean Williams -- who could get minutes, and they might try to use Lamar Odom or Dirk as a small-ball 5.
2. The Miami front-court: There's no reason to not amnesty Mike Miller and sign Shane Battier if they weren't going to play in the fourth quarter, which means the Heat must be comfortable with Bosh and LeBron closing out games on the interior.
** Could there be a Dexter Pittman sighting? If they're seriously contemplating using a Joel Anthony/Eddy Curry platoon, what do they have to lose? **
3. Dallas' back-court rotation: There's been a lot of roster shuffling for the defending champions. Caron Butler, JJ Barea, DeShawn Stevenson, Peja Stojakovic and Corey Brewer are out; Vince Carter and Delonte West are in. Two young Mavericks -- Rodrigue Beaubois and Dominique Jones -- could get more minutes.
Something To Tell A Family Member: If Dallas amnesties Haywood and buys out Odom's team option, they have the cap room to get both Deron Williams and Dwight Howard next summer.
Chicago at LA Lakers, 4:00 PM, ESPN:
Three Things To Watch For:
1. The Lakers' perimeter defense: The Derek Fisher/Steve Blake combo was exposed pretty badly by Jason Terry and Barea in last year's playoffs. Now they get to face off against the reigning MVP. LA might try to use Devin Ebanks, a second-year 6'9 forward out of West Virginia, on Derrick Rose.
2. Rip Hamilton: The former Detroit Piston was the Bulls' main off-season addition, and while he's an upgrade over Keith Bogans, it's hard to see him being enough to get them past Miami.
3. Pau Gasol vs. the Bulls front-line: The Lakers' Hall of Fame big man was the scapegoat last season after he was dominated by Dirk in the second round, and he's often been plagued by questions about his toughness in the low post in his time in LA. There isn't a better or tougher defensive trio at the 4/5 positions in the NBA than Joakim Noah, Omer Asik and Taj Gibson.
** Andrew Bynum, who may be LA's best player by the end of the season, is serving a five-game suspension for his cheap shot on Barea at the end of the Mavs/Lakers series. **
Something To Tell A Family Member: In their divorce proceedings, Vanessa Bryant accused Kobe of cheating on her 105 different times. He's going after all of Wilt's records!
Orlando at Oklahoma City, 7:00 PM, ESPN:

When healthy, Perkins has been Superman's Kryptonite.
Three Things To Watch For:
1. Dwight Howard vs. Kendrick Perkins: The NBA's best center vastly improved his post game last season, and he should get a good test against Perkins, who handled him 1-on-1 in several Celtics/Magic series. He probably can't anymore, but the Thunder will be happy if he regains some of the lift in his legs.
2. The Thunder's young players: It's pretty scary when the four best players on a 55-win team all have significant room to improve their games.
3. Oklahoma City's offensive balance: The Thunder were plagued by an inability to space the floor or run offense through their big men in the 2011 WCF against Dallas. Now, with Westbrook, Harden and Ibaka on the verge of signing their first big contracts, will they be willing to sacrifice individual glory for team success?
Something To Tell A Family Member: The great "known unknown" for the NBA going forward is Dwight Howard's ultimate destination. On this, it all depends.
LA Clippers at Golden State, 9:30 PM, ESPN:
Three Things To Watch For:
1. The Warriors rim defense: Golden State was apparently so unimpressed with Andris Biedrins they actually gave Kwame Brown $7 million this season. They had better hope former Baylor Bear Ekpe Udoh is ready to play or Blake Griffin and DeAndre Jordan will be the top 10 plays on Sportscenter Sunday night.
** It's not because Kwame is a quote-unquote good at basketball, it's because there aren't many athletic 6'10+ 250 pound human beings on the planet. Whatever guy the myth of Goliath is based on, I doubt he was bigger than Kwame Brown. That's why, all things being equal, a big man is always going to be worth more than a guard. **
2. The Clippers perimeter defense: With Chris Paul, who was playing on one knee most of last season, Chauncey Billups and Caron Butler all slated for big roles, LA is going to have their hands full against athletic slashers like Monta Ellis.
3. LA's bench: Because of the king's ransom they paid for Paul, which was a much better deal for New Orleans than the Lakers/Hornets package, they are going to have to depend on a lot of unproven youngsters -- Eric Bledsoe (whose out for six weeks after knee surgery) as well as Georgia rookies Travis Leslie and Trey Thompkins.
Something To Tell A Family Member: Grown men getting tea-bagged 10-12 feet in the air. Is that something you might be interested in?
Predictions:
** Written in pencil until the Howard sweepstakes are resolved. **
NBA Finals: Miami over Oklahoma City
MVP: Dirk Nowitzki, Dallas
Defensive Player of the Year: Tyson Chandler, New York
Rookie of the Year: Kyrie Irving, Cleveland
Sixth Man: James Harden, Oklahoma City
Most Improved: Jrue Holiday, Philadelphia
Coach of the Year: Nate McMillan, Portland
Executive of the Year: David Stern, New Orleans