If a team emulates its coach, I'd like to administer a DSM-V to Dan Hawkins. His 2007 Colorado team embodied a whole array of disorders: schizophrenia, bipolar depression, acute psychosis, chronic bedwetting, and disassociative identity disorder. The same football team that beat Oklahoma in Boulder and whipped Tech in Lubbock was also blown out by Kansas State, lost to Iowa State, played Kansas down to the wire, and was humiliated by Mizzou. They beat Nebraska 65-51 in a game that mocked even the concept of Buddy Ryan. They lost to Florida State 16-6 in a contest where forward progress was as rare as Brazilian waxing in a Boulder Womynist sorority. I've developed a methodology that models this perfectly. Throw a coin in the air. Simultaneously, ask a small child to yell out a number between 0 and 50 before it lands. If it's heads, Colorado wins by that number. If it's tails, Colorado loses by the number. The opponent is irrelevant. Making predictions about this team is a Random Walk Down Wrong Street.
Part of the team's identity problem is that Dan Hawkins isn't sure whether he wants to be a samurai or a shaman. Or some sort of samurai shaman Subway sandwich combo. Which has only six grams of fat if ordered without mayo. Maybe he just wants to be Gary Busey or Mike Leach, which is where crazy goes to eleven. Sometimes, Hawkins is just a regular football coach and former hard-nosed fullback who fantasizes about fielding a team of bloodthirsty Cimmerian barbarians and sacking Columbia like an Aqualonian caravan; at other times he's trying to heal his pass rush with a herbal poultice, sensitively asking Maurice Lucas if "The Spread Offense Establishment" is what is, like, keeping his sack numbers down. His wisdom is a strange wash: a big white load (this also describes the CU student body) of progressive corporate team-building platitudes stained with the stray blue sock of badassedness. Add the fabric softener of aggression and you have The Hawk. Dude quotes Rumi and wears wrap-around Bowden sunglasses. How do you reconcile that?
To adequately explore an issue, one must go back to the beginning: when Dan was first born in Boulder. Dan Hawkins arrived in Boulder from Boise brimming with the confidence of a strip mall black belt. Crushing the Idaho Vandals every year is like attacking a panel of defenseless balsa wood in a cardio karate demo for an audience of pimpled IT workers tired of taking shit for believing in orcs. Want to feel like a badmofo? Pick a fight with Utah State.
Hawk Kwan Do! Who wants this? You? Get up! Your name? Utah State! Utah State, I will roundhouse kick you like a dredyl dipped in razor blades! These cheetah striped nylon action pants are not for flower arranging! Witness my scorpion-emblazoned do-rag. You think Ned's Martial Arts Supply on 14th Street sells these to pussies? I assure you, they do not. People, I'm just going to break the arm and walk away. Who wants to hang out in my sweat lodge later?
Like most strip mall black belts, Hawkins oozed certainty like syrup from a spiked maple and babbled incessant theoretical high concept nonsense. He was disabused of that hubris in the Big 12 when he realized that punches can't be blocked by imitating the motion of a disc sander. Hawk Kwan Do, honed in the kinder gentler Big West and WAC, had failed him. After his two year 9-16 effort, the mountain mystic consulted his vast self-help audio library to realign his celestial vortex. He looked within himself. To his credit, The Hawk does not believe in blame.
Just look at the word, bruthurrrh! BLAME. B-lame. Be Lame. That means blame cripples the Hawk! Deepak Chopra taught me to break down words like that.
After further consulting his I Ching and a telepathic instant message session with Dr. Wayne Dyer, Hawkins came to three powerful, life-changing conclusions:
First, he began to utilize The Secret's system of positive attraction. Positive attraction works. Offer positive cash flow to an elite recruit's mother and the universe will attract him to you.
Second, Hawkins acted on the advice of mentor Sathya Sai Baba and began to play his true believers - his young recruits. To test their devotion, he asked them to "discipline" Bernard Jackson with a rubber band and a pair of garden shears.
Third, he vowed to call only the plays suggested to him by his Spirit Animal. The beast has many names, but the Native Americans know this particular animal as 'Very Erratic Otter.'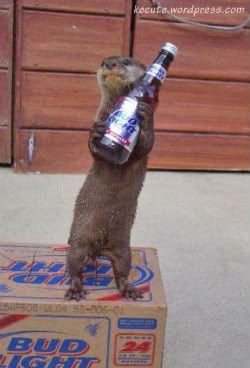 I iz goin to call fly pattern?
Hawkins has a lucrative side business writing New Age corporate motivational posters. You know the ones. An obsequious aphorism captioned under a sunset over two paths diverging in a wood. The higher leading to synergistic Six Sigma, the lower to eroding market share and the eventual global dominance of China. HR idiots snap these up like Members Only in an Oklahoma coat room. Colorado's primary issue this year won't be fixed with a slogan. Unless that slogan is: Fly more to Houston and Los Angeles, Mr Recruiting Coordinator! Their issue will be team speed. I'm not saying that they're bottom of the Big 10 slow. Or Calcuttan bureaucracy. They're just not rapido.
LB, a traditional strength, will take a step back this year. Obviously, Jordan Dizon was an irreplaceable guy. He was smart, quick, physical and he hit like a Lynn Katoa wielded rock. Brad Jones, Jeff Smart and Marcus Burton don't bring to mind CU LBing greats of the past, but it's hard to imagine them being less than adequate, primarily because of this man: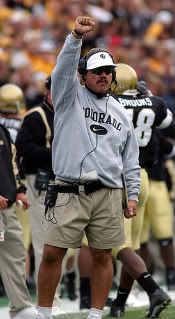 Hey Hey Hey!

Great Scott
**
**from the Insight.Com bowl