Dan Hawkins is a confident guy, but he's not a patient guy. He wants to win now. The Colorado fanbase isn't so much impatient as they are apathetic. If you don't want the student body eating Nepalese food and listening to Ward Churchill speeches rather than watching football, you need to give them something to watch.

"There's a what game?"
I think Hawkins suffers from the same recruiting errors that did in Dennis Franchione. Franchione never realized that he wasn't recruiting at TCU anymore and never upgraded the talent like he should have. Hawkins still thinks he should be chasing system guys in Idaho rather than camping out in Houston.
Hawkins arrived with the reputation as an offensive guru in a place where gurus of all types are welcome, but his offenses have provided all of the healing power of crystals. They finished last in the conference last year in both total yards and points scored. Turns out the offensive wizard at Boise was named Chris Peterson. So Hawkins got an offensive assistant from Cal. Where the wizard was head coach Jeff Tedford.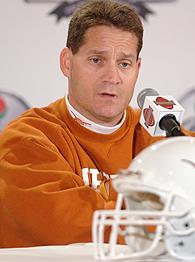 Caveat emptor.
Running back might actually be a position of strength. Sophomores Brian 'B-Lock' Lockridge and Rodney 'Speedy' Stewart are decent backs. If you call them 'B-Lock' or 'Speedy' in the presence of running backs coach Darian Hagan, he stops Tweeting shit about A&M's Von Miller, grabs the nearest water bottle and pours one out.

"Didn't one of those dudes knock up McCartney's daughter?"
Darrell Scott spent last season fat and unmotivated, but that was less a result of the Mack Brown Curse and more the fact that he found himself surrounded by marijuana and snow. If you found yourself in Hoth, Colorado and there was a dreadlocked white dude down the hall named 'Skywalker,' what would you do? He dropped about 30 pounds over the offseason.
The offensive line should be pretty solid. Injuries forced a lot of guys to play before they were ready, but that does give them at least seven guys with starting experience. Left tackle Nate Solder is 6'9" with less than ten percent body fat. I think that's good. New offensive line coach and Sgt. Slaughter lookalike Denver Johnson says that Solder is the best offensive lineman he's ever coached, and he's coached some guys that someone has heard of. The right side of the line is Bryce Givens and Ryan Miller, two guys who were recruited by everybody. This will be the closest thing to a Gary Barnett offensive line that Hawkins has had, but it's probably a year away from greatness.
They still haven't decided who will start at quarterback. Cody Hawkins is the coach's son and the returning starter. He certainly has a grasp of the offense, but it's yet to be determined whether that is a good thing or not. He played pretty well up until the Texas game, but he was never the same afterward. Hawkins problem is that he can't make any plays off schedule. Tyler Hansen started a couple of games last year, and he's considered more of a dual threat.
Hawkins has taken over the position coaching of the wide receivers, and the roster is currently filled with dudes who should go play intramurals. Six of the guys in the rotation are walkons, and it looks like Hawkins found them hanging out in a 7-11 parking lot near campus and convinced them that they would appear in a Mountain Dew ad.

"Dude, coach is extreme."
Scotty McKnight is the only guy at the position who has actually played a single snap at the position, and he is a star. And by star I mean if college football is a galaxy, there are a billion Scotty McKnights. Markques Simas will miss the first two games because of suspension, and JC transfer Andre Simmons was cleared to practice on Monday after he finished nine classes (not hours) during the spring and summer at Independence CC and online. They'll most definitely add size, speed and pigmentation to the rotation.
The starter at tight end is Riar Geer who is, at least phonetically, a 6'4" 250 pound butt plug. Hawkins won't talk about using Geer publicly, but ask him in private and his eyes light up. He'll be backed up by fellow senior Patrick Devenny. They combined for 27 catches and 4 touchdowns last year which makes them unmockable to me as a Texas fan.
The kicking game is a mess. Ten thousand guys in Boulder that can kick a hacky sack, but not one who can kick a football. Returning starter Aric Goodman missed eight field goals in a row at one point last year proving once again that God chose his people to handicap football games, not play in them.

"He's killing his bubby, Frank."
The strength of the defense once again will be the linebackers. And it will be as long as Brian Cabral is the coach. But while the coaching is still excellent, the talent is not what it once was. The current Colorado linebackers won't be confused with any of the past greats. Seniors Shaun Mohler and Jeff Smart are the best of the bunch, but there is no Alfred Williams or even a Jordan Dizon among this group.
Colorado lost two pretty good defensive tackles last year in What's His Face and That Other Guy. Curtis Cunningham is the most experienced defensive tackle returning with nine tackles including two for losses against Texas (fuck our running game). Next to him will be fellow sophomore Eugene Goree. Defensive end Marquez Herrod is the returning sack leader with four. The other defensive end will either be Conrad Obi, Lagrone Shields or Forrest West. Shudder.
Corner Cha'Pelle Brown is Colorado's best player in the secondary, and the school website tells me that Nationalchamps.net named him preseason 1st Team all conference. That's like being named Who's Who Among American High School Students. Brown probably had to pay for his listing. The other starter will be Jimmy Smith, and the school website (once again) informs us that "Many believe this will be his breakout season with the distinct possibility of becoming one of the best lockdown corners in the Big 12, if not the nation." I think that's a typo. It should have read 'Manny believes,' Manny being Smith's cousin. The safeties are Anthony Perkins (too easy) and Patrick Mahnke, and nothing makes defensive coaches feel less safe than a white dude who runs an 11.4 100 playing centerfield.
Injuries really killed Colorado last year. They should have been better. Really. Not much better, but better nonetheless. Like 6-6 better. And they'll be better this year. If they stay injury free, and the football gods reward Hawkins sacrifice of a walkon. Like 7-5 and a bowl game better.