I wanna rock right now.
I wanna chalk right now.
My name's Dope and I came to get down.
I'm not internationally known,
but I'm known to rock the microphone.
WHOO... YEAH!
Hold up.
If you're lost check this out then come back.
No worries mate, we'll wait. Hell open a new frame and play it on a loop.
It's okay if it appeals to you in some strange way that you don't understand.
In fact, put it on your iPod and drive around with the top down smilin' at all the womens. Even the healthy chicks. Hells yeah. You feel good about yourself. Me too. We all do. I even feel good for you. You the man. Self Gradulations.
That's going to be an important concept heading into this preview, self gradulations, so get comfortable with it. Rob Base (the one who knows about Things) set you up for that. A slick brother that could easy outfox ya. Blame him, not me. You clicked on it. Or did you?
Kansas
The main thing I want you to remember about Kansas is that you do not want to go there ever. Under any circumstances. Please stay away. That's very important. Write that down.
Lawrence is passable, there are clubs and venues downtown and it bears that 'island of blue in a sea of red' banner that Austinites enjoy flogging everyone else from Texas with, so there's that. Otherwise it's bleak.
Vince Young had the clutchiest performance in the history of the world there, up to that particular moment of world history (fuck both Lord Nelson and Huck simultaneously) and he concurs that it's still a shit destination in the spectrum of places to pull off clutchy shit.
It's the only place on earth I've seen someone wear a parka and crocs. For a frame of reference using a more well known destination it's the geographical opposite of Gangtok. Culturally speaking I find it noticeable that they outlawed the theory of evolution. In 1999. The populace makes the guys from Mad Men look diverse. And edgy.
They actually have a law that says rabbits may not be shot from motor boats. No kidding. That raises two key points in my mind: one, the fact they feel the need for such a law; two, if you somehow managed to pull that off (highly doubtful) you'd still go to jail. Presumably because rabbits can't evolve to hide from motorboats. There isn't a law against starting linebacking corps that look like the cast from Dawson's Creek, but there should be.
Ghosting their media prior to last season I expected to see a bit of cautious optimism, after all Kansas retained key parts of the offense from an Orange Bowl win 2 years ago and a 12-1 record, but man did they go straight over the top with it. SI covers and a top ten ranking will do that to a basketball school. Metaphorically they're the nerd who scored a hot chick for the prom and immediately starts bowing up to the jocks in study hall. I rooted for Lucas as much as anyone, and it makes for compelling cinema, but real life icy hot jock straps and humiliation are much less poignant. For reference see the 7-5 record and Insight Bowl bid last season.
In fact I went back and checked out that 2007 schedule to recalibrate retroactive expectations, which technically requires time travel, a wormhole, or peyote, but I did it anyway.
Central Michigan University
Southeastern Louisiana
Toledo
Florida International
Kansas State
Baylor
Colorado
Texas A&M
Nebraska
Oklahoma State
Iowa State
Missouri
I think I might have discovered the source of collective hubris. And a cure for cancer. The peyote tells me it's frozen glacier water.
In contradistinction, let's read some takes heading into this year.
Senior QB Todd Reesing:
The biggest thing for us is that people still doubt us as a football team and program. We have to continually prove ourselves in the conference and the national scene. Until we do that, until we continue to beat good teams and continue get to big bowl games, then people will still consider that what we've done was just a fluke or whatever. We continue to play with a chip on our shoulder.
You know that guy dragged Lucas all the way down the field, Todd. I mean I'm pulling for you and all, and not just because you look like Napoleon Dynamite humped Morrissey, but God's gift of a Big 12 South schedule liberally seasoned with Rockets and Chippewas doesn't come along every year. I'm just saying.
Lets see what you have to work with.
From the official Big 12 site:
2008: 8-5 overall, 4-4 in North Division, 3rd.
Bowl game: Defeated Minnesota, 42-21, in Insight Bowl.
Coach: Mark Mangino, 45-41(kilograms), seventh season.
Returning starters: 6 offense, 7 defense.
The 21st offense in the nation last year, not too shabby, and Todd, along with wide receivers Kerry Meier and Dez Briscoe, are returning. Sounds good so far.
Kerry irks me because he reminds me of the lead singer from Greenday but he's played pretty damn well for a guy that played quarterback until his sophomore year. If Chiles is nearly as successful, we'll all go apeshit. Overall you're looking at 3,888 yards and 32 TDs with most of the key skill pieces back, which is downright encouraging.
Senior running back Jake Sharp is also back. OK that's a push. KU's most courageous player award is impressive but career games against Kansas State aren't fooling anyone, wait hold up. He hit 103 against Oklahoma. I missed that. OK I'll give you Jake Sharp as a positive. Self Gradulations all around.
Toben Opurum from Plano appears to be the back up, whose existence I celebrate both because he projected as an H-Back out of high school and yet still managed 8.2 YPC last year and because Keith Jackson told me his name is Latin for 'Roll the Dice'. I dreamed it in my head.
The line from right to left is Jeff Spikes, Sal Capra, Jeremiah Hatch, Brad Thorson, and Tanner Hawkinson. I know it sounds like Four Vikings and a Jew, The Musical but surprisingly several of them are brothers, and perhaps more importantly, the line should serviceable overall.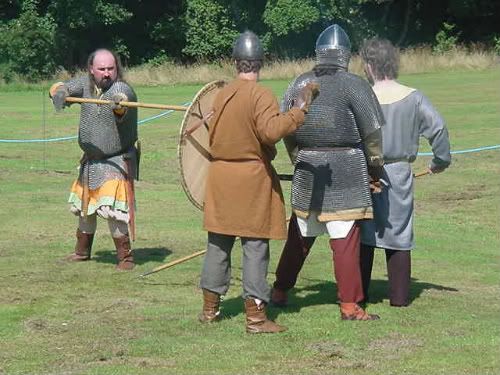 Mazel tov all around
They replace three interior starters but I have a lot of respect for Mangino here, along with his penchant for protecting concussed OU quarterbacks from the mandibly and morally challenged Bob Stoops, he's generally a wizard in this area. I expect solid play up front.
Hatch is a sophomore who moved over from LT to play center this season, so the real focus (and the matchup you should be watching) is Tanner, a converted redshirt freshman tight end starting at left tackle. Listed as 6-6 290, he's covering Todd's blindside. I hope he plays well, and as such felt obligated to friend him on facebook and warn him about Sergio accidentally texting while rushing right into Todd's clavicles. A lot.
Kansas' defense will resemble Paula Poundstone doing yoga in a thong. Add Meatloaf and a plot line from 8th Street Latinas. In High Definition. It's going to look exactly like that. They gave up 45 points a game in their 5 losses last year and ranked 114th in pass defense. Ouch. This year could be worse. So much for hard hitting linebacking trios.

You know how I know you're gay?
I have two words for you, Todd. Ball Control. Hand it off to Jake or Toben then take a really long time getting up and getting back to the line. Act like an old man putting on socks. Or pretend you thought they were signalling a play in and got confused. Walk over to the wrong sideline a couple of times. Draw it out. The clock is really your only friend here, Todd. Caress it like a lover's teat. Fondle it. Milk it. Somehow that came out wrong.
You can actually smell a faint miasma of pannus sweat and desperation emanating from Mangino through the internets when he's asked about the defense. He's switching to a 4-2-5 this season, and not because of stellar DB play (Aqib Talib is long gone and resisting arrest in or around the Tampa Bay area as we speak) but because his linebacking corps is in shambles. I mean an Oklahoma Dollar General Store on welfare-check day shambles.
All three starters from last season are gone. They're listing Justin Springer, Drew Dudley and Artist Wright as starters on the depth chart. Wright started two games last year. Springer is coming off ACL surgery and Dudley is predicted to lose his spot if either Springer is healthy or practically anyone else shows up. Their actual depth chart should have more or's than a trireme. (Did Scipio already make that joke? If so damn him. I can't remember). In any event let it be known that they're hoping JUCO transfer Vernon Brooks or a converted senior running back, Angus Quigley, can fill in. Somehow. Angus started playing LB in December. Yes, I know. I can count. It's worked out about like you'd imagine.
"His growth at that position has not been nearly as fast as I would like for it to be," Mangino said. "He really needs to understand there's a sense of urgency there, and when he comes to terms with that I think he will be okay."
I think I understand what you're getting at, there Mark. He's had six whole months to learn a new position but somehow the urgency isn't translating. Please tell me more about your theory on teaching fetuses to skydive. I find it intriguing.
In this secondary that's supposed to bail them out only senior strong safety Darrell Stuckey looks to be a ray of hope to me. He can actually ball. The other safety Justin Thornton bounced around from cornerback to safety last year while the corners Patterson and Davis consist of a former wide receiver from Mesquite and a redshirt sophomore with 6 tackles, respectively. I would say I'm from Missouri on the DB's as a unit but it would only incite the Jayhawks more, if that's possible. Wait 'till you see some old people at the game and have your friends spring out from behind the concession stand yelling Bushwackers! They love that.
I guess there's a nickel in there somewhere. If anyone knows who it is and he plays better than Vasherized holds his martinis, please email his name to HenryJames. There's also some defensive linemen who might do some shit, who knows, it's late and it's Kansas football, after all. Maybe the right end Laptad can channel his inner Aaron Humphrey, because without Reservoir Dogs level violence from the pass rush that front 7 is toast.
On a side note I enjoyed the Kansas fans the last time I hung out with them, I think it was here in 2005. I found them to be generally docile folks wearing 'Our Coach is PHAT!' T-shirts with at least a semblance of interest in the game. Somewhat like myself watching soccer.
Prediction wise I'm going 7-5. I can't explain it. Like my crush on Susanna Hoffs. It just is.
Here's the schedule.
Sept. 5 Northern Colorado
Sept. 12 at UT-El Paso
Sept. 19 Duke
Sept. 26 Southern Mississippi
Oct. 10 Iowa State*
Oct. 17 at Colorado*
Oct. 24 Oklahoma*
Oct. 31 at Texas Tech*
Nov. 7 at Kansas State*
Nov. 14 Nebraska*
Nov. 21 at Texas*
Nov. 28 Missouri* (in Kansas City, Mo.)