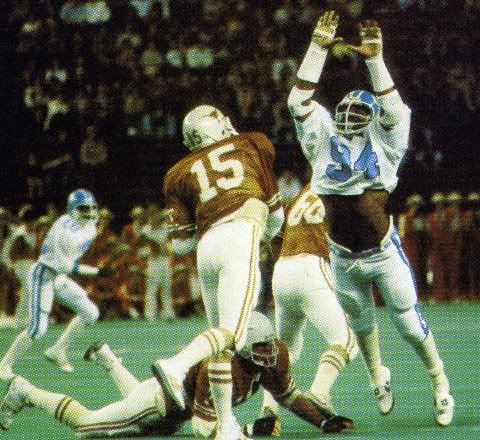 "Men, it was easy to get out there and play like gladiators when we were fighting for a national championship – we were in the limelight. But now all we have to fight for is our pride. It would be easy to finish the season by playing out our last 30 minutes without too much effort, especially for you seniors, because there's really not that much difference between 5-5 and 6-4 records. But now when it's tough and there's nothing but pride to fight for, you can show your real stuff and that you're a Longhorn."

- Darrell Royal in "Meat on the Hoof"
According to the author and embittered former Longhorn Gary Shaw, Royal made the statement above at halftime of the 1965 Texas-Texas A&M game with the Horns trailing 17-0. Texas was unranked and out of the bowl picture for the first time in several years. Even worse, Texas' fall from glory had been swift. Texas entered the season ranked second and then spent two weeks at No. 1 in early October. However, a 27-24 loss to Arkansas started a tailspin where Texas lost four of five to leave the Horns far from the national discussion. What happened next is of interest probably only to Longhorn fans. Royal told the team it needed to hold the Aggies to zero first downs and score three touchdowns. Then he wrote 21-17 on the dressing room chalkboard. It proved prophetic as that was the exact score when the gun sounded.
I happened to think of that quote when up on the platform waiting for my turn on the trapeze last week. At the Cirque, a man has a lot of time to think up on the platform.
Anyway, Texas playing in the Advertiser du Jour Holiday Bowl is in 2011 was a lot like that 1965 Aggie game. Besides the players, nobody much cared except alums and parents. However, I was pleased the Horns played with some sense of urgency because that has not always been true of Texas teams in minor bowls, particularly in the 70s and 80s. So my thoughts on the platform led to a series of questions: "When it comes to nobody-cares-bowls, how different is Texas from other top tier programs? Do the Horns play in more of them than other top programs? Fewer? . . . And when they are there, how does their performance compare with other prominent programs?"
(For your convenience, here are a few thread derailment talking points . . . "A school with such a vast income stream located in a such a fertile recruiting area should never find itself in a minor bowl" . . . "Oh, but look at how much progress was made and how our staff was upgraded" . . . "But how can anyone celebrate anything when our QB situation is so dire?" . . . The hope is that what Texas did in the Holiday Bowl is appreciated, regardless of how you see the state of the program.)
The fact is, all schools find their way to minor bowls, even the loftiest of the lofty. The alternative is what we experienced last year, sitting home. Playing in a minor bowl reminds me of something Mack Brown said when he signed a punter in an early recruiting class. Said Brown: "We'd rather not punt, but based on my experience, it happens from time to time." Applying similar logic, crummy bowl > no bowl.
So here's the sample I examined:
Time period – From present day back to 1981, the year the Fiesta Bowl moved to New Year's Day and became a major player along with the Big Four . . . This is basically the ESPN era.
Minor bowl definition - Anything that's not a major bowl. From 1981 to 1995, major bowls were the New Year's Day bowls: Rose, Sugar, Orange, Fiesta and Cotton. After 1995, the Cotton was dropped from major status by the Bowl Coalition following the demise of the Southwest Conference and its automatic tie-in.
Top tier program definition – I started with the nine other teams besides Texas ranked in the top 10 for all-time wins. For good measure, I tossed in the three Florida schools (Florida, Florida State, Miami) and LSU, winner of multiple national titles in the last decade. It's a total of 14 teams.
What I found was that Texas hasn't partied as often as most of the teams in the sample group. However, once there, the Horns are middle of the road in performing well, which was better than I expected given the bowl missteps of the Akers-McWilliams-Mackovic era.
Participation from 1981 to Present
Teams

Major Bowls

Minor Bowls

Sitting at home

#

%

#

%

#

%

Nebraska

18

58.1%

11

35.5%

2

6.5%

Florida State

16

51.6%

14

45.2%

1

3.2%

Miami

16

51.6%

9

29.0%

6

19.4%

Michigan

14

45.2%

15

48.4%

2

6.5%

Ohio State

14

45.2%

14

45.2%

3

9.7%

USC

14

41.9%

8

29.0%

9

29.0%

Oklahoma

13

41.9%

10

32.3%

8

25.8%

Notre Dame

12

38.7%

9

29.0%

10

32.3%

Florida

11

35.5%

16

51.6%

4

12.9%

Penn State

9

29.0%

16

51.6%

6

19.4%

Texas

9

29.0%

14

45.2%

8

25.8%

Alabama

8

25.8%

17

54.8%

6

19.4%

LSU

8

25.8%

13

41.9%

10

32.3%

Tennessee

7

22.6%

20

64.5%

4

12.9%
One thing that jumped out at me is that anybody who sees failure in any season without a BCS bowl trip stands a great chance of spending a lot of post-seasons disappointed. As the table shows, Nebraska, Florida State and Miami are the only three schools that have made a major bowl more than half the time since 1981. However, before you get too jealous, consider the last decade. Florida State has only been to three major bowls in the last 11 years and none since the 2005 season. Miami hasn't visited a major bowl since the 2003 season while Nebraska hasn't made a major bowl since 2001.
As for minor bowls, the Big 14 combined for 186 appearances over the past 31 years, which averages out to 13.3 per school. Texas had 14.
Regarding major bowls, Texas is tied with Penn State for 10th with 9 appearances in the past 31 years. Still that ranks ahead of the combatants in this season's BCS title game, LSU and Alabama, which are tied for 12th with 8 major bowl appearances.
Oklahoma ranks seventh with 13 major bowl appearances, with a 12-year gap separating the 6 visits by Switzer teams from the 7 trips under Stoops. During the dozen year drought, the Sooners sat home 7 times. Over the 31-year sample period, the Sooners and Longhorns both missed making bowl trips 8 times. Only two schools among the top tier did worse: Notre Dame (10) and Southern Cal (9).
Winning and Losing the Small Ones
Team
Minor Bowls
All Bowls
W
L
T
Pct.
W
L
T
Pct.

Florida State

12
1
1
89.3%
22
7
1
75.0%

Alabama

13
4
0
76.5%
16
9
0
64.0%

Oklahoma

7
3
0
70.0%
12
11
0
52.2%

LSU

8

5
0
61.5%
12
9
0
57.1%

Penn State

9

6
0
60.0%
16
8
0
66.7%

Michigan

9

6
0
60.0%
14
14
0
50.0%

Texas

8
6
0
57.1%
12
11
0
52.2%

Miami

5

4

0
55.6%
14
11
0
56.0%

Tennessee

11
9

0

55.0%
15
12
0
55.6%

Nebraska

5
5
0

50.0%

13
15
0
46.4%

Florida

6
9
0
40.0%

13

13
0
50.0%

Ohio State

5
8
0
38.5%
14

13

0
51.9%

USC

3
6
0
33.3%
13
8

0

61.9%
Notre Dame

3

6

0

33.3%

8

13

0

38.1%
During the past 31 years, Texas' 57.1 winning percentage in minor bowl ranks seventh while its 52.2 winning percentage in all bowls leaves the Horns tied with Oklahoma for eighth. While a 12-11 record in all bowls (including an 8-6 record in minor bowls) is not particularly impressive, some of the other top tier programs have fared worse. Nebraska (13-15) and Notre Dame (8-13) have losing records in all bowls. And in minor bowls, Florida (6-9), Ohio State (5-8), Southern Cal (3-6) and the Irish again (3-6) are in the red.
As mentioned earlier, Texas' record was better than I was expected. One important factor is Texas' 9-4 bowl record (including 6-3 in minor bowls) under Mack Brown. That's all that's separating the Horns from sharing real estate with Notre Dame. The Irish, who endured a 9-bowl losing streak that stretched from 1994 to 2006, reside on the Baltic Avenue of bowl land.
So if I had to assign a metaphor to this exercise of comparing the bowl performances of the nation's top schools over the past three decades, I guess I'd go with preparing a tax return where I only owe a fraction of what I forecasted. Not as good as I wanted. Not as bad as I feared.
And the reason I had such low expectations goes back to the aforementioned Akers days. To recap, after getting blown out by Notre Dame in the Cotton Bowl to conclude the 1977 season, Texas demolished Maryland 42-0 in the 1978 Sun Bowl. Going forward, my expectation was that Texas might . . . MIGHT . . . lose in a major bowl showdown but would never lose another minor bowl in my lifetime. (This is only a slight exaggeration.) It turned out the Horns would only win two minor bowls in the next 20 years.
During the next seven years, Texas lost all five minor bowl appearances . . . and, if you'll think back to the Royal quote at the top, I didn't sense much pride in those games:
1979 Sun Bowl – No. 11. Texas 7, No. 13 Washington 14 - A 13-7 upset loss to Texas A&M in the finale, knocked Texas from the New Year's Day picture back to the Sun Bowl. Despite holding the Huskies to 165 total yards, Horns were doomed by three fumbles.
1980 Bluebonnet – Unranked Texas 7, No. 13 North Carolina 16 – A Texas team that was undefeated and ranked second as late as Oct. 25 lost four of its last six. The Heels were 10-1 but had lost their only meeting with a ranked team, Oklahoma, by a convincing 41-7 score. Texas had beaten those same Sooners 20-13. Future pros Amos Lawrence and Kelvin Bryant combined for nearly 200 yards rushing to control the game.
1982 Sun - #8 Texas 10, Unranked North Carolina 26 – Although ranked much higher thanks to routs of Texas A&M (53-16) and Arkansas (33-7), Texas' attention span only lasted three quarters. UNC outscored Texas 23-0 in the fourth quarter for a come-from-behind win.
1984 Freedom - #19 Texas 17, Unranked Iowa 55 – Once again, Texas was higher rated. This time, the Horns couldn't wait for the fourth quarter to fall apart. Iowa outscored the Horns 34-0 in the third quarter before calling off the dogs. The collapse in the game mirrored what happened during the season, which had begun with probably the two most impressive non-conference wins Texas has ever claimed in a single September. Texas followed a 35-27 win over Auburn and Bo Jackson with a 28-3 whipping of Penn State. However, Texas lost three of its last four before the Freedom fall.
1985 Bluebonnet – Unranked Texas 16, #11 Air Force 24 – Much like the 1980 Bluebonnet, Texas' opponent had lost the only game it played against a ranked opponent, Brigham Young, 28-21. Texas (8-3), meanwhile, was battle-tested, having gone 2-2 against ranked teams, including wins over No. 4 Arkansas (15-13) and No. 15 Baylor (17-10). Despite outgaining Air Force 302 to 197 in total yards, the Horns suffered the only two turnovers of the game and were penalized 8 times.
Perhaps players from some of those Akers' teams can provide convincing arguments that Texas really lost to better teams in one or more of those games. Maybe not. All I know is I was glad to see this year's team decide there was enough of a difference between 8-5 and 7-6 to play hard in the Holiday Bowl even though most of the world wasn't tuned in.
We've got eight months to belly ache about recruiting, strength/conditioning, depth chart quandries (especially at quarterback), and the Longhorn Network. I'm just grateful we don't have to grouse about losing a minor bowl on top of that. Winning always beats the alternative.