On Aug 30th, Texas opens its season by hosting Florida Atlantic. Mack Brown will begin his 11th season as the Longhorns Head Coach. In the 116 years of UT football, only one other coach has lasted as long.
Darrell Royal was at Texas for 20 years. Bear Bryant stayed at 'Bama for 25 years. Woody Hayes was at Ohio State for 28 years, Bo Schembechler at Michigan for 21seasons. Perhaps uber-successful coaches like Brown, Pete Carroll at USC, Jim Tressell at Ohio State and Urban Meyer at Florida will put in two decades at their schools, but the times seem to dictate otherwise.
At Texas only four coaches have survived at least a decade as head coach: D.X. Bible (10 years), who established Texas as a national player on the collegiate scene almost 70 years ago, Darrell Royal, his successor, Fred Akers, and of course Mack Brown.
As we head into the 2008 football season, I thought I would take a look at the last three, all still well-known to Longhorn faithful, and see what if any trends can be discerned from a 10-year output.
Obviously, there are certain facts easily seen. Royal was halfway through his legendary run at the ten-year mark, and while he had brought Texas its first National Championship, at the end of his first 10 years he had experienced three straight 4-loss seasons, and there were rumblings among the alumni and fans about where the program was headed.
Akers of course was gone after his 10th season, for a variety of reasons, not the least of which was the first losing season in 30 years at UT.
Mack brought the program back to national prominence, captured a National Title and is entering his second decade of service.
The game has changed dramatically over the past 50 years since Royal stepped onto the UT campus. Still there are factors that can be looked at, such as overall performance, records against ranked opponents, and records against major rivals.
The Basics
Darrell Royal
When Royal arrived at the 40 Acres, Texas had been in a downward spiral in the 10 years since D.X. Bible retired from coaching. Both Blair Cherry and Ed Price had beaten OU in their first seasons at Texas, and then never beat the Sooners again. Price's last year saw Texas plummet to a 1-9 record in 1956.

Darrell Royal's first "Statement" win came against his alma mater and former coach, Bud Wilkinson, when the Longhorns defeated the Sooners 15-14 in 1958.
In his first ten years at Texas Royal's overall record was 82-23-3 for a 75.2% winning percentage. In SWC play he was 50-15-2, a 75.8% winning percentage.
Royal won two outright SWC titles in the first ten years, two co-championships, and a National Championship.
During this ten year stretch:
Texas finished in the Top 5 in five seasons in that decade (1959, 1961-64.)
Texas finished in the Top 20 another two times (1957, 1960).
Record vs. OU 8-2
Record vs. A&M 10-0
During a four-year period, (1961-64) Texas was 40-3-1 with a National Championship and a Top 5 finish every year. After the 1963 title, Royal admitted that he spent too much time on the PR circuit giving too many speeches. He also admitted later that he and is staff went for quantity instead of quality in recruting that off season, getting numbers but failing to sign any real difference makers. From 1965-67, Texas paid for it with three straight 4-loss seasons. However, recruiting rebounded in 1967-68 and his second National Championship was on the horizon as he entered his 11th seasons at the Longhorns Head Coach. He was also about to go on a record-breaking win streak.
Fred Akers
Royal's last year at Texas resulted in his only non-winning season (5-5-1) and led to Fred Akers being hired as head coach. He inherited a team that was light on upperclassmen talent, but loaded with freshmen and sophomores who could play. Of course there was one senior, Earl Campbell, who would win the Heisman Trophy that year. Akers 1977 squad raced to an unbeaten regular season and for the next several years he re-established Texas among the nation's elite.

In 1977, Akers took a third-string QB and a Heisman Trophy winning RB and fashioned an unbeaten regular season.
Akers final record at Texas was 86-31-2 for a 72.8% winning percentage and a 60-19-1 mark in the SWC for a winning percentage of 75.6% .
During the Akers decade, Texas won two SWC Championships outright.
Texas finished in the Top 10 four times (1977, 1978, 1981, 1983)
Texas finished in the Top 20 two times (1979, 1982)
Record vs. OU 5-4-1
Record vs. A&M 5-5
From 1977 to 1983 Akers record at Texas was 66-17-1 for a winning percentage of 79.1%. Up until 1984 Akers had dominated the OU and A&M series. However his last three campaigns saw Texas go 0-5-1 against the duo, helping to speed along his demise.
Mack Brown
From 1984 to 1997, Texas compiled a 92-68-3 record under Akers, David McWilliams and John Mackovic. That is a winning percentage of 57.1%. Texas never finished a season ranked in the Top 10. Brown was hired to bring Texas out of mediocrity and back into the national spotlight. Brown has made Texas relevant again on the national stage in his first decade.

Mack Brown celebrates the National Title game victory over USC in the 2006 Rose Bowl with one of the lettermen off of that team.
Brown is 103-25-0 in his ten years at Texas for a winning percentage of 80.4%. His Big 12 conference mark is 65-15-0 for a winning percentage of 81.2%.
During Brown's first decade Texas has 3 Big 12 South Division championships, 1 Big 12 Championship and 1 National Title.
Texas has finished in the Top 5 three times (2001, 2004, 2005)
Texas finished in the Top 10 two other times (2002, 2007)
Texas finished in the Top 25 the other five years (1998, 1999, 2000,
2003, 2006)
Record vs. OU 4-6
Record vs. A&M 7-3
This past season when Texas went 5-3 in Big 12 regular season play was the first time the Horns lost as many as 3 conference games under Brown. During the last seven seasons, Texas is 76-14, for a 84.4% winning percentage.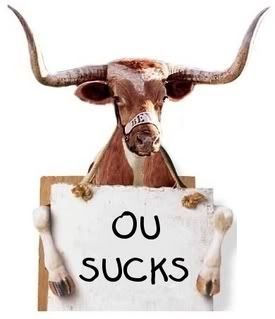 Comparative Trends in Constant Factors
While trying to compare teams over a 50-year span is counter-productive, it is interesting to take a look at some categories from within each decade that carry over.
Record Against Nationally Ranked Opponents:
Darrell Royal 1957-66
Top 10 opponents: 9-8-1 (52.7%)
Top 20 opponents 5-2 (71.4%)
Overall Record Against Ranked Opponents: 14-10-1 58.0%
Percentage of schedule vs. Top 10 opponents: 16.7%
Percentage of schedule vs. Top 20 opponents 23.1%
When Royal took over the program in 1957, he faced nationally ranked opponents in 6 of the 11 games that year. He lost to #1 OU and #7 Ole Miss in the Sugar Bowl, while defeating #4 A&M, #10 Arkansas, #13 Rice and #17 TCU.
From 1961-64 when Texas was going 40-3-1, the Horns played eight ranked opponents, all of whom were in the Top Ten. Texas went 6-2 in those eight contests.
Fred Akers 1977-86
Top 10 opponents 15-8-1 (64.6%)
Top 20 opponents 9-8 (52.9%)
Overall Record Against Ranked Opponents 24-16-1 (59.7%)
Percentage of schedule vs. Top 10 opponents 20.2%
Percentage of schedule vs. Top 20 opponents 34.4%*
*One side note. Of the 41 nationally ranked opponents that Texas faced during the Akers era, none of them rated lower than #17 at the time of the contest. The record strongly points to his ability to get a team ready to play against top opponents during the regular season. In his 10 years at Texas, Akers' teams were 13-6-1 against Top Ten teams in the regular season. That is a 67.5% winning percentage against the nation's elite. Of course it is the occasional regular season loss to a lesser team combined with the post-season record against nationally ranked opponents that especially rankled Longhorn fans.
Mack Brown 1998-2007
Top 10 opponents 6-12 (33.3%)
Top 11-20 opponents 11-2 (84.6%)
Top 21-25 opponents 8-2 (80.0%)
Overall Record Against Top 25 Opponents 25-17-0 (60.1%)
Percentage of schedule vs. Top 10 opponents 14.1%
Percentage of schedule vs. Top 25 opponents 32.0%
During his first five years on campus, Mack Brown had rough going against ranked opponents, posting a 9-11 record. However since 2003, Texas is 16-5 vs. ranked foes. Unlike Akers, Brown has handled the ranked teams out of the Top Ten with greater success.
Both Fred Akers and Mack Brown faced 41 nationally ranked teams in 10 years. Brown's number includes ten games against teams ranked 21-25 after expansion of the rankings.
Based on the numbers, you can see why Longhorn faithful would have been frustrated throughout the Akers Tenure. Texas faced a nationally ranked team just about 1 out of every 3 games, and an elite Top Ten program 1 out of every 5 contests. Despite that brutal schedule, Akers had great regular season success against elite teams. But he would invariably stumble somewhere along the way to an unranked team, or get to a bowl game and not give the kind of performance that had been seen in the regular season.
Mack Brown, on the other hand, has dominated the mid-ranked teams with regularity. Of course there is that little matter of OU. Still his teams generally survive the fanatical effort of lesser opponents.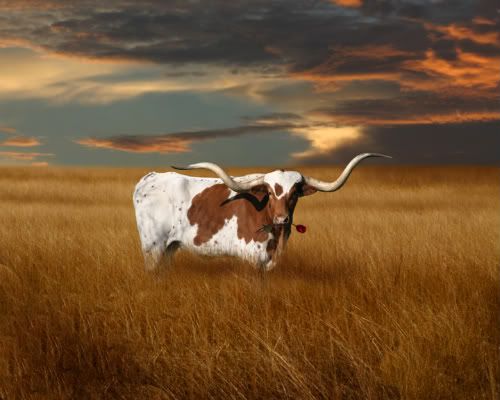 Bowl Records
Darrell Royal 4-3-1 56.3%
Fred Akers 2-7 22.2%
Mack Brown 7-3 70.0%
On the surface Royal's record in bowl games is pedestian. However the competition was
decidedly on a higher plane. In the 1960's there were only eight bowl games. Royal's
1958 team went 7-3 during the regular season -- and stayed at home. So did his 1965
squad that went 6-4. Today both would have been playing during the Holidays.
As for the competition, it was always against a ranked opponent. In seven of the eight bowl games, Texas faced a team ranked in the Top 10. Mississippi a 19-0 loser to Texas in the 1966 Bluebonnet Bowl had finished 12th in final UPI Poll a couple of weeks before the game.
By the time Fred Akers was coaching, the number of bowl games had doubled to 16. Akers disappointing 2-7 bowl record included seven games against Top 15 opponents. As mentioned before Longhorn fans were particularly puzzled over his teams ability to play at a high level against elite teams in the regular season, and then when having a month to prepare coming up short.
We really don't have to go into any details, espeically about the 1984 Cotton Bowl, now do we?
The number of bowl games have doubled once again, to make it 32 post-season contests. Any team with a warm pulse can get into a bowl game, and it has watered down the competition level. In the Horns last ten bowl games, Texas has played two teams in the Top Ten (USC, Oregon) two teams not even ranked (LSU, Iowa) three teams ranked between #12-#15 (Michigan, Arizona State, Washington State) and three teams ranked between #21-#25 (Washington, Arkansas and Mississippi State ). Like the regular season, Brown's bowl teams have beaten the mid-ranked teams.
So there you have it, a look at some comparative data among three decades of Texas football.
What does it all mean?
Damned if I know.
Except that football season can't get here soon enough.